Astronomia
The Most Astounding Fact (Neil DeGrasse Tyson) - StumbleUpon. Your Age on Other Worlds. Looking at the numbers above, you'll immediately notice that you are different ages on the different planets.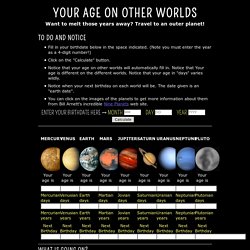 This brings up the question of how we define the time intervals we measure. What is a day? Stellarium. NewsCenter - Firestorm of Star Birth in the Active Galaxy Centaurus A (06/16/2011) - Release Images. Wallpaper. Scientists Discover The Oldest, Largest Body Of Water In Existence--In Space. Scientists have found the biggest and oldest reservoir of water ever--so large and so old, it's almost impossible to describe.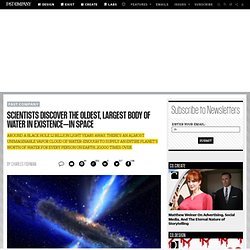 The water is out in space, a place we used to think of as desolate and desert dry, but it's turning out to be pretty lush. Researchers found a lake of water so large that it could provide each person on Earth an entire planet's worth of water--20,000 times over. Solar System Visualizer. Astronomy For Beginners...Astronomy Basics...Amazing Astronomy Facts. Documentary Heaven | Watch Free Documentaries Online. Planet Calypso - Inicio. Enjoy a revamped, more newcomer-friendly and action-packed area on the Planet Calypso continent of Eudoria.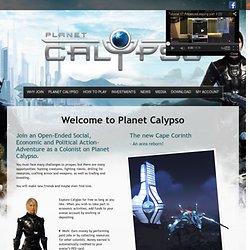 Cape Corinth, located on Eudoria's north-west coast, has been redesigned from the ground up with new terrain and places of interest. Cape Corinth now also features more beginner friendly creatures for hunting as well as an improved mining experience. Together with wonderful new music composed to match the area's aesthetics, it is a place every Calypsian should (re)experience. New arrivals from the Thule start area will begin their Calypso careers at Cape Corinth. Entropia Universe - The Official Site. 2012 March 12 - The Scale of the Universe Interactive. Discover the cosmos!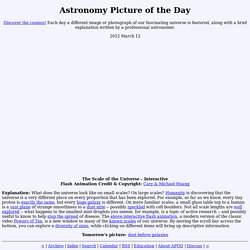 Each day a different image or photograph of our fascinating universe is featured, along with a brief explanation written by a professional astronomer. 2012 March 12 The Scale of the Universe - Interactive Flash Animation Credit & Copyright: Cary & Michael Huang Explanation: What does the universe look like on small scales? National Space Society. Espaço.
---