Modernist prefab homes
Alchemy - Home of the weeHouse - weeHouse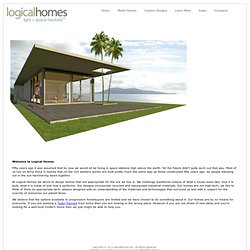 Welcome to Logical Homes Fifty years ago it was assumed that by now we would all be living in space stations high above the earth. Yet the future didn't quite work out that way.
::: LOT-EK :::
House kits are a popular way to build houses in Hawaii as they solve many of the construction issues unique to Hawaii. One of the problems when building a house in Hawaii is that key structural components and hardware shipped in from the mainland are hard to replace if they get broken or were missing from the primary shipping container. We met an owner builder who had a house kit shipped from Seattle in a Matson box. He calculated that it would save him $8000 over a kit bought in Hawaii.
HAWAII HOUSE KITS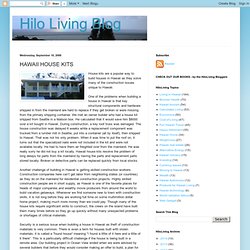 hawaii home+REMODELING: A Whole New Plan
Michelle Kaufmann Studio
The Website of Architect Michelle Kaufmann Welcome to Michelle Kaufmann Studio Sustainability isn't just about the way we build. It is a state of mind. Good design embodies, inspires and nurtures that way of thinking and living.
Rocio Romero, modern design and prefab architecture
pieceHomes: modular modern homes by Davis Studio Architecture + Design
CURRENT PROJECTS: Grow Community Davis Studio A+D / pieceHomes has been working with Asani , a forward thinking developer on Bainbridge Island which is just a short ferry ride from Seattle. Led by Architect Jonathan Davis, we are designing Grow Community , the first residential One Planet Community to be built in North America. This zero net energy community, located on eight acres adjacent to the urban core of Winslow, includes 50 single family homes, 81 rental units, a central community building, as well as some commercial spaces. Home buyers can choose from four different home styles and several town home lofts, some of which will be available as rentals. These modern homes are warm and welcoming using interior finishes that have been selected for both their sustainable qualities and also to create inviting, comfortable living spaces.
Startsida - minihus, friggebod, dansk design, add a room
Cabin Fever - Prefab Cabins created using prefabricated (prefab) kits utilizing panelized wall sections
Prefab is Not the Answer to Affordable, Modern, and Green Homes
This article was authored by guest Chad Ludeman of Postgreen Homes. Prefab homes seem to be showing up more and more in the media these days, especially with two large exhibits in Philadelphia showcasing their history this year. Like many, I hoped that prefab would be the answer to bringing modern architecture to the masses in the US and beyond.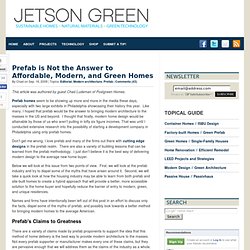 The R1 Residential by Grace Street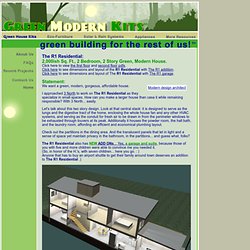 The r1 Residential: 2,000ish sq. ft., 2 bedroom, 2 story green, modern house. Click here to view the first floor and second floor pdfs. Click here to see dimensions and layout of the R1 Residential with The R1 addition. Click here to see dimensions and layout of The R1 Residential with The R1 garage.