Modernist prefab homes
Cargotecture. Alchemy - Home of the weeHouse - weeHouse. Logical Homes. Welcome to Logical Homes Fifty years ago it was assumed that by now we would all be living in space stations high above the earth.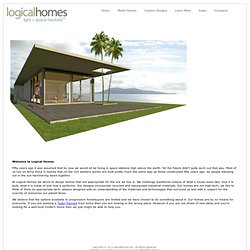 Yet the future didn't quite work out that way. ::: LOT-EK ::: Architecture and hygiene - home. HAWAII HOUSE KITS. House kits are a popular way to build houses in Hawaii as they solve many of the construction issues unique to Hawaii.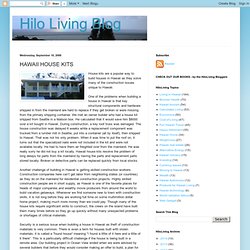 One of the problems when building a house in Hawaii is that key structural components and hardware shipped in from the mainland are hard to replace if they get broken or were missing from the primary shipping container. We met an owner builder who had a house kit shipped from Seattle in a Matson box. He calculated that it would save him $8000 over a kit bought in Hawaii. Hawaii home+REMODELING: A Whole New Plan. What if you could own a home designed by a reputable architect, using quality materials, overseen every step of the way by a skilled architecture or design/build firm — all at a great value and in a short time-frame?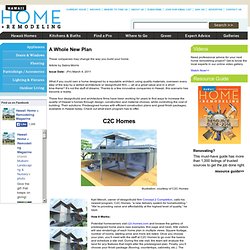 It's not the stuff of dreams. Thanks to a few innovative companies in Hawaii, this scenario has become a reality. These four design/build and architecture firms have been working for years to find ways to increase the quality of Hawaii's homes through design, construction and material choices, while controlling the cost of building.
Their solutions: Predesigned homes with efficient construction plans and great finish packages, available in Hawaii today. Michelle Kaufmann Studio. Marmol Radziner Prefab : Sanctuary Delivered. Rocio Romero, modern design and prefab architecture. PieceHomes: modular modern homes by Davis Studio Architecture + Design. Startsida - minihus, friggebod, dansk design, add a room. Cabin Fever - Prefab Cabins created using prefabricated (prefab) kits utilizing panelized wall sections. Prefab is Not the Answer to Affordable, Modern, and Green Homes. This article was authored by guest Chad Ludeman of Postgreen Homes.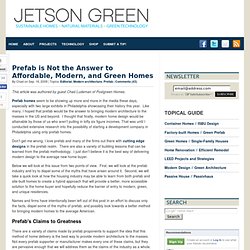 Prefab homes seem to be showing up more and more in the media these days, especially with two large exhibits in Philadelphia showcasing their history this year. Like many, I hoped that prefab would be the answer to bringing modern architecture to the masses in the US and beyond. Prefab Homes | Modular Homes - Featured Designers at Prefabs.com. The R1 Residential by Grace Street. The r1 Residential: 2,000ish sq. ft., 2 bedroom, 2 story green, modern house.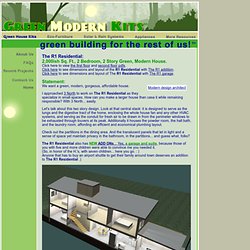 Click here to view the first floor and second floor pdfs. Click here to see dimensions and layout of the R1 Residential with The R1 addition. Click here to see dimensions and layout of The R1 Residential with The R1 garage. Prefab. Homes | Custom Prefab Green Homes │ mkDesigns. 3-4 bedrooms + additional pods3 baths1 level56' x 54'starting at $635,000optional pod $155,000+ 2-3 bedrooms2-2.5 baths1 level57' x 39' - 6"starting at $350,000 3 bedrooms2 baths1 level60' x 36' | 71' x 40'starting at $465,000+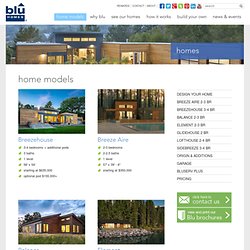 LivingHomes. Families, Empty-Nesters | Prefab Green Homes | Blu Homes.
---