Social TV Applications
ConnecTV
HBO | Connect
Zeebox trial questions value of viewing companion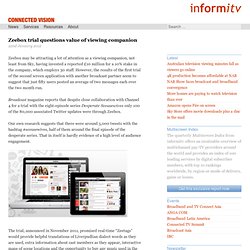 Zeebox may be attracting a lot of attention as a viewing companion, not least from Sky, having invested a reported £10 million for a 10% stake in the company, which employs 30 staff. However, the results of the first trial of the second screen application with another broadcast partner seem to suggest that just fifty users posted an average of two messages each over the two month run. Broadcast magazine reports that despite close collaboration with Channel 4 for a trial with the eight-episode series Desperate Scousewives only 100 of the 80,000 associated Twitter updates were through Zeebox.
Connect with your friends around the shows you love IntoNow from Yahoo makes engaging with your friends around your favorite television shows easy and fun. Just tap the green button when you're watching, and IntoNow will identify the show, right down to the episode. Once identified it's easy to share with your friends on Twitter or Facebook.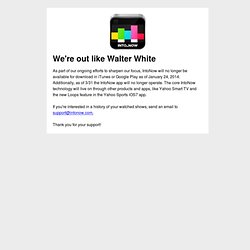 Miso Homepage | Miso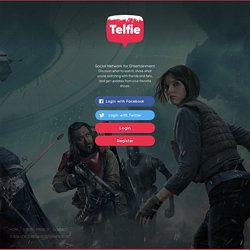 Your app for TV, Movies & Sports Discover what to watch, share what you're watching with friends and fans, and get great updates from your favorite shows. Discover Find the best TV, movies and sports with a guide that knows what you like, what your friends are watching, and what's popular. Share
Sky apps to go social with Zeebox integration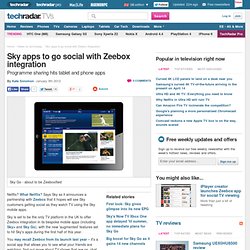 Netflix? What Netflix? Says Sky as it announces a partnership with Zeebox that it hopes will see Sky customers getting social as they watch TV using the Sky mobile apps. Sky is set to be the only TV platform in the UK to offer Zeebox integration in its bespoke mobile apps (including Sky+ and Sky Go), with the new 'augmented' features set to hit Sky's apps during the first half of this year. You may recall Zeebox from its launch last year – it's a social app that allows you to see what your friends are watching, find out more about TV shows that are on, chat as you watch the gogglebox and even buy products featured in programmes and adverts.