INTERVIEW
Abbreviations.com. Search results for interview - Templates. <div class="cdOLblEmRed cdSearchResultsMargin">Warning: This site requires the use of scripts, which your browser does not currently allow.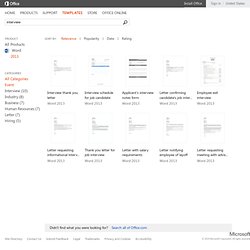 <a href=" how to enable scripts. </a><br/></div> All Products Word. AREA - REGIO. The Briefcase Technique 2.0. TEDxUW - Larry Smith - Why you will fail to have a great career.
Demystifying Case Interviews. Description Many candidates are nervous about case interviews.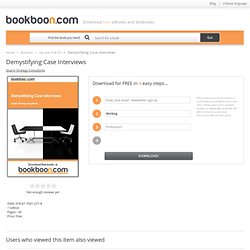 Because the specific case cannot be prepared in advance -you don't know what the case will be-. This book will demystify case interviews and give you guidelines and advice on how to prepare for them. DISCRIMINATION. Elevator Pitch. Market yourself effectively in 15 seconds. FutureMe.org: Write a Letter to the Future. FollowUp > Email Reminders and Tasks.
LABOUR MARKET VALUE. Business Cards | Create your customised business card online. Handing out a business card is often the first impression people take of your business, so you need to get it right.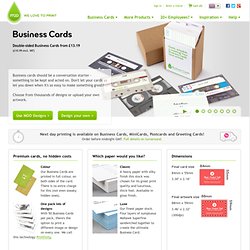 Using your own photography or artwork to create custom business cards can help, and MOO makes the process easy with our simple online tools and templates. Our Business Cards are double sided, printed in full colour at no extra cost, and available in short print runs. There's a choice of premium paper for Business Cards too: As well as sustainably sourced Gloss, you can choose 100% recycled with a light satin finish or sustainably sourced, with a smooth matte laminate.
Tear-em-off Business Cards. 15 Really Brilliant Business Card Designs. Sorry my lovable readers, I have been busy in the last 2 months with my new job.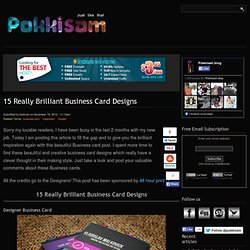 Today I am posting this article to fill the gap and to give you the brilliant inspiration again with this beautiful Business card post. I spent more time to find these beautiful and creative business card designs which really have a clever thought in their making style. Just take a look and post your valuable comments about these Business cards. All the credits go to the Designers! This post has been sponsored by 48 hour print. Dress Code Guide. Get Hired. I was recently asked for interview advice. 1.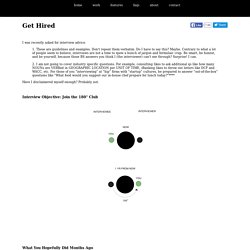 These are guidelines and examples. Don't repeat them verbatim.
---