Bread
Baked Eggs in Bread Bowls. This was our breakfast Sunday morning.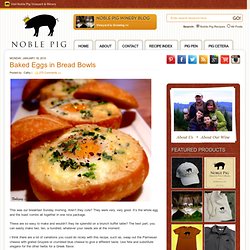 Aren't they cute? They were very, very good. It's the whole egg and the toast combo all together in one nice package. These are so easy to make and wouldn't they be splendid on a brunch buffet table? The World's Best Egg Roll Recipe | I Hate My Message Board. Tender Buttery Oat Scones with Currants - Cook Like James. There's nothing like a tender flaky scone, especially when it's lathered in English Double cream and jam.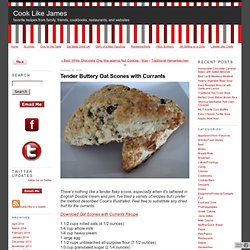 I've tried a variety of recipes but I prefer the method described Cook's Illustrated. Feel free to substitute any dried fruit for the currants. 1 1/2 cups rolled oats (4 1/2 ounces) 1/4 cup whole milk 1/4 cup heavy cream. Thibeault's Table: Italian Night. We had big bowls of spaghetti with meat sauce for dinner tonight.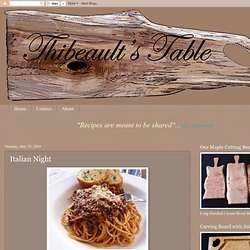 I put the pot of sauce on to simmer early in the afternoon. Moe put in a request for my Gorgonzola Garlic Bread. Bourbon peach hand pies. Over a year ago, I made hand pies and declared them a delicious disaster.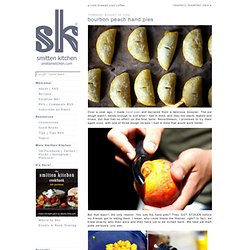 The pie dough wasn't bendy enough to suit what I had in mind, and they too easily leaked and broke, but that had no effect on the final taste. Nevertheless, I promised to try them again soon, with one of three dough recipes I had in mind that would work better. But that wasn't the only reason. You see the hand pies? Naan Recipe. Amazing Artisan Bread for 40 Cents a Loaf - No Kneading, No Fussing, No Kidding. What if I told you that instead of buying bakery bread for four or five dollars a loaf, you could make delicious handmade bread whenever you wanted, at a fraction of the cost and it is so easy a kid could do it?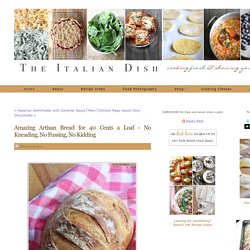 Well, read on because this method of making artisan bread at home will change your life. You can make incredible bread without having to do all the usual time consuming tasks of breadmaking : no need to make a new batch of dough every time you want breadno need to proof yeastno need to make starters or prefermented doughno kneading! In the last few years, several methods for making easy no-knead bread doughs have crept up on the internet and gained popularity. Cilantro and Coriander Seed Naan. So, you tell me you love Naan.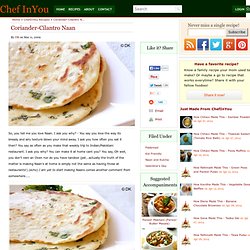 I ask you why? - You say you love the way its bready and airy texture blows your mind away. I ask you how often you eat it then?
---