Picnic
The year of the rabbit.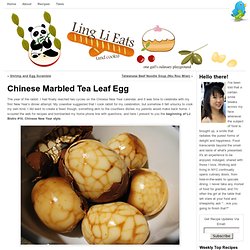 Chinese Marbled Tea Leaf Egg | Ling Li Eats (and Cooks)
My favorite side dish takes five minutes to make.
quick zucchini sauté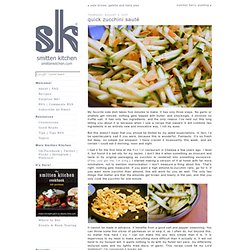 La truffe reste le mets d'exception que l'on déguste avec bonheur dès que l'occasion se présente… et les occasions sont rares !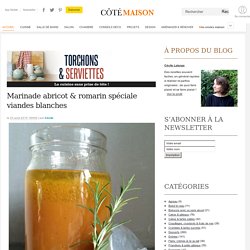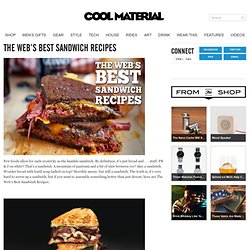 Few foods allow for such creativity as the humble sandwich.
What is it about food served in canning jars? Sure, we could use a plate and scoop ourselves a portion like normal adults, but where's the fun in that? Besides, packing food in jars or baking directly in them makes dishes easy to transport and mess-free.
Have Jar, Will Travel: Best Ideas for Meals in a Jar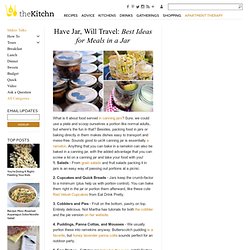 Anchor Hocking
A couple weeks ago I posted 50 different things to do with mason jars…though all the ideas were creative and fun, none of them had anything to do with food. I thought the whole concept of food in a jar deserved a post all of it's own. So this weeks Saturday Inspiration post is dedicated to all the glorious foods … You can put in a jar: desserts in a jar, bread in a jar, appetizers in a jar, meals in a jar, drinks in a jar… I think you can pretty much put anything in jar and it instantly becomes a million times cuter! Now I want to save even more jars! The Sunday Showcase starts tonight … I can't wait to see what you have been working on this week!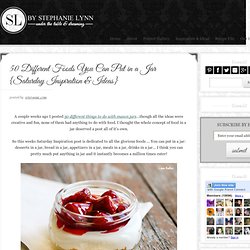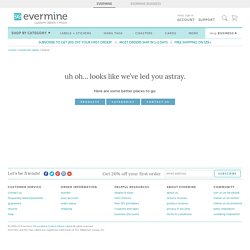 My Own Labels | Custom Printed Labels, Personalized Seals & Stickers
Use your words with our styles, shapes and colors. Ordering is fast and easy, and you can order just the amount you need! Put your names on our elegant custom-designed printed labels, envelope seals, favor tags and coasters to create beautiful personalized food or craft gifts, bath creations, wedding and party favors, CDs and DVDs and more. And, you can create personalized printed book plates as a gift that's much appreciated and remembered. Our custom labels and envelope seals have been lovingly designed and given a palette of colors that make them perfect for home made and home baked products, birthdays and other celebrations, wines, home brewed beer, ale and other drinks, bath and body creations, as well as other products and events. Beautiful designs, exacting quality, careful typographic styling of your words, the finest paper and printing, a commitment to getting it to you on time, plus excellent customer service means your order will look great and arrive exactly as promised.
White Gloss Inkjet - Quote Bubble Labels - Thought Stickers - OL194 - 2.2609" x 1.9582"
"Online Labels have met my every need with high quality labels and fast, accurate service. With a huge selection of inventory anything I could imagine can happen.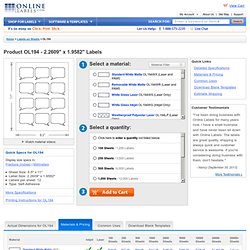 a mason jar meal (my 6th PFB challenge)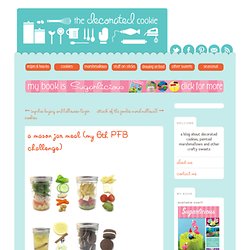 UPDATE: You can VOTE FOR ME HERE, if you're so inclined. I love mason jars.
Salad in a Jar – SRC
Secret Recipe Club time, holla!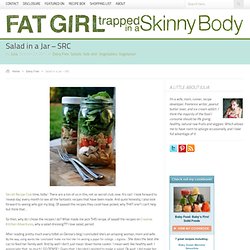 tea sandwiches Recipes at Epicurious
photo by Richard Gerhard Jung
Moroccan Carrot and Goat Cheese Sandwiches with Green Olive Tapenade Recipe at Epicurious
W hat would school lunches be like without the requisite sandwich?
Our Favorite Sandwiches at Epicurious
Picnic Holidays & Celebrations at Epicurious
Kinfolk Dinner — Brooklyn, New York on Vimeo
ribboned asparagus salad on Vimeo
Mini Ham and Cheese Quinoa Cups are poppable and packed with protein. The perfect breakfast recipe or snack idea!
Healthy and fresh, we're making Bal Areneson's Avocado and Edamame Salad in the month of May.
May's Cooking Club Challenge: Avocado and Edamame Salad
Summer Picnic Recipes – Best Recipes for a Summer Picnic
Serve a chopped summer salad and dress it with a delicious mariande (recipe below). Chop 2 large beefsteak tomatoes, 2 pounds seedless watermelon, and 1 large cucumber. Toss with 1/4 cup sliced red onion.
Picnic Sandwich Bistro | Fremont Sandwich Deli | Fremont Sandwich Restaurant
Tortilla Rollups
Picnic Sandwiches Slideshow
Best Picnic Sandwich Recipes
Desserts for the Deserving
Sho-yu Tamago (Soy sauce eggs)