Gaze Interaction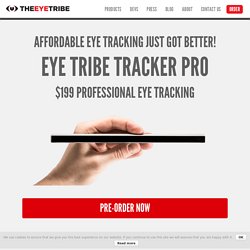 Senseye
Eye tracking is the process of using sensors to locate features of the eyes and estimate where someone is looking (point of gaze). Our technology relies on infrared illumination and uses advanced mathematical models to determine the point of gaze. We've spent a tremendous effort on making it easy to set up and fully automatic so that it works accurately and reliably in a wide range of environments. Eye tracking can be used in a wide variety of applications typically categorized as active or passive. Active applications involve device control, for example aiming in games, eye activated login or hands-free typing.
The ITU Gaze Tracker is an open-source eye tracker that aims to provide a low-cost alternative to commercial gaze tracking systems and to make this technology more accessible. It is developed by the Gaze Group at the IT University of Copenhagen and other contributors from the community, with the support of the Communication by Gaze Interaction Association (COGAIN). The eye tracking software is video-based, and any camera equipped with infrared nightvision can be used, such as a videocamera or a webcam. The cameras that have been tested with the system can be found in our forum.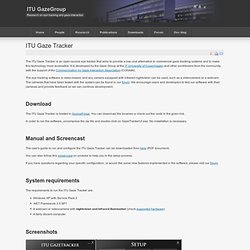 ITU Gaze Tracker
COGAIN is a network of excellence on Communication by Gaze Interaction. COGAIN integrates cutting-edge expertise on interface technologies for the benefit of users with disabilities. The network gathers Europe's leading expertise in eye tracking integration with computers in a research project on assistive technologies for citizens with motor impairments.
Communication by Gaze Interaction | Homepage for the COGAIN Network of Excellence and the COGAIN Association