Repurpose
Sea glass art light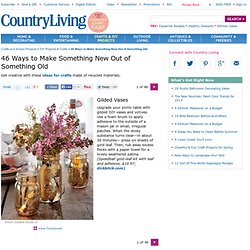 CL contributing editor Ryan McPhail reveals his method for creating a stealthy bar from a cast-off chest of drawers. Step 1: Measure the inside of a dresser drawer to determine its width (from side to side), depth (front to back), and height (base to top). Step 2: To create a middle divider, use a jigsaw to cut a piece of wood that measures the depth of the drawer and slightly less than its height.
Recycled Craft Ideas - Crafts from Recycled Materials
Collection of Creative and Alternative Uses of Plastic Cups from all over the world. Plastic Cups Outdoor Light Fixture: This modular structured system is created using plastic cups and paper clips. "In day time it functions as natural light source lighting and at night time it functions as light fixture with 220 volt light bulb situated inside the system."
Creative and Alternative Uses of Plastic Cups.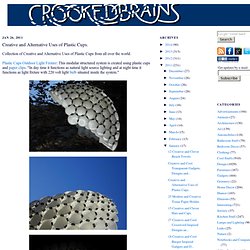 Recyclart (Recyclart) on Pinterest
Houses from salvaged materials
Home Improvement > Decorating > Trash to Treasure (Home)
Recycled Market | Reduce, Reuse, Reinspire, Recycled. The first online marketplace to buy, sell and find all things recycled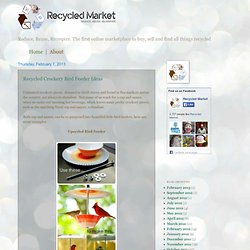 Recycled Crockery Bird Feeder Ideas Unwanted crockery pieces, donated to thrift stores and found in flea markets across the country, are always in abundant. Not many of us reach for a cup and saucer, when we make our morning hot beverage, which leaves many pretty crockery pieces, such as the matching floral cup and saucer, redundant. Both cup and saucer, can be re-purposed into beautiful little bird feeders, here are some examples: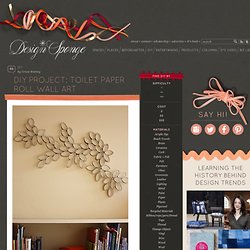 it's not every day that you find a clever way to reuse something from the bathroom, but tali from growing up creative had a simple but beautiful idea that lets you reuse toilet paper rolls. whether you're looking for a fun afternoon craft to do with little ones or just want to find a way upcycle old toilet paper rolls, this is a perfect afternoon project. i'm tempted to spray paint them in metallic colors to make a holiday-style arrangement… CLICK HERE for the full instructions from tali below! Materials: Toilet Paper rolls Scissors White glue Stapler Paint + brushes Glitter Laundry pins Steps:
toilet paper roll wall art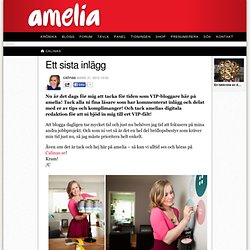 Calinas
Jag har gjort ett stort påskpyssel-reportage i senaste amelia-tidningen som kommer ut i butik på torsdag. Sju enkla, men dock piffiga pyssel bjuder jag på och det får ni ju bara inte missa! Därför tänkte jag tävla ut två nummer av tidningen till er läsare. Skriv en kommentar på det här inlägget om varför ni behöver inspiration i påsk, så väljer jag ut två av er som får varsin tidning. Där kan ni läsa om hur man bland annat gör knäckiga lyckoägg, äggskalsljus eller en äggskalsvas.
Progressive Pioneer: Make and Do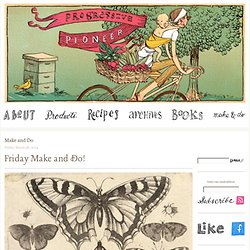 So, here's a funny thing. I totally thought this Sunday was Easter! Maybe you were wondering why I was starting my Easter grass SO early?
Make It: Ruffled Umbrella
The best trick of all is repairing broken stuff. You would be amazed that in this throw away age so many things can be repaired easily. Invest your money in quality tools, and you will find the tool pays for itself in the first few repairs you make with it. There are wonderful adhesives and tapes that people aren't aware of that work wonders. Take an hour and go to a home hardware store and really browse around to discover some of these wonders of the modern world. You can also look online at some great catalogs that sell woodworking supplies, and find a great assortment of fine tools that you can use to repair almost anything.
Most Popular Repurposing Tricks of 2011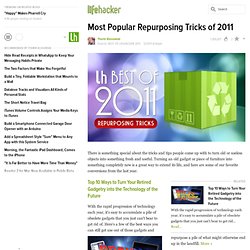 10 DIY Wine Crate Projects
Those of you, um, enthusiastic enough to remember Star Trek IV may recall the scene embedded above. If not, let me set up the clip: The crew of the Enterprise has gone into the past to retrieve some whales, OK? And take them "back to the future," to coin a phrase. But Scotty has a problem: He needs stuff to build a giant whale tank on the ship, but he has no goods to trade with, because, you know, in the future they only work to better themselves and nobody but a Ferengi would stoop to carrying money around. So Scotty barters his knowledge of 24th-century materials technology with a 20th-century engineer, who agrees to make him what he needs in exchange. The 24th-century material in question is "transparent aluminum," and today I'm here to tell you: That future has arrived.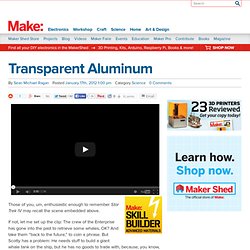 Transparent Aluminum
Most Popular Repurposing Tricks of 2011
Do-it-yourself decorating allows you to customize your home, apartment, condo, or room with DIY accents that transform your space on a budget without completing a full-scale remodel. Whether you're a beginner or an expert, we guide you… read more Do-it-yourself decorating allows you to customize your home, apartment, condo, or room with DIY accents that transform your space on a budget without completing a full-scale remodel. Whether you're a beginner or an expert, we guide you with instructions, tutorials, and step-by-step photos for indoor and outdoor projects and room makeovers.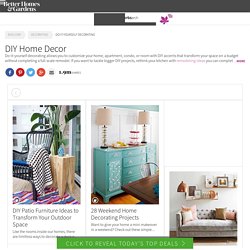 RM100: Loaf Tin Storage
Upcycled
See You There!: DIY - Toilet Paper Roll Wreath
During my idea drain, many of you were kind enough to suggest some projects that you have enjoyed. One of them was from:I immediately went over and checked out her post. Miraculously my brain turned back on and I remembered this post from 5 Orange Potatoes. 5OP used glitter glue in her project. We didn't have any so we used my favorite Mod Podge.
An Experiment With Mod Podge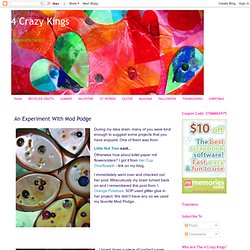 The How-To Gal: Trash to Treasure- Turquoise TP Art
What you need:Toilet Paper Rolls- the number depends on how large your creation will beTacky GlueScissorsSpray Paint3M Wall Mount SquaresPatience :) Gather toilet paper rolls. I used about 28 rolls for this project. Paper towel rolls count for approx. three regular sized rolls. Squish your rolls Cut slices of the roll to desired thickness.
I mentioned in my last post that I was experimenting with some toilet paper and paper towel rolls I'd been saving. And here's what I came up with- Pendants! Once the basic idea for making jewelry from TP and PT rolls popped into my head I couldn't stop thinking of variations. So I'm showing three different techniques here, all of them use the same basic materials: TP/PT Rolls Scrap paper (card stock and lighter scrapbook weight)
Mega•Crafty: PT and TP Roll Pendants
Hacks and DIYs
Most Popular Repurposing Tricks of 2011 - StumbleUpon
House made entirely of containers