Galleries
Ocula | Contemporary & Fine Art, Artists, Galleries and Exhibitions in Asia Pacific. Galerie Katharina Krohn Basel. Artists - Originals - M - RoGallery.com. Odon Wagner Contemporary :: Artists Represented, Toronto, Canada. ARTDOXA - Community for Contemporary Art. Opera Gallery, art gallery, painting, artwork for sale, sculpture. Paula Cooper Gallery. Jerald Melberg Gallery > Artists > Gallery Artists. Current Exhibitions - Gagosian Gallery. Arte contemporáneo - Información. Nueveochenta abrió sus puertas en Marzo de 2007 como un espacio dedicado a la difusión del arte contemporáneo latinoamericano, manteniendo un especial énfasis en la consolidación plástica y comercial de un grupo de quince artistas tanto a nivel local como internacional.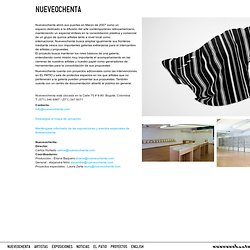 Nueveochenta busca ampliar igualmente sus fronteras mediante nexos con importantes galerías extranjeras para el intercambio de artistas y propuestas. El proyecto busca mantener los roles básicos de una galería, entendiendo como misión muy importante el acompañamiento en las carreras de nuestros artistas y nuestro papel como generadores de herramientas para la consolidación de sus propuestas Nueveochenta cuenta con proyectos adicionales como las intervenciones en EL PATIO y sala de protectos espacios en los que artistas que no pertenecen a la galería pueden presentar sus propuestas. Bruce Silverstein Gallery, located at 535 West 24th Street in Chelsea, represents fine art photography.
Home - Spazio Anna Breda. Florence Academy of Art, School of fine arts Italy. Sell Artwork, Buy Original Paintings, Art Prints, Discover New Artists | Saatchi Online.
---