Storytelling
Hi there. These are my first steps in the realm of pearltrees. So don't hesitate to give me hand in curating the best content on storytelling avaliable Mar 17
Get flash to fully experience Pearltrees
1. Call me Ishmael.
The Thirty-Six Dramatic Situations is a descriptive list which was created by Georges Polti to categorize every dramatic situation that might occur in a story or performance. To do this Polti analyzed classical Greek texts, plus classical and contemporaneous French works. He also analyzed a handful of non-French authors.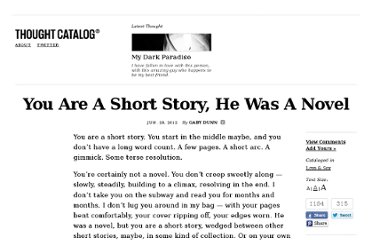 You are a short story. You start in the middle maybe, and you don't have a long word count.
Previous iterations of the "25 Things" series:
Welcome to YouTube!
Percolating Paranoia
It's natural for a child to assume that his or her own childhood is unremarkable.