NewhouseSM4
Warning! | There might be a problem with the requested link. The link you requested has been identified by bitly as being potentially problematic.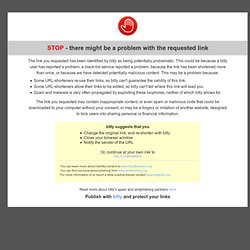 This could be because a bitly user has reported a problem, a black-list service reported a problem, because the link has been shortened more than once, or because we have detected potentially malicious content. This may be a problem because: Some URL-shorteners re-use their links, so bitly can't guarantee the validity of this link.Some URL-shorteners allow their links to be edited, so bitly can't tell where this link will lead you.Spam and malware is very often propagated by exploiting these loopholes, neither of which bitly allows for.
BOMBSHELL: Huge Company Bans Internal Email, Switches Totally To Facebook-Type-Stuff And Instant Messaging. In case big email providers like Microsoft, Google, and Yahoo hadn't already been scared stiff by recent online communication trends, this news should wake them up.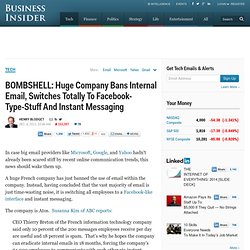 A huge French company has just banned the use of email within the company. Instead, having concluded that the vast majority of email is just time-wasting noise, it is switching all employees to a Facebook-like interface and instant messaging. The company is Atos. Susanna Kim of ABC reports: Infographic: 5 Companies That Are Rocking Social Media. This infographic was created by Voltier Digital, a content marketing agency based in Florida, specializing on the creation and promotion of impactful content marketing campaigns for businesses of all sizes.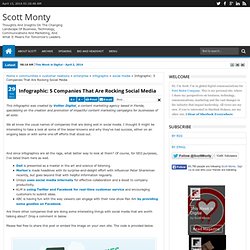 We all know the usual names of companies that are doing well in social media. I thought it might be interesting to take a look at some of the lesser-knowns and why they've had success, either on an ongoing basis or with some one-off efforts that stood out. 5 ways Colleges and Universities are Turning Google+ into the Ultimate Recruiting Network. Despite lingering on the cusp of mainstream use and popularity, Google+ brand pages have opened up a niche door for universities and colleges to engage and entice potential students.
Mashable recently highlighted 17 universities currently using Google+ pages ( and their early procedures to attract an audience and increase interactions. After researching more than 150 universities, colleges, university services, and alumni associations, it's clear that many are putting the network to efficient use. Google+ allows universities to offer a one-stop shop for insights and academic highlights, and even provides personal interaction through Google Hangouts. Here are five ways upper education utilizes Google+ to draw attention to all they have to offer current and future students. 5 Blogging and Social Media Lessons from Oprah — Studio Notes by Shai Coggins. It's no secret: I'm an Oprah admirer.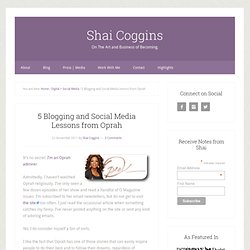 Admittedly, I haven't watched Oprah religiously. I've only seen a few dozen episodes of her show and read a handful of O Magazine issues. Groupon Mix Up Leads To Chaos At Santa's Grotto. A false Groupon offer for a Santa's grotto in the English city of York has lead to the resignation of one of Santa's elves, reports the Telegraph.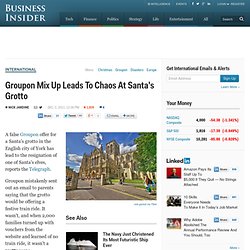 Groupon mistakenly sent out an email to parents saying that the grotto would be offering a festive train ride. It wasn't, and when 2,000 families turned up with vouchers from the website and learned of no train ride, it wasn't a pretty scene. It is reported that the grotto's staff received so much abuse from angry parents that one of Santa's elves resigned, unhappy at the treatment he had been subject to. It is thought that Groupon may have confused the grotto in York with another one in the nearby city of Hull, which did have a train ride.
The mistake comes as Groupon is under investigation by the British Office of Fair Trade with the company reportedly violating 50 advertising regulations this year. Tips for Attending Online Career Fairs. These days, going to a career fair doesn't require actually going anywhere.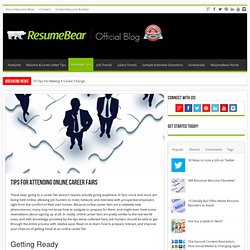 In fact, more and more are being held online, allowing job hunters to meet, network, and interview with prospective employers right from the comfort of their own homes. Because online career fairs are a relatively new phenomenon, many may not know how to navigate or prepare for them, and might even have some reservations about signing up at all. In reality, online career fairs are pretty similar to the real world ones, and with knowledge provided by the tips we've collected here, job hunters should be able to get through the entire process with relative ease. 25 Engaging Women Celebrities of Social Media – Vol. 1 | A few months ago, Melissa Stewart created a list of 20 Women on Twitter That You Should Follow .
Being included on that list was an incredible honor (especially when grouped with such talent), but it was also nice to get the heads up on some amazing women that I wasn't yet following. I wanted to do something here on Work Smart Lifestyle with my own twist, so I created this list: a completely random (no order of preference) grouping of (Yes, some of these fab ladies are on Melissa's list, but I couldn't leave them out because they truly are super stars and #smgirlfriends ). It was REALLY hard to narrow this list down to 25, but the goal was to curate a fairly broad sampling of personalities while giving you a snapshot of Tweetchats, blogs, Facebook pages etc that these ladies are known for. The World Is Officially Obsessed With Facebook. There seems to be no end to the obsession of Facebook, and the many ways it keeps us glued to the screen are increasing.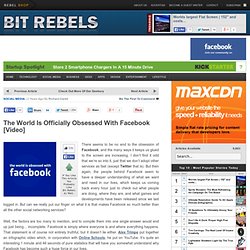 I don't find it odd that we're so into it, just that we don't adopt other services as fast (except Twitter that is). But then again, the people behind Facebook seem to have a deeper understanding of what we want and need in our lives, which keeps us coming back every hour just to check out what people are doing, where they are, and what games and developments have been released since we last logged in. But can we really put our finger on what it is that makes Facebook so much better than all the other social networking services? Well, the factors are too many to mention, and to compile them into one single answer would end up just being… incomplete. Chevy Tests Sonics With Those Who Have High Klout Scores | News. Cowboys kick cheerleader off Twitter? It's easy to look back at previous drafts and find players that, according to their production, should've been drafted higher.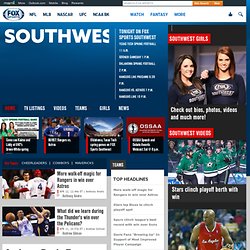 Obviously no team has a perfect draft. The Dallas Cowboys' 2013 haul already looks promising after one year. 5 Google+ Pages to Follow for Fitness Inspiration. Everybody needs a support group in their life. But what do you do when you don't have one? Maybe your friends and family aren't supportive of your goals, or maybe you just don't feel you have all the resources you need for your get-healthy journey.
When that's the case, it might be beneficial to turn to an online support group. With the advent of social media networks like Facebook and Twitter, it's easier than ever to connect to people who share your same interests, passions and healthy living goals. That's why we're excited to unveil the newest in our social media arsenal, SHAPE magazine's Google+ page! Facts also fall victim in Mexico 'social media' killings. REPORTING FROM MEXICO CITY -- Four people have been killed in gruesome fashion in Mexico since September for posting about drug cartels on social-media websites, the headlines and news reports say.
Trouble is, the reports could be wrong. Information is the latest battleground in Mexico's drug war, as a string of brutal deaths in the northern border city of Nuevo Laredo has produced alarming reports that social networks are under attack by the infamous Zetas cartel. Most of the reports, however, are not built on verifiable facts. Google+ Now Affects Your Klout Score. RootMusic - BandPages on Facebook! Graphin' Your Stats. Bargain Hunters Like To Find n Save. A consortium of newspapers are offering bargain-hunting shoppers an alternative to Groupon and Living Social. The Find n Save platform is tailored to local audiences, offering digital coupons, daily deals, digital circulars, and other advertising products designed and managed by the local affiliate for maximum impact.
Find n Save is available to any local daily newspaper in the United States. By the end of 2012, Find n Save will be in place at an estimated 250 newspapers. By the end of 2013, an estimated 400 newspapers are expected to be Find n Save affiliates. Instagram rockets to 13 million users in 13 months. The popular photo app that's responsible for flooding the internet with fuzzy, low-contrast, retro images of cats, hipsters and urban street scenes shows no sign of slowing down. Of course we're talking about Instagram and its iPhone-only app for sharing stylized photos. The startup attracted 12 million users in just over a year on the App Store.
INFOGRAPHIC: Here's How To REALLY Use LinkedIn. 10 Words That Will Increase (or Decrease) Your Twitter CTR. SOPA: Tumblr, Firefox and Reddit Protest the Proposed Law by Censoring Themselves Mashable SOPA: Tumblr, Firefox and Reddit Protest the Proposed Law by Censoring Themselves | The top source for social and digital news. How Sapient Nitro can turn a social media disaster into an opportunity. Google launches music service to rival iTunes. Warning. The Top 10 Messages You're Really Sending. The Future of Social TV. Klout scores: Do they belong on résumés? - Campus Overload. Stucck™ Is Shopping Gone Social—Facebook App Helps Consumers Decide Between Products Based on Friend Feedback. Social Media Switches Me Off. Infographic: The Science Of Social Timing | Top Social Media Marketing Companies Florida | Social Media Florida | MDG Advertising. Google+ Users Are Still Mostly Male. Fox News Invites Audience to Speak With GOP Candidates on Google+ Hangouts.
Tasker - Location Based Tasks on your iPhone. The Rise Of Pinterest And The Shift From Search To Discovery. Infographic: The 20 Most (and Least) Connected Words on LinkedIn. Protecting Your Online Reputation: 4 Things You Need to Know. Start a Twitter chat just by typing "!b" with Blether. Commenting Etiquette 101. Freebies for Klout Users, Targeted Ads For Companies. Social Consumers and the Science of Sharing [INFOGRAPHIC]
Twitter for Ornithophobics. How Chapstick Responded to Criticism on Facebook. The Lifecycle of a Web Page on StumbleUpon. Facebook Says 600,000 Accounts Compromises Per Day. Google+: Misunderstood or Underestimated? Working the 9 to 5 job was killing me. Upstart Unthink wants to become the new anti-Facebook. Channels and Celebrities: Say Hello to the New YouTube. Can Social Media Make a Real Difference? Gary Vaynerchuk. How a Journalist Uses Social Media. Qatar religious conference focuses on social network uses. Don McMillan: Life After Death by PowerPoint.
Can the Facebook economy help Americans find jobs? | Digital Media. The global reach of social networks. Klout Updates The Way It Judges Your Social Influence. How Far Did Your Tweet Travel? BizBuzz Social Media Conferences - Northeast Social Media Shows - BizBuzz. Why and How to Help Get Your Friends Jobs. 11 Tips for Using Social Media to Land Your Dream Job.
Let me google that for you. Yoli / Pinterest. Behance Jobs | One Day, One Job. Favspot: Location-based Bookmarking on Your Mobile. Executive Management Recruiters - The Daily Recruiter Blog. How To Make an Impact in The First Interview. President Obama on Steve Jobs: "The World Has Lost a Visionary" In Case of Emergency, Use Social Media. Facebook Pages May Offer Clues to Underage Drinking - Kids' Health. Newhousesm4.
Ireland Bans Powerful Child-Abuse PSA for Baffling, Idiotic Reason. How Has Money Spent On Advertising Changed Over The Years. Who Is Winning The Mobile Platform Race. The Seven Secret Steps to Irresistible Blog Posts.
---