设计参考
YC创始人Paul Graham:如何开始创业. 据雷锋网报道,Y Combinator Demo Day已经结束,但YC对创业公司的影响一直没有停止。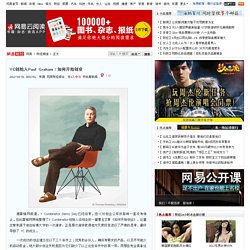 在此雷锋网特地整理了Y Combinatior创始人谈创业的一篇著名文章《如何开始创业》,这篇文章来源于他在哈佛大学的一次演讲,正是那次演讲使得他对天使投资进行了严肃的思考,最终导致了 YC 的成立。 一次成功的创业建立在以下三个条件上:优秀的合伙人,确实有需求的产品,以及尽可能少的启动资金。 绝大部分创业失败是因为它们缺少了以上这些条件中的某一项,而那些完全具备这三点的创业往往会取得成功。 让人欣慰的是,当你认真考虑它们的时候,这三点条件都是可行的,虽然可能有一点困难。 鉴于成功的创业应该会让创始人富有,我们可以得出结论:富有的生活是可以实现的,只是有一点困难。 工艺美术学院 SHANDONG UNIVERSITY OF ART & DESIGN 设计大学. 未来的设计将改变装帧观念——访清华大学美术学院吕敬人教授 编者按:吕敬人(1947.8.26—) 上海人,书籍设计师、插图画家,视觉艺术家,AGI国际平面设计协会会员。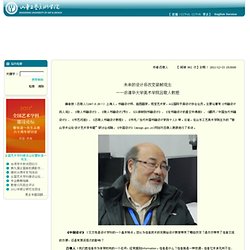 主要论著有《书籍设计四人说》、《敬人书籍设计》、《敬人书籍设计2号》、《从装帧到书籍设计》、《在书籍设计的星空中漫游》、《翻开/中国当代书籍设计》、《书艺问道》、《吕敬人书籍设计教程》、《书戏/当代中国书籍设计家四十人》等。 HistoryShots: Visual graphics and visual histories. 流程图符号. Navigator. 现代化:世界观与认识论. A visual exploration on mapping complex networks. Infographic education. Infographic: Education in Video Game | Kyle Cai. The Do's And Don'ts Of Infographic Design.
数据视觉化的美丽之处_数据视觉化的美丽之处. Why It Pays To Earn A Higher Degree [INFOGRAPHIC] 10 Ways To Become A Better Online Learner 6.97K Views 0 Likes There are some quick and easy ways to become a better online learner.
Whether you're taking a class or just researching, here are the DOs and DON'Ts. 5 Stages of Travel Interactive Infographic. Exploratree - Exploratree by FutureLab. Vision Mapper by Futurelab.
---