Technology
The Anatomy of the Perfect Blog Post. 434 Flares Filament.io 434 Flares × Phew!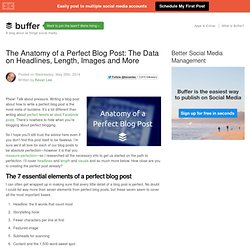 Talk about pressure. Writing a blog post about how to write a perfect blog post is the most meta of burdens. It's a bit different than writing about perfect tweets or ideal Facebook posts. The Best Free Video Editors For Windows. Video has become an incredibly common part of everyday life.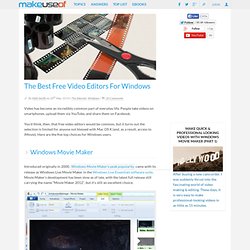 People take videos on smartphones, upload them via YouTube, and share them on Facebook. You'd think, then, that free video editors would be common, but it turns out the selection is limited for anyone not blessed with Mac OS X (and, as a result, access to iMovie). Here are the five top choices for Windows users. Windows Movie Maker. 32 Ways to Use Google Apps in the Classroom - Google Slides. Time to retool? End of year EdTech questions teachers ought to ask themselves. Education blogger, consultant and speaker John Hardison of Getting Smarter listed 50 questions educators should consider at the end of each school year.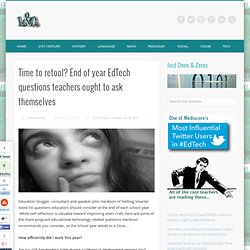 While self-reflection is valuable toward improving one's craft, here are some of the more poignant educational technology related questions Hardison recommends you consider, as the school year winds to a close… How efficiently did I work this year? Are you still handwriting notes during professional development sessions (and trying to relocate them later), are are you taking notes online using tools like Evernote? Are you still standing by the photocopier making notices to send home, or have you considered implementing parent and student texting tools like Remind101 that maintain the privacy of your phone number? Tech Twins - Home. Teacher Rollout Resources. Edmodo. A List of Great Free Math Websites for Teachers and Students. This is the third post in a series of posts covering a wide spectrum of free resources on different subject areas.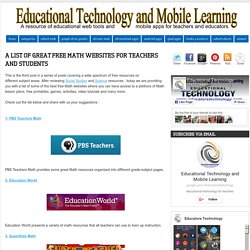 After reviewing Social Studies and Science resources , today we are providing you with a list of some of the best free Math websites where you can have access to a plethora of Math lesson plans, free printables, games, activities, video tutorials and many more. Check out the list below and share with us your suggestions : 1- PBS Teachers Math PBS Teachers Math provides some great Math resources organized into different grade-subject pages. Irvin Smith - Irvin Smith. DS106: The Open Online Community of Digital Storytellers by Jim Groom. On March 29th, 2012 we launched this Kickstarter project as a way for the community to contribute to the cost of the server for the DS106 website.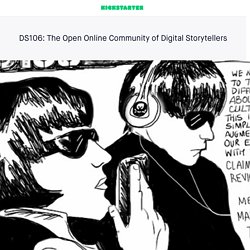 In less than 24 hours we met and exceeded that initial goal of $4,200 and over the course of the following 2 weeks we raised over $12,000 to fund further innovation of this open online community. This has been an incredible testament to the power of the space we have created and we can't wait to see what comes next. Digital Storytelling - We jam econo.
Apps to Use as Student ePortfolios. I have yet to find the perfect Digital Portfolio app that I think I would use exclusively in a Visual Arts class.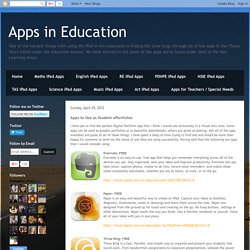 Some apps can be used as graphic portfolios or as beautiful sketchbooks, others are great at sharing. Not all of the apps available are great at all of these things. I have spent a heap of time trying to find one and would be more than happy for someone to send me the name of one they are using successfully. Having said that the following are apps that I would consider using; Evernote: FREE Evernote is an easy-to-use, free app that helps you remember everything across all of the devices you use.
Dropbox. Easy scheduling. The Flipped Classroom Defined. Instant Screen Sharing | Screenleap. PicMonkey. TexasISD.com. Landmarks for Schools. Techchicktips.wikispaces. Ever see those little square codes in magazines and newspapers?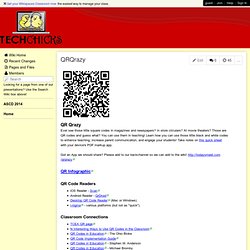 In store circulars? At movie theaters? Mr. Andrade's Class Web Site. Welcome to my home on the World Wide Web!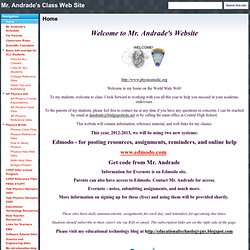 To my students, welcome to class. 11 Free Tools for Creating Websites and Simple Webpages. Last week I wrote about Codecademy's new programs for teaching basic HTML, CSS, and other fundamentals for building websites.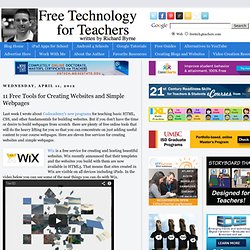 But if you don't have the time or desire to build webpages from scratch there are plenty of free online tools that will do the heavy lifting for you so that you can concentrate on just adding useful content to your course webpages. Here are eleven free services for creating websites and simple webpages. Wix is a free service for creating and hosting beautiful websites. Wix recently announced that their templates and the websites you build with them are now available in HTML5. That means that sites created in Wix are visible on all devices including iPads. Welcome to Flubaroo. SugarSync. Create your free Blog. Aviary.com. My Favorite Resources for Teachers and Students. I've recently posted lists of the most popular posts for past weeks and for the life of this blog, but I thought I'd post a list of my favorite resources too.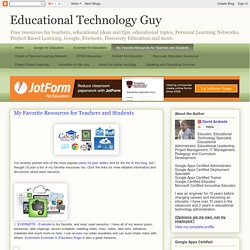 Click the links for more detailed information and discussion about each resource. 1. EVERNOTE - Evernote is my favorite, and most used resource. eSchool News | DROPitTOme - Securely receive files from anyone to your Dropbox. Android 4 Schools. Chrome « TweetDeck - Your social world, centre stage. Free Technology for Teachers. Create a Personal Learning Network. Creating a Personal Learning Network (PLN) What is a PLN? A PLN is a way for you to make connections and share ideas and resources. You have one with colleagues that you work with. You can also have one online where you can reach and connect with educators from around the state, country, and world.
Talk about a great resource!
---