Caramels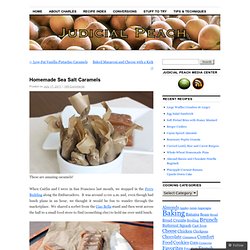 These are amazing caramels! When Caitlin and I were in San Francisco last month, we stopped in the Ferry Building along the Embarcadero. It was around 11:00 a.m. and, even though had lunch plans in an hour, we thought it would be fun to wander through the marketplace. We shared a sorbet from the Ciao Bella stand and then went across the hall to a small food store to find (something else) to hold me over until lunch. At the checkout stand, there was a tin bin, filled with several varieties of caramels.
Butter Caramels Recipe :
Ingredients 14 1/2 ounces sugar 1/2 cup water 1/2 cup light corn syrup 1/4 teaspoon cream of tartar 1 cup heavy cream, room temperature 2 teaspoons soy sauce 8 tablespoons unsalted butter, cut into 8 pieces, at room temperature 1 teaspoon coarse sea salt Directions Line the bottom and sides of an 8-inch square pan with parchment paper. Combine the sugar, water, corn syrup, and cream of tartar in a heavy 4-quart saucepan and put over high heat. Stir occasionally until the sugar has dissolved.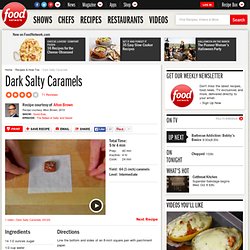 Dark Salty Caramels Recipe : Alton Brown
Charlotte's Caramels Recipe :
Spray bottom and sides of a 9 by 11-inch baking pan with vegetable oil or rub with 1 tablespoon butter. In a small heavy saucepan, combine cream, evaporated milk, and sweetened condensed milk. Set aside to warm later. In a large, heavy saucepan, combine corn syrup, sugar, water, and salt. Over high heat, cook until sugar is dissolved, about 6 to 8 minutes, brushing down sides of pan with a pastry brush dipped in water to remove any sugar crystals.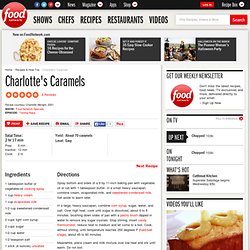 Soft Chocolate Caramels Recipe :
Ingredients 1 cup sugar 1/2 cup light corn syrup 1 cup heavy cream, at room temperature 2 ounces bittersweet chocolate, finely chopped 1 tablespoon unsalted butter Directions In a heavy-bottomed sauce pan, stir the sugar and corn syrup together until the sugar is completely moistened.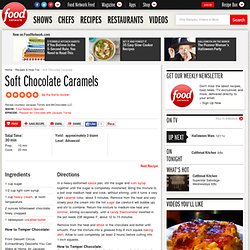 Golden Caramels Recipe :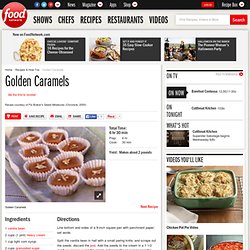 Ingredients 1 vanilla bean 2 cups (1 pint) heavy cream 1 cup light corn syrup 2 cups granulated sugar 2 ounces (1/2 stick) unsalted butter, softened and cut into 4 pieces 1/2 teaspoon salt 24-karat gold leaf Directions Line bottom and sides of a 9-inch square pan with parchment paper; set aside. Split the vanilla bean in half with a small paring knife, and scrape out the seeds; discard the pod. Add the seeds to the cream in a 1 1/2 quart saucepan; scald the cream and keep the saucepan near the stove so that if the cream cools too much when needed, you can reheat it briefly.