Caramels
Utah Deal Diva: Helping Utah families live on less!: Holiday Baking: Homemade Caramels. Homemade Sea Salt Caramels | These are amazing caramels!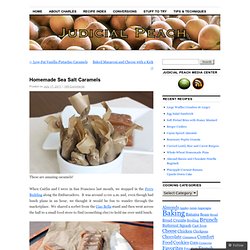 When Caitlin and I were in San Francisco last month, we stopped in the Ferry Building along the Embarcadero. It was around 11:00 a.m. and, even though had lunch plans in an hour, we thought it would be fun to wander through the marketplace. We shared a sorbet from the Ciao Bella stand and then went across the hall to a small food store to find (something else) to hold me over until lunch. At the checkout stand, there was a tin bin, filled with several varieties of caramels. Butter Caramels Recipe : Dark Salty Caramels Recipe : Alton Brown. Directions Line the bottom and sides of an 8-inch square pan with parchment paper.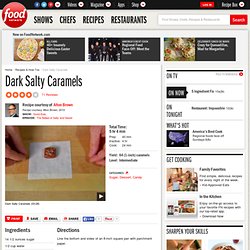 Combine the sugar, water, corn syrup, and cream of tartar in a heavy 4-quart saucepan and put over high heat. Charlotte's Caramels Recipe : Directions Spray bottom and sides of a 9 by 11-inch baking pan with vegetable oil or rub with 1 tablespoon butter.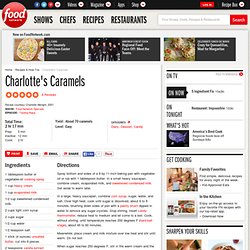 In a small heavy saucepan, combine cream, evaporated milk, and sweetened condensed milk. Set aside to warm later. Soft Chocolate Caramels Recipe : Directions In a heavy-bottomed sauce pan, stir the sugar and corn syrup together until the sugar is completely moistened.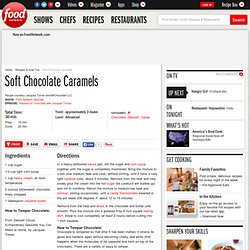 Bring the mixture to a boil over medium heat and cook, without stirring, until it turns a very light caramel color, about 5 minutes. Remove from the heat and very slowly pour the cream into the hot sugar (be careful-it will bubble up) and stir to combine. Return the mixture to medium-low heat and simmer, stirring occasionally, until a candy thermometer inserted in the pot reads 238 degrees F, about 12 to 15 minutes. Golden Caramels Recipe : Directions Line bottom and sides of a 9-inch square pan with parchment paper; set aside.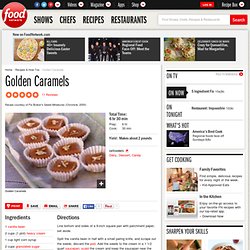 Split the vanilla bean in half with a small paring knife, and scrape out the seeds; discard the pod. Add the seeds to the cream in a 1 1/2 quart saucepan; scald the cream and keep the saucepan near the stove so that if the cream cools too much when needed, you can reheat it briefly. In a deep, heavy-bottomed 4-quart saucepan over low heat, blend the corn syrup and the sugar, stirring occasionally until the mixture becomes more fluid and most of the sugar appears dissolved. Stop stirring, raise heat to medium-high, and gently boil until a candy thermometer registers 305 degrees F (hard crack stage), about 9 to 12 minutes.
---