YESSS PORFA DO
100+ Ways to Reuse Thrift Store Finds. Shopping at thrift stores, secondhand boutiques and garage sales in your area is a great way to avoid buying new items – saving both cash and virgin resources.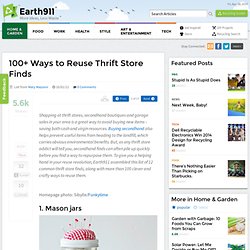 Buying secondhand also helps prevent useful items from heading to the landfill, which carries obvious environmental benefits. But, as any thrift store addict will tell you, secondhand finds can often pile up quickly before you find a way to repurpose them. To give you a helping hand in your reuse revolution, Earth911 assembled this list of 12 common thrift store finds, along with more than 100 clever and crafty ways to reuse them. Homepage photo: Sibylle/Funkytime. 25 Great Quotes to Inspire and Brighten Your Day. DIY Fashion: Screen Print Tee. The life of a college student involves attending many events, from parties, to football games, to concerts on campus.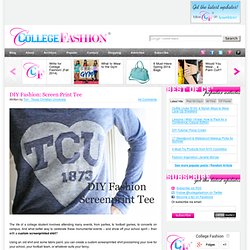 And what better way to celebrate these monumental events – and show off your school spirit – than with a custom screenprinted shirt? Using an old shirt and some fabric paint, you can create a custom screenprinted shirt proclaiming your love for your school, your football team, or whatever suits your fancy. What you'll need: Shirt, hoodie, or whatever else you want to screen printFabric paintFreezer paperIronExacto knifeRulerCardboardSpongePencilMarkerPrinter paperPlastic plate How to: Top 10 DIY Miracles You Can Accomplish with a $1 Binder Clip. SExpand I like my hipster PDA better.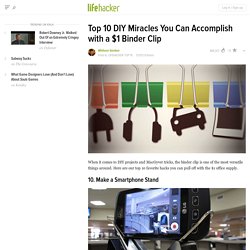 In fact, what I would totally do if I didn't love my Q is have a cheap texting dumbphone and a newer unactivated smartphone, either a Windows Phone or Blackberry, to use as a PDA alongside a dumbphone. In fact, I'd love to do that now even with my Q, but I think it may be awkward since I use my Q for all calendar needs, notes, tasks, etc. now. In that case, I'd end up using the newer smartphone more as a media device than a PDA. Oh and to stay relevant... cool article! 15 household tips that will make your life easier. Life isn't easy - just ask the Chinese man whose penis was stolen by thieves.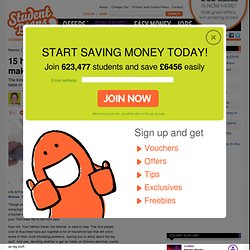 Yikes. Though yours hopefully isn't that bad, every day the universe seems to throw annoying little tasks your way - untying seemingly impossible knots, filling up a bucket of water that doesn't fit in your sink or trying to work out which of your 7000 keys fits in the front door. Fear not. Zipper Card Pouch. Have you ever had too many cards that your wallet can handle?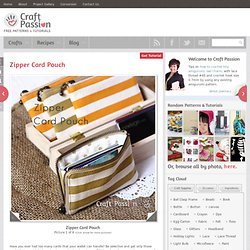 Be selective and get only those cards that you might be using in a particular shopping mall but end up they were the wrong one? Or, may be just forgot to "update" the cards in the wallet on your next trip? Can't find the cards you thought you have already put into your wallet? Before & After: A Vintage Picnic Reveal Funkytime. Turn Your Fridge into a Gallery Wall, Make Photo Magnet Mosaics. They say opposites attract.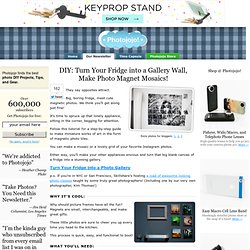 Big, boring fridge, meet cute magnetic photos. We think you'll get along just fine! It's time to spruce up that lonely appliance, sitting in the corner, begging for attention. My Yellow Sandbox: the burning face mask. I just googled it.. and will paste the info here Is your cinnamon toxic… Sent Tuesday, July 6, 2010.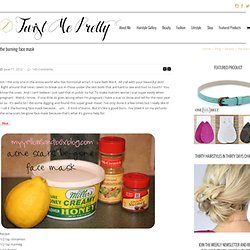 Subject: Is your cinnamon toxic… I never thought I'd be writing about. cinnamon being toxic, but here we are… Before we went to Costa Rica a few months. ago, I didn't know much about cinnamon. I knew it was a bark, but that's about it. (I didn't even know it was an inner bark!) Bottle Cap Table with Poured Resin Surface. Aquí: heres how: DIY braided back shirt. Penny Ultralight Alcohol Backpacking Stove. WARNING: Several YouTube videos show a normal pressurized stove with a penny covering the filling hole and represent this as a Penny Stove - it is not.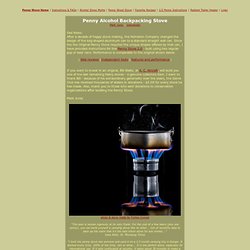 They are missing unique features that make this stove safe and efficient - including a top priming fuel area, high cup rim, jet area tuned to penny weight, spaced jets, dimpled burner, insulating base, Heineken rim spacing, and simmer ring. Ultralight Total - stove & large pot support = 43 gm or 1.5 oz Burner, penny, simmer ring, & lid/base (19gm), support (24gm) Much safer Unlike pressurized stoves, it has no external priming flame and uncontrolled pressure buildup. Unlike un-pressurized stoves, once lit, it has no open reservoir of flaming fuel to splash or spill. Unlike both, flame can be extinguished instantly - just set the pot on the stove. An insulated base protects from fires below and a wide freestanding pot support leaves the stove stable when pot is disturbed. Weekly street fashion | iFashionsBlog.com i Fashion Blog. Baby Boy Texture Book.
4002050596_0c2b6c4dd2_o.jpg (JPEG Image, 3861 × 1706 pixels) - Scaled (29%) 35 Amazing Uses For Old Pallets. 52 Weeks Project.
---