Curiosidades
Gadgets o pruductos raros
Sandstorm Christmas Lights Techno. &&&&&&&THEIR CIRCULAR... - StumbleUpon. GET YOURSELF IN GEAR. Incredible Hand Paintings - StumbleUpon. 47 Awesome and Unusual Shoes | SmilePanic. Incredibly Awesome LEGO Creations.
The world's children spend over 5 billion hours a year playing with LEGO bricks, and after taking a look at these Incredibly Awesome LEGO Creations, it's clear that some of this playtime certainly paid off.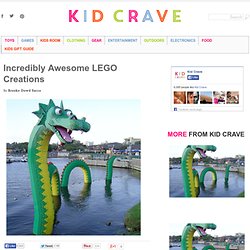 Amazing sculptures and unlikely fully-functioning objects are created when imaginative minds, playful hearts and a love of the classic brick blocks, come together for fun toy-as-medium projects. Puff The Magic Dragon …Lives by the sea, in a land called DisneyWorld, for all the kids to seeee. This fully functioning computer is fashioned out of LEGO, right down to the CPU.
JUegos y mensadas
Datos. Paginas Utiles. Humor. Imagenes Lindas.
---