Canon
Dr. EFLenses PRO. Canon-Live. Red-L. Base de données des objectifs compatibles Canon EF / EF-S - Canon EOS Photo Blog. Canon EOS Technoclopedia - A Canon EOS System Overview: Camera Bodies, Lenses, Flashes, Accessories ... EOS Documentation Project- EDP Home. Objectifs Canon. Canon Digital SLR Camera and Lens Reviews at The-Digital-Picture.com. Canon Rumors. Install Canon camera software without CD. Obtaining the Canon Camera Software Please don't call us for disks - We can't directly supply software!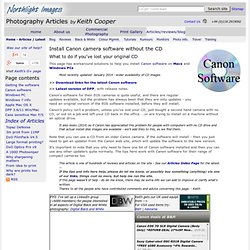 Updates/disk images for your camera can be downloaded from Canon sites. CanonLenses - Android Market. DSLR Controller was the first and remains the best app to fully control your Canon EOS DSLR from your Android device with a USB cable.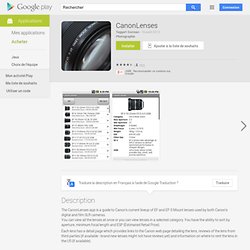 No computer or laptop required, no root required, only a compatible mobile device, a compatible camera, and the right USB cable. Compatible camera's and WFT boxes can also be controlled using Wi-Fi (in either Smartphone/Tablet mode or EOS Utility/PC mode). *** DSLR Controller is NOT compatible with all devices! For a free app you can use to test compatibility, see the "Remote Release" app ( ) *** Canon Lenses - Android Market. This is the complete guide to all DSLR and mirrorless cameras and lenses that works with Canon, Nikon, Sony, Micro Four Thirds (Panasonic and Olympus), Fujifilm X mounts, including lenses from third parties such as Sigma, Tamron, Carl Zeiss, Tokina, Samyang, Leica. +++ Technical specifications of hundreds of lenses and cameras+++ Thousands of technical reviews from reputed sites such as dpreview, the-digital-picture, photozone.de, ...+++ High Quality Sample Images taken by cameras and lenses (from Flickr and 500px), zoom feature supported+++ Most updated price from Amazon.com TranslationsLike to have digireview in your own language?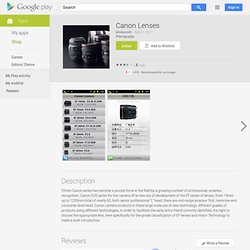 Please help with the translation at. Camera Museum | Camera Hall - EF Mount. Canon-Reviews.com | Your guide to Canon camera and lens reviews.
---