Photos
Popphackner Photography
De tous les filtres couramment utilisés en photographie, s'il y en a un en particulier que vous vous devez de posséder, c'est bien un filtre polarisant. A quoi ça sert ? Beaucoup pensent qu'un polarisant ne s'avère efficace que lorsque le soleil brille pour renforcer le bleu du ciel.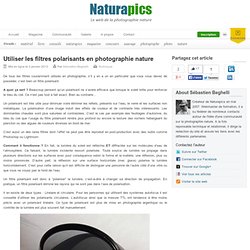 Utiliser les filtres polarisants en photographie nature | Naturapics - Le web de la photographie nature
Naturapics.com - Le web de la photographie nature
TiragesPro | Laboratoire professionnel de tirages d'art, tirages qualité expo et tirages panoramiques à prix raisonables
Filtre polarisant : trois exemples assez parlants
« Tuto Lightroom : les Filtres gradués pour les paysages | Accueil | Photojournalisme : comment reprendre le rêve où il s'est arrêté ? » dim. 27 déc 2009 Je rebondis sur la discussion d'avant hier à propos du filtre polarisant (lire les commentaires de ce post). Du coup j'ai recherché quelques exemples bien choisis de l'utilisation du filtre polarisant et j'ai même trouvé un cas ou celui-ci n'est guère approprié. Rappelons que le but d'un filtre polarisant est de vous débarrasser des rayons lumineux qui ne sont pas strictement dans l'axe optique (du moins une grande partie).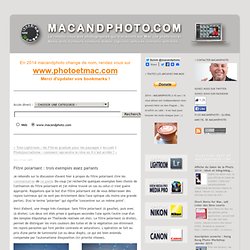 Filtre polarisant : trois exemples assez parlants
Boguslaw Strempel - фотографии. 35фото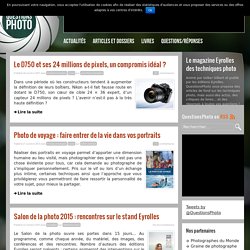 Le Nikon D610 a remplacé le D600 fin 2013, qui avait acquis la réputation d'appareil maudit du fait du nombre conséquent d'exemplaires ayant dû retourner au SAV pour cause de présence récurrente de poussières, notamment dans l'angle supérieur droit de l'image. Nikon n'a pas communiqué sur la cause de ces défauts (certains ont soupçonné des éclats de peinture se détachant du revêtement interne, qui « aspirés » par l'obturateur étaient ensuite « hachés menus » par les lames de ce dernier), mais semble y avoir remédié : pas de retour sur d'éventuels problèmes de poussière sur le D610, or nul doute que s'ils existaient, les forums Internet du monde entier s'en feraient l'écho. Le D610 comporte par ailleurs un nouvel obturateur permettant la prise de vue en mode rafale de façon plus silencieuse que son prédécesseur. Lire la suite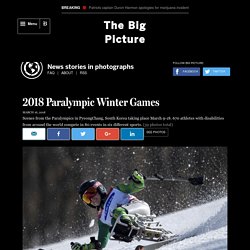 The 2014 National Geographic Traveler Photo Contest has begun. Photographers from around the world can submit their photos in the four categories: Travel Portraits, Outdoor Scenes, Sense of Place and Spontaneous Moments. The grand prize winner will receive a National Geographic Expedition to Alaska. The deadline is Monday, June 30, at 12 p.m. EDT. Here is a selection of photos from the early entries. -- (10 photos total)
Galerie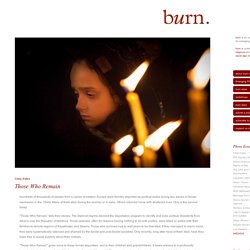 Hover over the image for navigation and full screen controls Robin Apple I Never Promised You a Rose Garden
Club Photoshop
Galerie de The White House
Quand des utilisateurs de Redit ( site communautaire open source à l'interface impossible) se mettent à analyser les données EXIF des 95 meilleurs photos 2012 de Reuters (à visiter)... ça donne ça ( lien google doc ) : Surprenant ! Ce que l'on constate, c'est que Canon équipe toujours majoritairement l'énorme masse des photoreporters du monde (du moins ceux qui collaborent avec Reuters).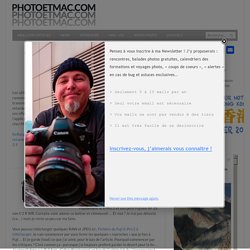 Photo from portfolio "New york yellow cabs" by Stephane Bazart, Professional Photographer - Graphic design, Other, UrbanArchitecture, Graphic design, UrbanArchitecture, UrbanLifestyle, Other, Portraits, UrbanArchitecture, Graphic design, UrbanArchitecture