ARt & DesiGN
Echo Chamber The Art World
Echo Chamber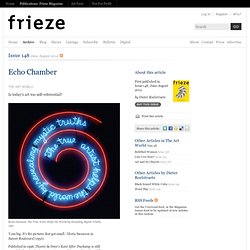 Brooklyn Street Art - ...loves you more every day.
Posted on January 24, 2014 Our weekly focus on the moving image and art in the streets.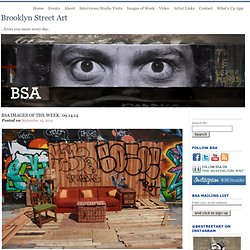 Graffitis of the Egyptian Revolution - a set on Flickr
Vendredi c'est Graphism'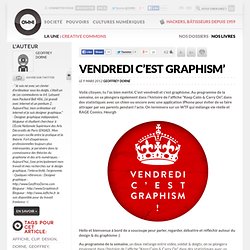 Voilà citoyen, tu l'as bien mérité.
A Fellow of the Royal Society of Arts, nominated by Creativity magazine as "one of the 50 most creative and influential minds of 2009", Manuel Lima is the Design Lead of Codecademy.com, the founder of VisualComplexity.com, and a regular teacher of data visualization at Parsons School of Design. With over 10 years of experience designing digital products, Manuel has worked for Microsoft, Nokia, R/GA, and Kontrapunkt. He holds a BFA in Industrial Design and a MFA in Design & Technology from Parsons School of Design, New York. During the course of the MFA program, Manuel worked for Siemens Corporate Research Center, the American Museum of Moving Image and Parsons Institute for Information Mapping in research projects for the National Geo-Spatial Intelligence Agency.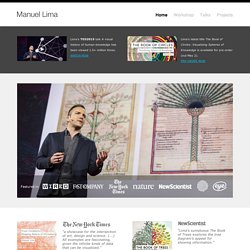 Pendant deux ans, 102 artistes sont venus graffer clandestinement sur les murs d'une station de métro abandonnée dans les sous-sols de Brooklyn, New York. Retour sur un projet qui n'a pas fini de faire parler de lui. Revok, Ceaze, photo par Luna Park © Tous les liens de cet article sont en anglais, sauf mention contraire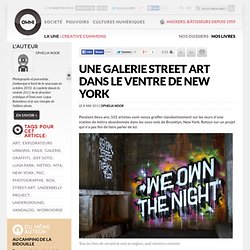 Faire d'un amas de ferraille a priori informe un bateau ou un couple, en projection sur un mur, c'est possible. Cela demande juste un peu plus de temps que de faire un lapin avec ses mains. Vous aussi vous avez mis 25 ans à maîtriser la forme du lapin en ombres chinoises ? Certains artistes se sont spécialisés dans la transformation d'ombres en œuvres d'art juste en assemblant les objets les plus improbables et en mettant la bonne lumière au bon endroit. Un top qui, à défaut de vous donner du courage dans vos futures tentatives de jeux d'ombres, vous bluffera et vous assurera que finalement, jouer avec la lumière c'est un truc de pro. Attention derrière vous c'est affreux !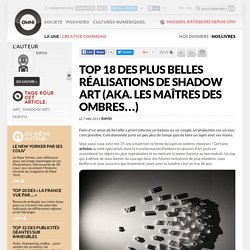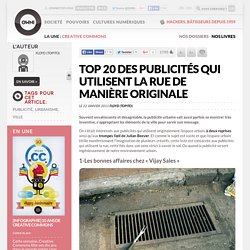 Souvent envahissante et désagréable, la publicité urbaine sait aussi parfois se montrer très inventive, s'appropriant les éléments de la ville pour servir son message. On s'était intéressés aux publicités qui utilisent originalement l'espace urbain, à deux reprises ainsi qu'aux trompes l'œil de Julian Beever. Et comme le sujet est vaste et que l'espace urbain titille manifestement l'imagination de plusieurs créatifs, cette liste est consacrée aux publicités qui utilisent la rue, cette fois dans son sens strict à savoir le sol. Ou quand la publicité se sert ingénieusement de notre environnement urbain. 1-Les bonnes affaires chez « Vijay Sales »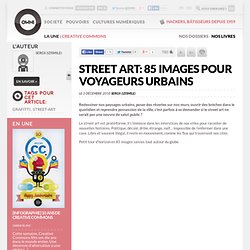 Redessiner nos paysages urbains, poser des rêveries sur nos murs, ouvrir des brèches dans le quotidien et reprendre possession de la ville, c'est parfois à se demander si le street art ne serait pas une oeuvre de salut public ? Le street art est protéiforme, il s'immisce dans les interstices de nos villes pour raconter de nouvelles histoires. Politique, décalé, drôle, étrange, naïf… impossible de l'enfermer dans une case. Libre et souvent illégal, il reste en mouvement, comme les flux qui traversent nos cités. Petit tour d'horizon en 85 images saisies tout autour du globe. Article initialement publié sur izismile.
Paradise Parking