Blahh
That's so meme
▐ Disney ♥ Inspiration▐
Is It Normal? | http://isitnormal.com
Avatar Aang.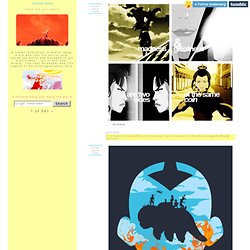 bryankonietzko : I remember back in the Avatar days… the typical fanart we would get would be a charming, childish crayon drawing stuffed in an envelope. Nowadays on Korra , I take a skewed screenshot with my phone, post it, and shortly thereafter someone un-skews it, crops it, separates the character levels, clones the background, "Ken Burns" it with a multilevel slide, animates the characters blinking and talking, tints it, and makes a GIF out of it, that I then see on the same phone with which I took the original picture. Times they are a-changin'… P.S. In case it is unclear, I'm not upset, I'm just amused and amazed.
m0ar! - Flash Gallery
Fuck Yeah Memes!
1:07am | Feb 27th, 2010 "Have you ever lost yourself in a kiss? I mean pure psychedelic inebriation. Not just lustful petting but transcendental metamorphosis when you became aware that the greatness of this being was breathing into you. Licking the sides and corners of your mouth, like sealing a thousand fleshy envelopes filled with the essence of your passionate being and then opened by the same mouth and delivered back to you, over and over again – the first kiss of the rest of your life.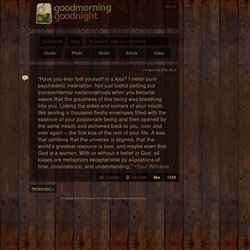 Have you ever lost yourself
Dark Side of the Lens
12:57am | Oct 2nd, 2010 DARK SIDE OF THE LENS from Astray Films on Vimeo . The first Short Stories film, by renowned photographer and bodyboarder Mickey Smith, explores his world as a true waterman – both as an athlete and artist, and is called The Dark Side of The Lens. "Originally I planned for the film to be more anonymous, rather than biographical, an all encompassing piece, to represent the photographers keeping the surfing machine afloat", explains Smith. 61 like stumble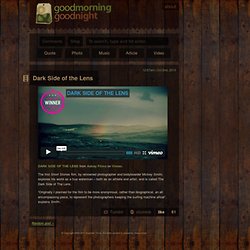 Nostalgia Station!