Blahh
That's so meme
Just for Fun!
Do you think that there would be sometime in the future a special merchandise line for Disney Animals (or dogs) like for ex: 101 dalmatians,lady and the tramp (my two fav disney movies ever!), the aristocats,dumbo,bambi,etc? I would really love to see more merchandise for these kind of movies, what do you think about it? Well since almost all of my fave Disney movies have mostly human characters i wouldn't be that excited ! but i think it would be great, and it helps advertising the underrated movies !
▐ Disney ♥ Inspiration▐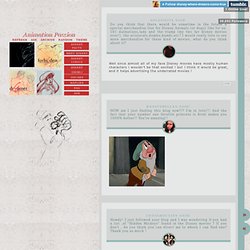 Damn You Auto Correct! - Funny iPhone Fails and Autocorrect Horror Stories
Don't Panic! 7 Ways to File a Tax Extension By William Perez Tax Planning: U.S. Expert
Need. Know. Accomplish.
NOH8 Campaign
Daily Lessons in Science, Literature, Love and Life . . . Updated Seven Days A Week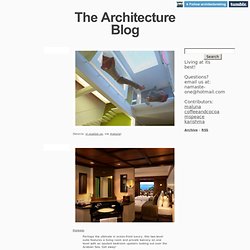 The Architecture Blog
The lobby at The Leela Goa is a contemporary celebration of the palatial architecture of ancient Vijayanagara empire and Goa's rich portuguese heritage. An intricate frieze, depicting the highly prized elephants which comprised the powerful armies of the 14th and 15th century Vijayanagara kings, adorns the upper and lower outer cornices of this entrance. Drawing an inspiration from the Thousand Pillared Hall in the Meenakshi Temple at Madurai, the central columns form a corridor guarded by the Yalis, which leads to an impressive image of the dancing God Natraj.
Is It Normal? | http://isitnormal.com
Avatar Aang.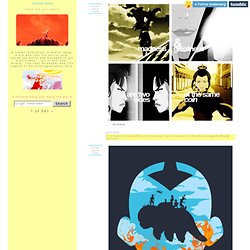 mellifluousmagnate said: I disagree about his flaws being well written for the end conflict: his not killing Ozai wasn't upholding his pacifist beliefs, it was running from a problem - which is a consistent character flaw. Except that in Ozai's case, if not for the deus ex lionturtle (that Aang didn't know existed until an hour prior), he would have been defeated because of his inability to condone killing. His past lives (Yangchen) made good arguments for death, and I feel this issue wasn't resolved convincingly. wecansexy:
Automatic Flatterer
How to Videos on MonkeySee - Free Instructional Videos
m0ar! - Flash Gallery
Fuck Yeah Memes!
1:07am | Feb 27th, 2010 "Have you ever lost yourself in a kiss? I mean pure psychedelic inebriation. Not just lustful petting but transcendental metamorphosis when you became aware that the greatness of this being was breathing into you. Licking the sides and corners of your mouth, like sealing a thousand fleshy envelopes filled with the essence of your passionate being and then opened by the same mouth and delivered back to you, over and over again – the first kiss of the rest of your life.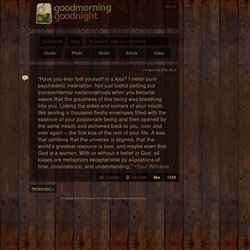 Have you ever lost yourself
Dark Side of the Lens
12:57am | Oct 2nd, 2010 DARK SIDE OF THE LENS from Astray Films on Vimeo. The first Short Stories film, by renowned photographer and bodyboarder Mickey Smith, explores his world as a true waterman – both as an athlete and artist, and is called The Dark Side of The Lens. "Originally I planned for the film to be more anonymous, rather than biographical, an all encompassing piece, to represent the photographers keeping the surfing machine afloat", explains Smith. stumble Tumblr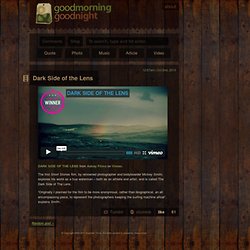 Goodmorning & Goodnight | A refreshing dose of interesting
Adieu Dec 31st, 2011 Goodbyes are always hard and this one is no exception.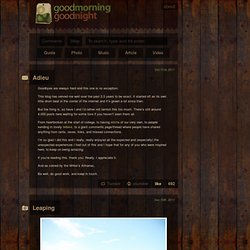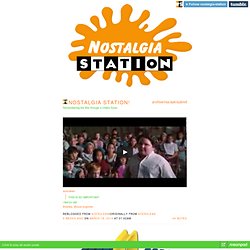 Remembering the 90s through a Child's Eyes. bookish: R.I.P. Barbara Park, author of the beloved "Junie B. Jones" books.
Nostalgia Station!