Technology & X-Want
SQUARE ENIX > FINAL FANTASY > FINAL FANTASY XV ANNOUNCED. Pebble. I used Google Glass: the future, with monthly updates. 1,372inShare Jump To Close.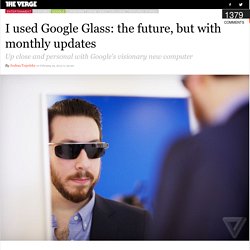 Beer Lager Mug Black Skin Samsung Galaxy S III S3 Hybrid 2 in 1 Hard Cover Case fits Sprint L710, Verizon i535, AT&T Wireless i747, T-Mobile T999, U.S. Cellular R530: Cell Phones & Accessories. Phantom Keystroker v2. Valentines Day Bling Jewelry Unisex Mens Polished Tungsten Flat 3mm Wedding Band Ring: Jewelry: Amazon.com. Logical Increments - PC Buying Guide. For gift ideas, what is the coolest thing you own under $100? : AskReddit. BAGGY GYM WORKOUT PANTS-USA FLAG PRINT: Clothing. Hyperkin SUPABOY Portable Pocket SNES Console: Video Games. Customer Reviews: The Settlers of Catan. Spinthariscopes. A Little History...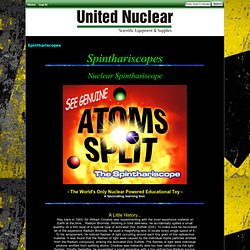 Way back in 1903, Sir William Crookes was experimenting with the most expensive material on Earth at the time... Radium Bromide. Working in total darkness, he accidentally spilled a small quantity on a thin layer of a special type of activated Zinc Sulfide (ZnS). To make sure he recovered all of the expensive Radium Bromide, he used a magnifying lens to locate every single speck of it. 10 Futuristic Materials. Lifeboat Foundation Safeguarding Humanity Skip to content Switch to White Special Report 10 Futuristic Materials.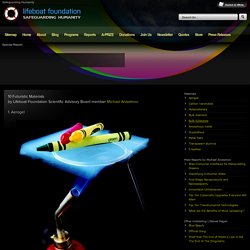 A sandstone block built from lego, blending real objects with 3d prints. Www.jvc.com.hk/media/733213/HA-FXD80 Press Release_eng.pdf. The discovery thread. New! FAD Adagio III Ericp10 take PG-242, The Sony MDR-XB90EX. Danny B's Take PG-182, How To Get From Manhattan to London in Under Two Hours. Tumbleweed Tiny House Company. Stopping Water In Mid Air! : Fun Science Water Experiment. Microsoft Can Detect Your Gestures Using Just Your Computers Audio. Plasma Rocket Could Travel to Mars in 39 Days. (PhysOrg.com) -- Last Wednesday, the Ad Astra Rocket Company tested what is currently the most powerful plasma rocket in the world.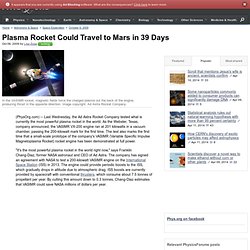 As the Webster, Texas, company announced, the VASIMR VX-200 engine ran at 201 kilowatts in a vacuum chamber, passing the 200-kilowatt mark for the first time. The test also marks the first time that a small-scale prototype of the company's VASIMR (Variable Specific Impulse Magnetoplasma Rocket) rocket engine has been demonstrated at full power. "It's the most powerful plasma rocket in the world right now," says Franklin Chang-Diaz, former NASA astronaut and CEO of Ad Astra. The company has signed an agreement with NASA to test a 200-kilowatt VASIMR engine on the International Space Station (ISS) in 2013. Wind turbine creates water from thin air. The turbine can produce up to 1,000 liters of drinking water every day, according to Eole Water.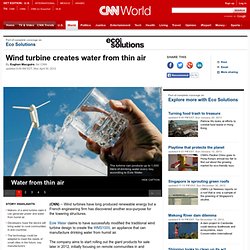 French company, Eole Water, has invented a wind turbine that can generate water from humid air. The technology offers a clean and sustainable way to provide water to rural communities, says Eole Water director of marketing, Thibault Janin. A view inside the technological processes of the Eole Water turbine. The 24-meter tall structure also filters and purifies the water it produces ensuring it is suitable to drink straight away. Descriptive Camera. The Descriptive Camera works a lot like a regular camera—point it at subject and press the shutter button to capture the scene.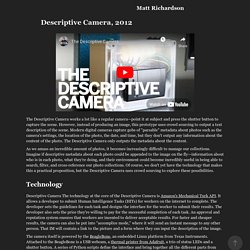 However, instead of producing an image, this prototype uses crowd sourcing to output a text description of the scene. Modern digital cameras capture gobs of "parsable" metadata about photos such as the camera's settings, the location of the photo, the date, and time, but they don't output any information about the content of the photo. The Descriptive Camera only outputs the metadata about the content. Hack Attack: Turn your $60 router into a $600 router. Got this to work on the WRT54G v8 (will work on 7 as well, just replace the one file with the corresponding 7 version): First of all, use IE explorer.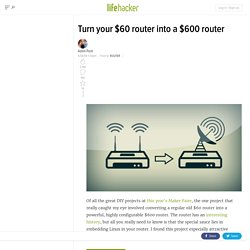 Firefox didn't work at all on this for me, even after install. Second, go to this page - [www.dd-wrt.com] Read the textfile carefully and follow its instructions. Two edits to the textfile- one, make sure you go to command prompt and type ipconfig /all. Which VPN Providers Really Take Anonymity Seriously? As detailed in yesterday's article, if a VPN provider carries logs of their users' activities the chances of them being able to live up to their claim of offering an anonymous service begins to decrease rapidly.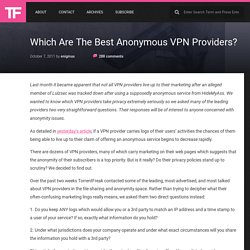 There are dozens of VPN providers, many of which carry marketing on their web pages which suggests that the anonymity of their subscribers is a top priority. But is it really? This Internet provider pledges to put your privacy first. Always. | Privacy Inc. Nicholas Merrill is planning to revolutionize online privacy with a concept as simple as it is ingenious: a telecommunications provider designed from its inception to shield its customers from surveillance.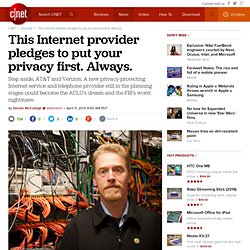 Merrill, 39, who previously ran a New York-based Internet provider, told CNET that he's raising funds to launch a national "non-profit telecommunications provider dedicated to privacy, using ubiquitous encryption" that will sell mobile phone service and, for as little as $20 a month, Internet connectivity. The ISP would not merely employ every technological means at its disposal, including encryption and limited logging, to protect its customers. Stephen Wolfram: Computing a theory of everything | Video on TED.com - StumbleUpon.
Re:fill Chime Bell And Lights For Restaurants by Doyeop Kim & Yanko Design - StumbleUpon. An Empty Bottle Gets A New Purpose In Life What good is an empty discarded glass bottle?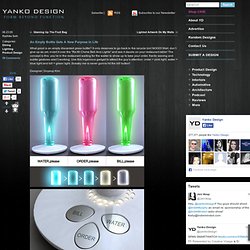 It only deserves to go back to the recycle bin! NOOO! Wait, don't give up as yet, invert it over the "Re:fill Chime Bell And Lights" and see it dazzle on your restaurant table! The concept is this: you're in the restaurant waiting for the waiter to show up to take your order, frantic waving and subtle gestures aren't working. Epson's Android-Powered Glasses Are Out of Sight | PCWorld - StumbleUpon. Epson (yes the guys that make printers), has invented what could be the coolest headwear since Geordi La Forge's VISOR on Star Trek: The Next Generation. The Epson Moverio BT-100 is a wearable transparent display that runs on Android. The Moverio uses micro-projectors to project the equivalent of an 80-inch screen into your eyes, and is capable of displaying both 2D and 3D content.
You can even load apps onto it, thanks to the device being able to connect to Wi-Fi and having access to the Amazon App Store. The glasses are slightly larger than normal sunglasses, and have an attached control pad for navigating about the Android interface. Technology - StumbleUpon.
---