Technology & X-Want
SQUARE ENIX > FINAL FANTASY > FINAL FANTASY XV ANNOUNCED
1,354 in Share Jump To Close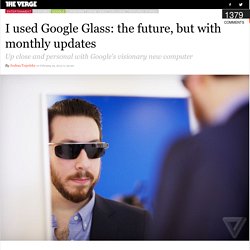 Beer Lager Mug Black Skin Samsung Galaxy S III S3 Hybrid 2 in 1 Hard Cover Case fits Sprint L710, Verizon i535, AT&T Wireless i747, T-Mobile T999, U.S. Cellular R530: Cell Phones & Accessories
Phantom Keystroker v2
Valentines Day Bling Jewelry Unisex Mens Polished Tungsten Flat 3mm Wedding Band Ring: Jewelry: Amazon.com
for gift ideas, what is the coolest thing you own under $100? : AskReddit
BAGGY GYM WORKOUT PANTS-USA FLAG PRINT: Clothing
Hyperkin SUPABOY Portable Pocket SNES Console: Video Games
Customer Reviews: The Settlers of Catan
A Little History... Way back in 1903, Sir William Crookes was experimenting with the most expensive material on Earth at the time... Radium Bromide. Working in total darkness, he accidentally spilled a small quantity on a thin layer of a special type of activated Zinc Sulfide (ZnS). To make sure he recovered all of the expensive Radium Bromide, he used a magnifying lens to locate every single speck of it.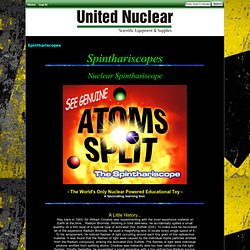 Spinthariscopes : United Nuclear , Scientific Equipment & Supplies
Lifeboat Foundation Safeguarding Humanity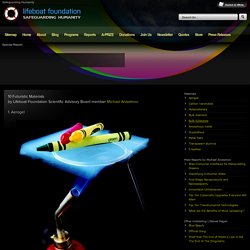 A sandstone block built from lego, blending real objects with 3d prints on Vimeo
Redback® Fire Station Boots
www.jvc.com.hk/media/733213/HA-FXD80 Press Release_eng.pdf
The discovery thread. New! FAD Adagio III Ericp10 take PG-242, The Sony MDR-XB90EX. Danny B's Take PG-182,
How To Get From Manhattan to London in Under Two Hours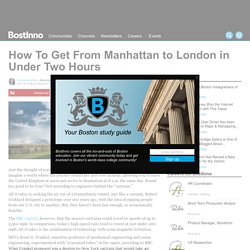 Just the thought of traveling from New York to London brings on the jet lag. But imagine a world where the journey could take just over an hour, allowing you to leave the United Kingdom at noon and arrive in Manhattan at 8 a.m. the same day. Sound too good to be true? Not according to engineers behind the "vactrain." All it takes is sucking the air out of a transatlantic tunnel, just like a vacuum.
Stopping Water In Mid Air! : Fun Science Water Experiment
April 20th, 2012 After seeing the mystical stopping of water YouTube video earlier this week, Brusspup decided to show us all how it was done. By taking a speaker and playing different frequencies on it, you can make it look like water is frozen in mid air.
Microsoft Can Detect Your Gestures Using Just Your Computers Audio
In the VASIMR rocket, magnetic fields force the charged plasma out the back of the engine, producing thrust in the opposite direction. Image copyright: Ad Astra Rocket Company. (PhysOrg.com) -- Last Wednesday, the Ad Astra Rocket Company tested what is currently the most powerful plasma rocket in the world. As the Webster, Texas, company announced, the VASIMR VX-200 engine ran at 201 kilowatts in a vacuum chamber, passing the 200-kilowatt mark for the first time. The test also marks the first time that a small-scale prototype of the company's VASIMR (Variable Specific Impulse Magnetoplasma Rocket) rocket engine has been demonstrated at full power.
Plasma Rocket Could Travel to Mars in 39 Days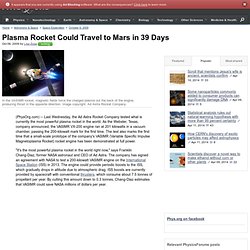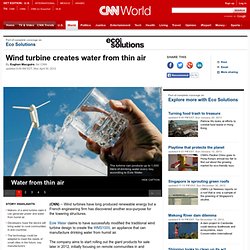 The turbine can produce up to 1,000 liters of drinking water every day, according to Eole Water. French company, Eole Water, has invented a wind turbine that can generate water from humid air. The technology offers a clean and sustainable way to provide water to rural communities, says Eole Water director of marketing, Thibault Janin. A view inside the technological processes of the Eole Water turbine. The 24-meter tall structure also filters and purifies the water it produces ensuring it is suitable to drink straight away.
Descriptive Camera
created by Matt Richardson Check out Matt's book, Getting Started with Raspberry Pi , which he co-authored with Shawn Wallace. Click here to sign up for infrequent email announcements from Matt or follow him on Twitter. The Descriptive Camera works a lot like a regular camera—point it at subject and press the shutter button to capture the scene.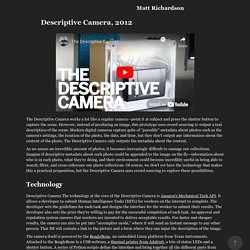 Trilobis 65 has been designed on four separate levels connected by a spiraling staircase. The top level is 3.5 metres above sea level.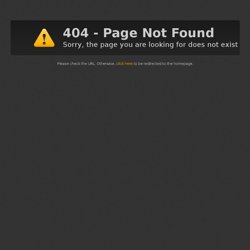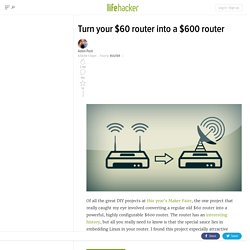 Of all the great DIY projects at this year's Maker Faire , the one project that really caught my eye involved converting a regular old $60 router into a powerful, highly configurable $600 router. The router has an interesting history , but all you really need to know is that the special sauce lies in embedding Linux in your router.
Last month it became apparent that not all VPN providers live up to their marketing after an alleged member of Lulzsec was tracked down after using a supposedly anonymous service from HideMyAss. We wanted to know which VPN providers take privacy extremely seriously so we asked many of the leading providers two very straightforward questions. Their responses will be of interest to anyone concerned with anonymity issues.
Nick Merrill, who challenged a demand from the FBI for user data, wants to create the world's first Internet provider designed to be surveillance-resistant. (Credit: Sarah Tew/CNET) Nicholas Merrill is planning to revolutionize online privacy with a concept as simple as it is ingenious: a telecommunications provider designed from its inception to shield its customers from surveillance. Merrill, 39, who previously ran a New York-based Internet provider, told CNET that he's raising funds to launch a national "non-profit telecommunications provider dedicated to privacy, using ubiquitous encryption" that will sell mobile phone service and, for as little as $20 a month, Internet connectivity. The ISP would not merely employ every technological means at its disposal, including encryption and limited logging, to protect its customers. It would also -- and in practice this is likely more important -- challenge government surveillance demands of dubious legality or constitutionality.
This Internet provider pledges to put your privacy first. Always. | Privacy Inc.
An Empty Bottle Gets A New Purpose In Life What good is an empty discarded glass bottle? It only deserves to go back to the recycle bin! NOOO! Wait, don't give up as yet, invert it over the "Re:fill Chime Bell And Lights" and see it dazzle on your restaurant table! The concept is this: you're in the restaurant waiting for the waiter to show up to take your order, frantic waving and subtle gestures aren't working.
Re:fill Chime Bell And Lights For Restaurants by Doyeop Kim & Yanko Design - StumbleUpon
Epson's Android-Powered Glasses Are Out of Sight | PCWorld - StumbleUpon
Epson (yes the guys that make printers), has invented what could be the coolest headwear since Geordi La Forge's VISOR on Star Trek: The Next Generation. The Epson Moverio BT-100 is a wearable transparent display that runs on Android. The Moverio uses micro-projectors to project the equivalent of an 80-inch screen into your eyes, and is capable of displaying both 2D and 3D content. You can even load apps onto it, thanks to the device being able to connect to Wi-Fi and having access to the Amazon App Store. The glasses are slightly larger than normal sunglasses, and have an attached control pad for navigating about the Android interface.
Remember our feature on the Optrix HD , a case that transforms your iPhone 4S/4/iPod into an HD action sports camera? Now Optrix have released an improved, redesigned version for the iPhone5, the Optrix XD5 , a leaner, lighter, and stronger version, with an even higher waterproof rating, keeping your phone dry in up to 15 feet of water. It comes equiped with a 175° wide-angle, video-tuned lens for capturing stunning 1080p HD video. Available now at Photojojo , also available for iPhone4/4S here