Inspiring
Sigma USA announces price and availability of DP3 Merrill. Sigma USA has announced the price and availability of its DP3 Merrill large sensor, fixed lens compact.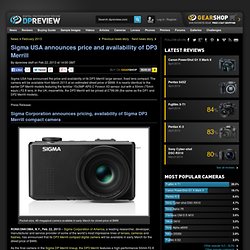 The camera will be available from March 2013 at an estimated street price of $999. It is nearly identical to the earlier DP Merrill models featuring the familiar 15x3MP APS-C Foveon X3 sensor, but with a 50mm (75mm equiv.) Springwise | New business ideas, trends and innovation. Webicina. We launched this project because we believe a set of guidelines is very much needed either for medical professionals and patients, and pharma about using social media properly and legally.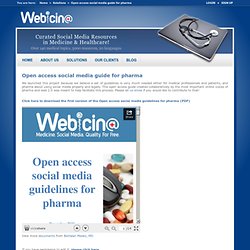 This open access guide created collaboratively by the most important online voices of pharma and web 2.0 was meant to help facilitate this process. Please let us know if you would like to contribute to that! Click here to download the first version of the Open access social media guidelines for pharma (PDF) If you have permission to edit it, please click here. Social media marketing landscape complicated. Choosing Between Making Money and Doing What You Love - Leonard A. Schlesinger, Charles F. Kiefer, and Paul B. Brown. By Leonard A.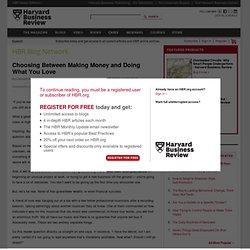 Schlesinger, Charles F. Kiefer, and Paul B. Peer-to-peer Healthcare: Crazy. Crazy. Crazy. Obvious. Here's my simple definition of peer-to-peer healthcare: Patients and caregivers know things — about themselves, about each other, about treatments — and they want to share what they know to help other people.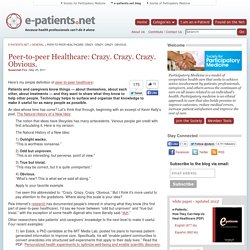 Technology helps to surface and organize that knowledge to make it useful for as many people as possible. An idea whose time has come? Let's think that through, beginning with an excerpt of Kevin Kelly's post, The Natural History of a New Idea: Generation F*cked. Il moto soft allunga la vita bastano 15 minuti al giorno. Uno studio su Lancet indica che un quarto d'ora di attività fisica moderata ma costante è sufficiente per ottenere benefici significativi sulla salute: su 400mila volontari seguiti per 13 anni, si è vista una riduzione del rischio di mortalità generale del 14% e un aumento dell'aspettativa di vita in media di tre anni di ALESSIA MANFREDI CI sono i duri e puri, che non rinuncerebbero mai alla loro corsa serale, alla partita di tennis o alle vasche in piscina.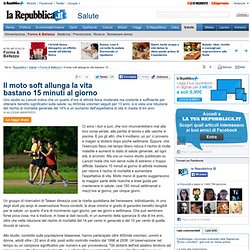 E poi gli altri, che li invidiano, un po' ci provano e magari si stufano dopo poche settimane. Eppure, che l'esercizio fisico nel tempo libero riduca il rischio di molte malattie e aumenti lo stato di salute generale, ad ogni età, è arcinoto. Ma ora un nuovo studio pubblicato su Lancet rivela che non serve nulla di estremo o troppo difficile: bastano 15 minuti al giorno di attività modesta per ridurre il rischio di mortalità e aumentare l'aspettativa di vita. How To Steal Like An Artist by Austin Kleon.
10 David Ogilvy Quotes that Could Revolutionize Your Blogging.
---