Artz.
MWM Graphics | Matt W. Moore. Moleskine 2 on the Behance Network. Paintings by Jack Morefield. The Museum of Modern Art. Amazing Realistic Street Arts - Inspiration. Art on the public place or in the streets is not a new trend.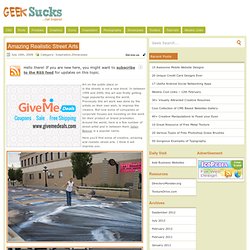 In between 1999 and 2000, this art was firstly getting huge popularity among the world. Previously this art work was done by the artists on their own wish, to impress the viewers. But now some of companies or corporate houses are investing on this work for their product or brand promotion. Wondertoonel. 1001 Free Fonts - Download Free Fonts for Windows and Macintosh. Van Gogh - Starry Night - Gigapixel Image - photographic mosaic. Picture_16.png (410×394) グレイト☆ワークス.
Edward Gorey. Supa Niga on the Behance Network. _011110_10.jpg (JPEG Image, 1169x576 pixels) - Scaled (91%) Acid/Psychedelic Illustrations. The complete works - Frida Kahlo - Page 1. Alice In WaterLand. Isthisyou's Photostream. 25 illustrations by Lois van Baarle. Most Popular Photography Tips, Tricks, and Hacks of 2010. Your beautiful eyes on Photography Served. Analytical Figure Drawing SP08.
Creative Kismet » Blog Archive » little guiding stars. Since the new year has started I've been trying to think of ways to be more kind to my self.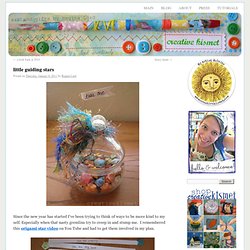 Especially when that nasty gremlins try to creep in and stump me. I remembered this origami star video on You Tube and had to get them involved in my plan. I thought it would be fun to make a whole bunch with kind words and "you are…." phrases inside. ANYTHING BUT SQUARE on Photography Served. 201 Ways to Arouse Your Creativity. Arouse your creativity A guest post by Katie Tallo of Momentum Gathering.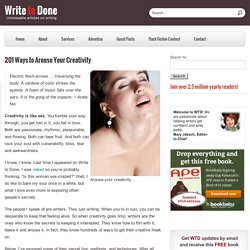 Electric flesh-arrows … traversing the body. A rainbow of color strikes the eyelids. A foam of music falls over the ears.
Gothic horror illustrations by Tatsuya Morino ::: Pink Tentacle. Artist Tatsuya Morino puts a unique twist on the great monsters of Gothic literature in a series of illustrations featured in the book Kaibutsu Gensō Gashū.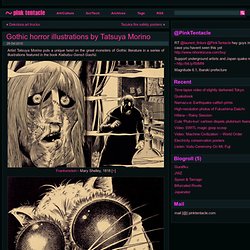 Frankenstein - Mary Shelley, 1818 [+] The Fly - George Langelaan, 1957 Moxon's Master - Ambrose Bierce, 1919.
---