MUSIC SOFTWARE
reasonstation.net
Since 1996, the Vintage Synth Explorer has been a leading online resource for vintage synthesizers, digital synthesizers, software synthesizers, and other forms of electronic musical instruments. Detailed descriptions and reviews, pictures, audio and video demos, technical specifications, lists of famous users, links, and much more provide the ultimate way to learn about these instruments. Use the "SYNTHS" menu above to explore our library of over 750 synths, samplers and drum machines! Radikal Technologies Spectralis Jan 21, 2014 The Spectralis is a professional synthesizer, groovebox, and sequencer created in 2004 by Radikal Technologies.
Post questions and find answers on our latest Cubase releases here. General Post general topics related to Cubase 7 and Cubase Artist 7 here. 6111 Topics 43678 Posts Last post by KeithSlarke Sun Apr 13, 2014 12:23 pm Presales Interested in Cubase 7 and Cubase Artist 7? Having questions regarding the update or upgrade to the latest version? Please post here! 571 Topics 5953 Posts Last post by X-quality Sun Apr 13, 2014 9:45 am Feature Requests and Suggestions All feature requests and suggestions for upcoming releases of Cubase 7 and Cubase Artist 7 can be posted here. 1952 Topics 10441 Posts Last post by dioman_leikari Sun Apr 13, 2014 12:26 pm Issues Use this forum for an overview of collected issues and to report new ones. 2514 Topics 15729 Posts Last post by Mister 9 Volt Sun Apr 13, 2014 12:27 pm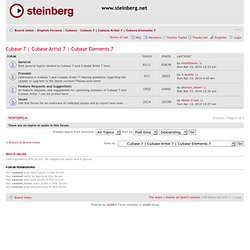 cubase.net
Korg
Tritonhaven
Welcome to Tritonhaven. On this site you can find anything about the Korg Triton series: the classic, LE, Rack, Studio, Extreme etc! Have fun and don't forget to check out the forum! Wouldn't it be nice to replace to floppydrive with an USB floppyemulator? You now can!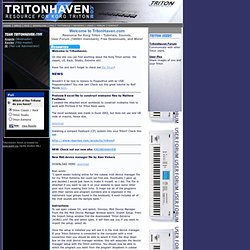 Karma-Lab
Roland