Desserts
Oreo Stuffed Chocolate Chip Cookies. Alright, confession time.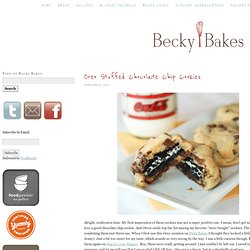 My first impression of these cookies was not a super positive one. I mean, don't get me wrong…I love a good chocolate chip cookie. And Oreos easily top the list among my favorite "store bought" cookies. The idea of combining them just threw me. Twix Cheesecakes – Gingerbread Bagels. Cake batter blondies. | girl meets life. I don't say this very often.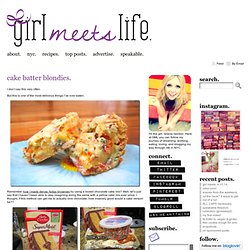 But this is one of the most delicious things I've ever eaten. Remember how I made dense, fudgy brownies by using a boxed chocolate cake mix? The Brownie That Will Change Your Life. Let me start off by saying that viewer discretion is advised for today's post.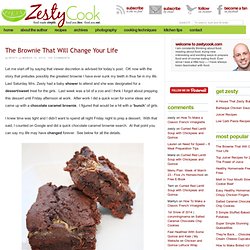 OK now with the story that preludes possibly the greatest brownie I have ever sunk my teeth in thus far in my life. Last Saturday Mrs. Zesty had a baby shower to attend and she was designated for a dessert/sweet treat for the girls. Last week was a bit of a zoo and I think I forgot about prepping this dessert until Friday afternoon at work. After work I did a quick scan for some ideas and came up with a chocolate caramel brownie. Two-Ingredient Pumpkin Cake with Apple Cider Glaze. If you are an elitist foodie, I don't know what to tell you other than to check your 'tude at the door.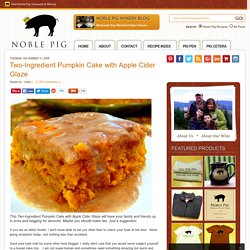 We're going simpleton today…but nothing less than excellent. Save your hate mail for some other food blogger; I really don't care that you would never subject yourself to a boxed cake mix. Peanut Butter Bars I Recipe. Irish Car Bomb Cupcakes Recipe. As I mentioned on Friday, I have been doing some experimentation with the beer and chocolate combination.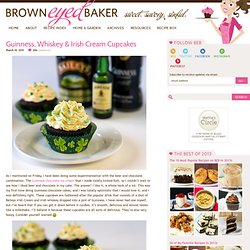 The Guinness-chocolate ice cream that I made totally kicked butt, so I couldn't wait to see how I liked beer and chocolate in my cake. The answer? I like it, a whole heck of a lot. This was my first time doing Guinness-chocolate cakes, and I was totally optimistic that I would love it, and I was definitely right.
---