Miscellaneous
Someone Left The Cake Out In The Rain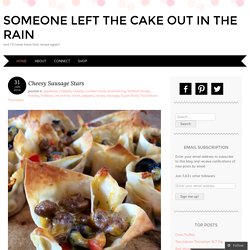 Scouring the stacks and stacks of mags and books that decorate my shelves and floors for Christmas/holiday recipes, I came across a vintage gem that was added to the "to-make" list, immediately. From a Better Homes & Gardens from 1992 had an add for Hidden Valley Sausage Stars, I followed up this discovery with a Pinterest search and saw that this recipe has been a staple in many homes for years. Oddly enough, I rarely if ever saw deviations from the original. I could have taken this as a sign to not mess with perfection… but when have I ever done that?
eatingwelllivingthin.wordpress
I do love my No Bake Protein Cookies…yes, I do. But, for some people (and I can't believe I'm saying this out loud) chocolate isn't wanted. These are full of good-for-you carbs and not too sweet. These are prefect for mid-afternoon cravings and have enough protein to hold you over till dinner.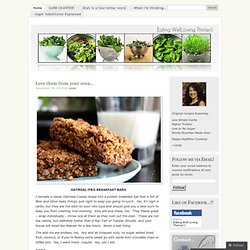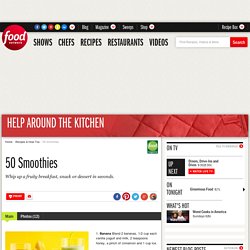 50 Smoothies : Recipes and Cooking
1. Banana Blend 2 bananas, 1/2 cup each vanilla yogurt and milk, 2 teaspoons honey, a pinch of cinnamon and 1 cup ice. 2. Strawberry-Banana Blend 1 banana, 1 cup strawberries, 1/2 cup each vanilla yogurt and milk, 2 teaspoons honey, a pinch of cinnamon and 1 cup ice. 3.
most favorited all-time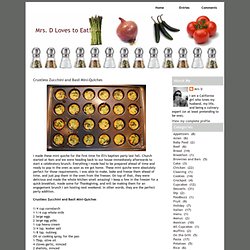 Some variation of pasta with broccoli is usually our fall-back meal. You know, the meal you make when you a) are missing an ingredient for the meal you had planned to make, b) you are tired after a long day of work, or c) don't feel like cooking and it's this or calling the neighborhood pizza place. I am a creature of habit and could eat the same thing every day, but Justin likes a little variety. When I saw this recipe, I was intrigued by slow-cooking the broccoli, as well as putting breadcrumbs on pasta. I didn't think I would like the crunchiness on top, but it is now my new favorite pasta topper. The rough texture and crunchiness is the perfect compliment to the soft pasta.
Mrs. D Loves to Eat!