USA
Booz & Company - A global management and strategy consulting firm. The CBS Interactive Business Network. Workplace Management Strategies, WorkplaceVisions. Management Education's Unanswered Questions. How has management education evolved, and where is it going?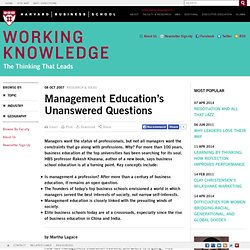 This question is of crucial importance for society, says HBS professor Rakesh Khurana. Business leaders are admired yet often distrusted, and the idea of management as a profession is similarly on shaky ground—as it has been for more than 100 years. The situation may be due in large part to the role of university-based business education from the founding of the Wharton School in 1881 and continuing right up to the present. According to Khurana, the schools first emphasized that managers should carry out their work in ways beneficial for society. Why American Management Rules the World - Nicholas Bloom, Rebecca Homkes, Raffaella Sadun, and John Van Reenen - The Conversation. By Nicholas Bloom, Rebecca Homkes, Raffaella Sadun, and John Van Reenen | 3:30 PM June 13, 2011 After a decade of painstaking research, we have concluded that American firms are on average the best managed in the world. This is not what we — a group of European researchers — expected to find. But while Americans are bad at football (or soccer, as it's known as locally), they are the Brazilians of Management. Over the past decade, a team from Harvard Business School, London School of Economics, McKinsey & Company, and Stanford has systematically surveyed global management. We have developed a tool to measure management practices across operational management, monitoring, targets, and people management.
Performance Management Articles, Webcasts, Resources and Strategies - BetterManagement.com. Rapport d'étonnement. Le principe Traditionnellement, la demande de rédaction d'un rapport d'étonnement peut être adressée à un stagiaire ou à une nouvelle recrue afin de l'inviter à partager ses observations en mettant l'accent prioritairement sur les points singuliers.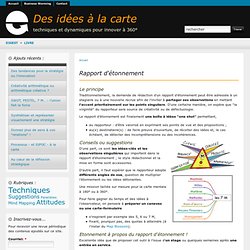 D'une certaine manière, on espère que "la virginité" du rapporteur sera source de créativité ou de défectuologie. Le rapport d'étonnement est finalement une boîte à idées "one shot" permettant, Le rapport d'étonnement. Western Behavioral Sciences Institute - Welcome to WBSI. Commentary - The Changing Game of Leadership. Herman Miller. Steelcase. Publications & Resources - CoreNet Global. Feedback And Recognition Most Valued In Bosses: SHL Survey - Managing people. Employees value feedback and recognition more than any other attributes in their boss, according to a new survey, with Generation Y workers the most needing of praise.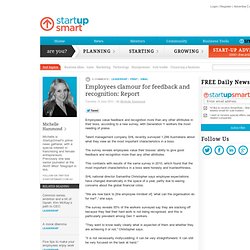 Talent management company SHL recently surveyed 1,299 Australians about what they view as the most important characteristics in a boss. The survey reveals employees value their bosses' ability to give good feedback and recognition more than any other attributes. This contrasts with results of the same survey in 2010, which found that the most important characteristics in a boss were honesty and trustworthiness. SHL national director Samantha Christopher says employee expectations have changed dramatically in the space of a year, partly due to easing concerns about the global financial crisis.
Managing tomorrow's people: Downloads. NEW!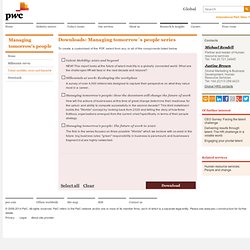 This report looks at the future of talent mobility in a globally connected world. What are the challenges HR will face in the next decade and beyond? Office Furniture - Architectural Interiors & Adaptable Workspaces. The Monday Morning Quarterback. Kordaris out at Humanscale by ROB KIRKBRIDE George Kordaris was tapped last fall as the company's global director of research and design, but he never fit into the corporate structure at Humanscale headquarters in New York.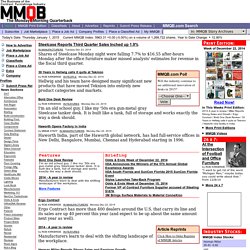 Office on Wheels by ROB KIRKBRIDE The XchangE concept combines two concepts: the future of autonomous driving and what that free time will allow us to accomplish in our vehicles as they drive themselves. In Rinspeed's world, that means a truly mobile office and living room on wheels. One Space by ROB KIRKBRIDE Hong Kong is one of the most densely populated places on earth with commercial real estate prices that can reach $300 a square foot. Add to that short leases -- averaging about three years -- and you have a combustable market that makes office design a challenge, to say the least. US Human Resource Management - HR Articles and Features.
---