Pages
Home - Teens in Tech Labs | Teens in Tech Corporate Site
billFLO | Cash-Flow Management for Your Business
Raise financial capital Access goods & services Acquire new customers Featured Businesses
Rippple: Home
The Startup Daily — Great Ideas from Great Books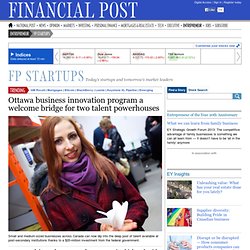 Small and medium-sized businesses across Canada can now dip into the deep pool of talent available at post-secondary institutions thanks to a $20-million investment from the federal government. Canada a global pace-setter in female entrepreneurship, but barriers still persist While Canadian women are outpacing women around the world in entrepreneurship, the country still lacks a co-ordinated national approach to women's entrepreneurship or any legislation to promote it. The Climb Up with Stephen Lake: All-star startup Thalmic Labs prepares for big test Thalmic Labs has won an impressive list of plaudits for its gesture-control armband, the Myo, even though the company won't earn its first sales dollar until the product is released mid-year
Combine media from multiple sources in just one place Use Yokto's built in curation tools to search for video from all of your favourite web sources including YouTube, Vimeo, SlideShare, Dailymotion, plus many more all through a single, intuitive web interface. Drag & drop, point & click - the easiest way to build video players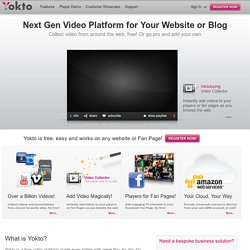 Unrabble: Hiring Software That Saves You Time and Money
Resoomay
Job Posting - Post to Multiple Job Boards with One Click | Resfly
Hire Without Leaving Your Browser Forget about filing resumes and trying to keep track of applications. Manage your entire hiring process without leaving your browser.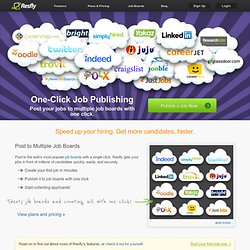 Online Appointment Scheduling for Your Business | Reshq
Seconds - text and mobile commerce
Jobs and Career Platform. Connecting Recruiters and Job Seekers. Find Recruiting Jobs.
For Profit Jobs That Give Back - Give to Get Jobs
SendHub. Simple Messaging. Send Texts to Individuals and Groups for free.
Know you, develop you, marketyou | marketyou.com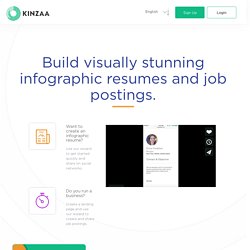 Kinzaa lets you build visually stunning infographic resumes. Build your infographic resume It takes under 3 minutes Type to search for People, Research Interests and Universities Searching... Join a growing community of 6,508,860 researchers Academia.edu is a place to share and follow research Share your papers See analytics on your profile and papers
Business Matters
Small Business Software | Future Simple
Home - Hull College