Energy
Researchers Bioengineer Bacteria That Poops Out Gasoline
Chemist Hopes 'Artificial Leaf' Can Power Civilization Using Photosynthesis
Imagine an artificial leaf that mimics photosynthesis, which lets plants harness energy from the sun.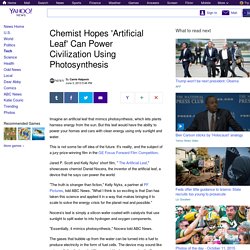 Teen creates gadget that could charge your cellphone in 20 seconds 
This futuristic gizmo developed by a California teen in her spare time could revolutionize cellphone technology.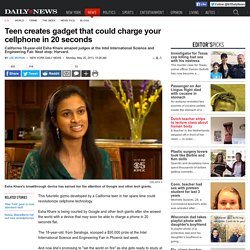 Fuel Cell Makes Power from Charcoal Fires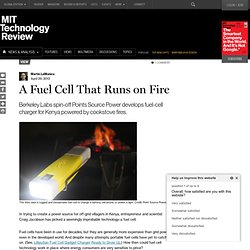 The Voto uses a rugged and inexpensive fuel cell to charge a battery, cell phone, or power a light.
Some 900 miles to the north, Bill Gates and another Microsoft veteran, Nathan Myhrvold, have poured millions into a company developing a fission reactor that could run on today's nuclear waste. And on the far side of the world, China has seized on discarded American research to pursue a safer reactor based on an abundant element called thorium. Beyond the question of whether they will work, these ambitious schemes pose a larger issue: How much faith should we, as a society, put in the idea of a big technological fix to save the world from ?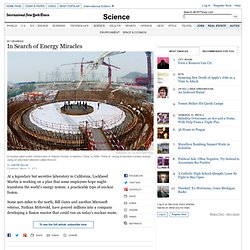 In Search of Energy Miracles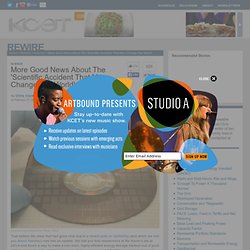 More Good News About The 'Scientific Accident That May Change The World' | Science | ReWire
Graphene supercapacitors | Photo: UCLA That battery life video that had gone viral due to a recent post on UpWorthy (and which we told you about Tuesday ) now has an update.
An important trend in electronics involves the development of materials, mechanical designs and manufacturing strategies that enable the use of unconventional substrates, such as polymer films, metal foils, paper sheets or rubber slabs.
Stretchable batteries with self-similar serpentine interconnects and integrated wireless recharging systems : Nature Communications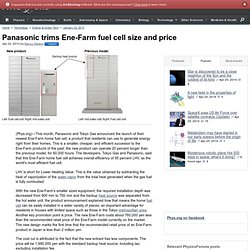 (Phys.org)—This month, Panasonic and Tokyo Gas announced the launch of their newest Ene-Farm home fuel cell, a product that residents can use to generate energy right from their homes. This is a smaller, cheaper, and efficient successor to the Ene-Farm products of the past; the new product can operate 20 percent longer than the previous model, for 60,000 hours. The developers, Tokyo Gas and Panasonic, said that this Ene-Farm home fuel cell achieves overall efficiency of 95 percent LHV, as the world's most efficient fuel cell.
Panasonic trims Ene-Farm fuel cell size and price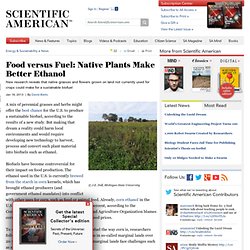 Energy & Sustainability :: News :: January 16, 2013 :: :: Email :: Print
Food versus Fuel: Native Plants Make Better Ethanol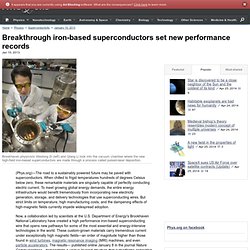 Breakthrough iron-based superconductors set new performance records
Brookhaven physicists Weidong Si (left) and Qiang Li look into the vacuum chamber where the new high-field iron-based superconductors are made through a process called pulsed-laser deposition.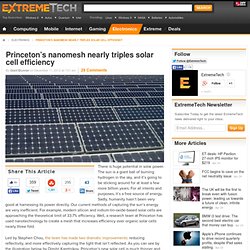 There is huge potential in solar power.
Princeton's nanomesh nearly triples solar cell efficiency
Scientists design first all-carbon solar cell
Scientists at California's Stanford University have managed to construct the first solar cell made entirely of carbon.
In May 2011, uncollected rubbish piled up in Naples, Italy.
Sweden Wants Your Trash : The Two-Way
Platinum works well as a catalyst in hydrogen fuel cells, but it has at least two drawbacks: It is expensive, and it degrades over time. Brown chemists have engineered a cheaper and more durable catalyst using graphene, cobalt, and cobalt-oxide — the best nonplatinum catalyst yet.
Can cobalt nanoparticles replace platinum?
Clean, limitless fusion power could arrive sooner than expected
Good news, denizens of Earth: If the findings from two premier research labs are to be believed, commercial nuclear fusion is feasible — and could arrive sooner than expected. The first breakthrough comes from Sandia National Laboratories (the same engineers who brought us the fanless heatsink ).
New Fuel Cell Keeps Going After the Hydrogen Runs Out
Cambridge, Mass. – Imagine a kerosene lamp that continued to shine after the fuel was spent, or an electric stove that could remain hot during a power outage. Materials scientists at Harvard have demonstrated an equivalent feat in clean energy generation with a solid-oxide fuel cell (SOFC) that converts hydrogen into electricity but can also store electrochemical energy like a battery.
Small Solid Oxide Fuel Cell Reaches Record Efficiency
A Few Further Details About MIT Cold Fusion Event — [UPDATE -- New Data Available]
A Big Jump in Battery Capacity
Breakthrough in seaweed biofuel reported
Bill O'Reilly Threatens To Quit If Higher Taxes For Millionaires Are Enacted
Harvesting 'limitless' hydrogen from self-powered cells
Butanol Biofuel Producing Bacteria Discovered in Animal Poop
Earth's Dirty Secret: Our Magnetic Field Traps Antimatter
Lightning in a Bottle: Antimatter Trapped for Nearly 17 Minutes
U.S. scientists develop new clean energy technology
Scientists Discover Wild Solar Energy Effect, Allows Power Without Cells
Scientists Cook Up Artificial Leaf, Quantum Dots for Solar Cells
A brave new world of fossil fuels on demand
Hydrogen Tech Generates Juice from Heat