Google +
Da qualche giorno sono entrato in Google+, la nuova creatura del colosso di Mountain View che ha il gravoso compito di riscattare i precedenti modesti risultati nel campo delle proposte social. Premetto subito che non avuto tempo di spaziare molto in un ambiente che, per forza di cose, è ancora relativamente spopolato, se escludiamo gli addetti ai lavori, tuttavia ho ritrovato al suo interno una serie di elementi interessanti.
Google+ e la logica dell'ecosistema « Internet Manager Blog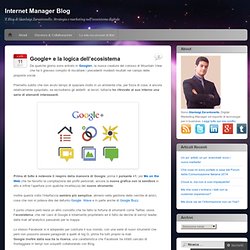 Google's open invitation for businesses, brands, organisations and education establishments to apply for a dedicated Google+ business profile, may have already attracted over 36,000 signups in one week, The Next Web can reveal. Last week, Google said it was planning to introduce Google+ for businesses before the year is out, allowing brands to create profiles on the site without using workarounds. Businesses were told to hold off on creating consumer profiles as the search giant would begin testing "non-user entities" soon.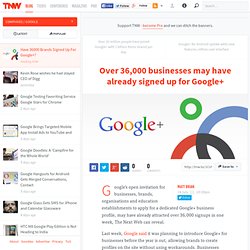 Over 36,000 businesses may have already signed up for Google+
E sì, sono anche io in quella minoranza eletta che può già provare in anteprima il nuovo Google Plus (o Google+, d'ora in poi G+).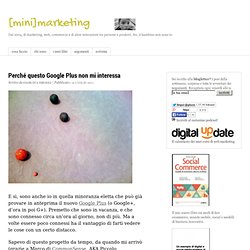 Perché questo Google Plus non mi interessa
Google Plus e la privacy: prime impressioni
Da due giorni sul Web si parla quasi esclusivamente della notizia del lancio di Plus, il nuovo social network di Google. Dal momento che il servizio è ancora in beta, in tanti (tra cui il sottoscritto) si sono affrettati a procurarsi un invito per provare quello che è stato definito come "l'anti-Facebook".
Google+ (plus) che sarà mai? Un dentifricio di casa Google?
Guida Google Plus. | Michelangelo Giannino. Tanta teoria, ma molta più pratica e confronto.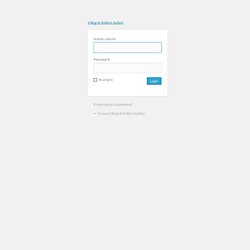 Google+, Facebook e Twitter a confronto | Il Blog di Stefano Epifani
Google+ è il tema del momento per chi si occupa di Social Network.