Innovation in Europe
Home - Software Cluster Benchmark
Top 100 Global Innovators | 2013 Winners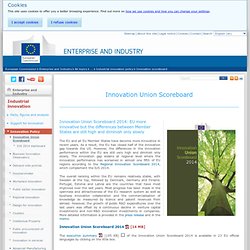 Innovation Union Scoreboard - Industrial innovation - Enterprise and Industry
Innovation Union Scoreboard 2013 Innovation Union Scoreboard 2013 shows EU more innovative, but gap between countries widening
World's 15 Most Inventive Cities
The relentless parade of new technologies is unfolding on many fronts. Almost every advance is billed as a breakthrough, and the list of "next big things" grows ever longer. Not every emerging technology will alter the business or social landscape—but some truly do have the potential to disrupt the status quo, alter the way people live and work, and rearrange value pools.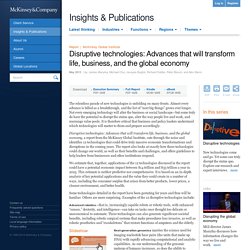 Microsoft Word - EU Research Report FINAL.doc - 162.pdf
COMMUNIQUES DE PRESSE - Communiqué de presse - EU Cybersecurity plan to protect open internet and online freedom and opportunity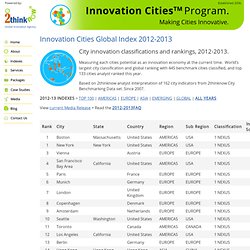 Innovation Cities Global Index 2012-2013 from 2thinknow : City Rankings List » Innovation Cities Program & Index: City Innovation for USA, Canada, Australia/NZ, Europe, Asia, Latin America, Mid-East
City innovation classifications and rankings, 2012-2013. Measuring each cities potential as an innovation economy at the current time.
The Tech City Investment Organisation was established by UKTI to support the growth of the tech cluster in East London Our aim is to help Tech City become Europe's centre of innovation and the location of choice for tech and digital companies and investors. We bring new companies and investors to East London, and provide support to local companies seeking to expand internationally.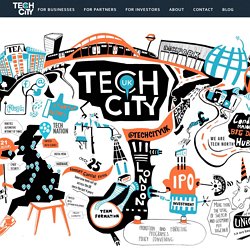 Tech City Investment Organisation
European Commission
PRESS RELEASES - Press Release - Scoreboard shows EU more innovative, but gap between countries widening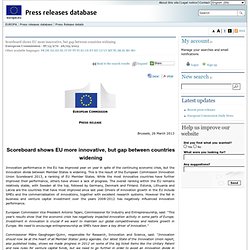 EARTO
I have had a great Sunday easing into Mobile World Congress - what better way to start my week than by watching startups pitch? The Innovation on the Fringe event organised by Helen Keegan and Jennifer Hiley was just lovely and offered startups a chance to pitch their businesses in 2 minutes - yes 2 minutes. Not very long, but strangely long enough to get a flavour at least of the latest startup trends.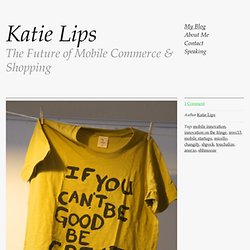 Great stuff at Innovation on the Fringe — Katie Lips
ICT manufacturing has a much higher R&D intensity than ICT services© nh313066 (stock.xchng)
European ICT sector maintains its R&D drive - News & events - JRC - European Commission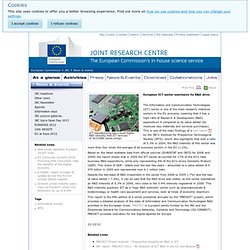 Article publié dans le supplément Science&Techno du Monde daté du 28 juin Israël a deux des éléments clés pour réussir dans les technologies de l'information : des prix Nobel (témoins de la qualité de l'enseignement de haut niveau) et de l'argent prêt à s'investir dans des entreprises à risques. N'est-ce pas ce qui fait la force de Silicon Valley?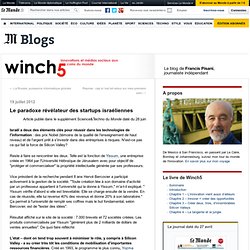 Le paradoxe révélateur des startups israéliennes
R&D : l'Europe n'investit pas suffisamment dans le numérique
EU makes progress, but growth slowing.
EU research & innovation scoreboard 2012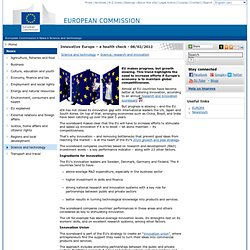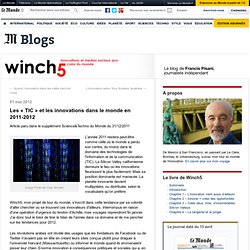 Article paru dans le supplément Science&Techno du Monde du 31/12/2011 Image Flickr de Chip Shorter L'année 2011 restera peut-être comme celle où le monde a perdu son centre, du moins dans le domaine des technologies de l'information et de la communication (TIC).
Les « TIC » et les innovations dans le monde en 2011-2012
Cloud Computing to Create 14 Million New Jobs by 2015
REDMOND, Wash. – March 5, 2012 – Spending on public and private IT cloud services will generate nearly 14 million jobs worldwide from 2011 to 2015, according to a new study by the analyst firm IDC. The research, commissioned by Microsoft, also found that IT innovation created by cloud computing could produce $1.1 trillion a year in new business revenues.
Politique Francaise d'innovation
IP Filings Worldwide Rebound in 2010 despite Economic Turmoil
Geneva, December 20, 2011 PR/2011/701
This is the second in a three-part series on the need for education reform in the United States.
Peter Smirniotopoulos: We Need an Education System that Promotes Creativity, Innovation, and Critical Thinking
Hot Spots
Joichi Ito - Innovating by the Seat of Our Pants
Almost 20 years ago, I installed on my computer a tiny piece of software called MacPPP, which connected the programs running on it to the Internet. The program immediately transformed my computer from a fancy telex machine to a device running a very early version of the graphical Web.
ARTEMIS
JU
Home
CATRENE, Cluster for Application and Technology Resaerch in Europe on NanoElectronics
Euripides
Paris Region Lab
Les Grands Prix de l'Innovation 2011
Soutenir l'innovation