Innovation in Europe
Ace0cef0.pdf. Smart Home : le tremplin d'Apple dans la maison connectée ? Après avoir investi le tableau de bord des automobiles au travers du service CarPlay, iOS pourrait bientôt faire son entrée dans le secteur de la domotique.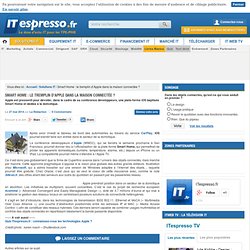 La conférence développeurs d'Apple (WWDC), qui se tiendra la semaine prochaine à San Francisco, pourrait donner lieu à l'officialisation de la plate-forme Smart Home, qui permettrait de piloter les appareils domestiques (lumière, température, alarme, etc.) depuis un iPhone ou un iPad. La compatibilité pourrait même s'étendre à l'Apple TV. Ce n'est donc pas globalement que la firme de Cupertino avance dans l'univers des objets connectés, mais marché par marché.
Cette approche pragmatique s'oppose à la vision plus globale des autres grands éditeurs. Home - Software Cluster Benchmark. Top 100 Global Innovators | 2013 Winners. Innovation Union Scoreboard - Industrial innovation - Enterprise and Industry. The EU and all EU Member States have become more innovative in recent years.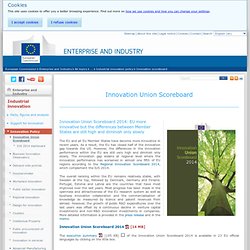 As a result, the EU has closed half of the innovation gap towards the US. However, the differences in the innovation performance within the EU are still very high and diminish only slowly. The innovation gap widens at regional level where the innovation performance has worsened in almost one fifth of EU regions according to the Regional Innovation Scoreboard 2014, which complement the IUS 2014. The overall ranking within the EU remains relatively stable, with Sweden at the top, followed by Denmark, Germany and Finland. Portugal, Estonia and Latvia are the countries that have most improved over the last years. World's 15 Most Inventive Cities. Disruptive technologies: Advances that will transform life, business, and the global economy. The relentless parade of new technologies is unfolding on many fronts.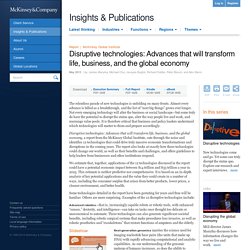 Almost every advance is billed as a breakthrough, and the list of "next big things" grows ever longer. Not every emerging technology will alter the business or social landscape—but some truly do have the potential to disrupt the status quo, alter the way people live and work, and rearrange value pools. Microsoft Word - EU Research Report FINAL.doc - 162.pdf. COMMUNIQUES DE PRESSE - Communiqué de presse - EU Cybersecurity plan to protect open internet and online freedom and opportunity. European Commission Press release Brussels, 7 February 2013 EU Cybersecurity plan to protect open internet and online freedom and opportunity The European Commission, together with the High Representative of the Union for Foreign Affairs and Security Policy, has published a cybersecurity strategy alongside a Commission proposed directive on network and information security (NIS).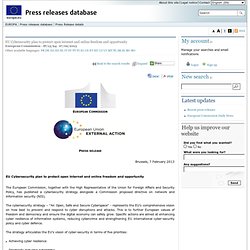 Innovation Cities Global Index 2012-2013 from 2thinknow : City Rankings List » Innovation Cities Program & Index: City Innovation for USA, Canada, Australia/NZ, Europe, Asia, Latin America, Mid-East. City innovation classifications and rankings, 2012-2013.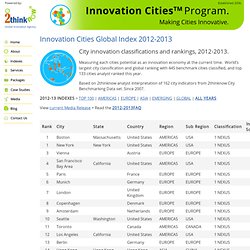 Measuring each cities potential as an innovation economy at the current time. World's largest city classification and global ranking with 445 benchmark cities classified, and top 133 cities analyst ranked this year. Based on 2thinknow analyst interpretation of 162 city indicators from 2thinknow City Benchmarking Data set. Since 2007. View current Media Release + Read the 2012-2013FAQ. Tech City Investment Organisation. The Tech City Investment Organisation was established by UKTI to support the growth of the tech cluster in East London Our aim is to help Tech City become Europe's centre of innovation and the location of choice for tech and digital companies and investors.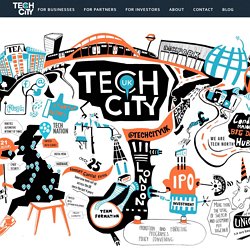 We bring new companies and investors to East London, and provide support to local companies seeking to expand internationally. Silicon Allee. PRESS RELEASES - Press Release - Scoreboard shows EU more innovative, but gap between countries widening. European Commission Press release Brussels, 26 March 2013 Scoreboard shows EU more innovative, but gap between countries widening.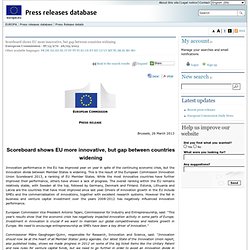 EARTO. Great stuff at Innovation on the Fringe — Katie Lips. I have had a great Sunday easing into Mobile World Congress - what better way to start my week than by watching startups pitch?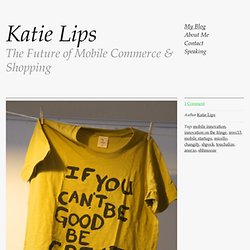 The Innovation on the Fringe event organised by Helen Keegan and Jennifer Hiley was just lovely and offered startups a chance to pitch their businesses in 2 minutes - yes 2 minutes. Not very long, but strangely long enough to get a flavour at least of the latest startup trends. European ICT sector maintains its R&D drive - News & events - JRC. ICT manufacturing has a much higher R&D intensity than ICT services© nh313066 (stock.xchng) The Information and Communication Technologies (ICT) sector is one of the most research intensive sectors in the EU economy, meaning that it has a high ratio of Research & Development (R&D) expenditure if compared to its value added (its revenues less materials and services purchases).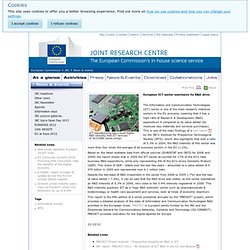 This is one of the main findings of a new report by the JRC's Institute for Prospective Technological Studies (IPTS), which also highlights that with a ratio of 5.3% in 2009, the R&D intensity of this sector was more than four times the average of all business sectors in the EU (1.2%). Based on the latest available data from official sources (EUROSTAT and OECD for 2008 and 2009) the report shows that in 2009 the ICT sector accounted for 17% of the EU's total business R&D expenditure, while only representing 4% of the EU's Gross Domestic Product (GDP).
Innovation Services. Le paradoxe révélateur des startups israéliennes. Article publié dans le supplément Science&Techno du Monde daté du 28 juin Israël a deux des éléments clés pour réussir dans les technologies de l'information : des prix Nobel (témoins de la qualité de l'enseignement de haut niveau) et de l'argent prêt à s'investir dans des entreprises à risques.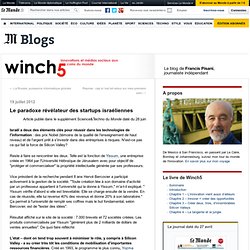 N'est-ce pas ce qui fait la force de Silicon Valley? Digital Agenda for Europe. R&D : l'Europe n'investit pas suffisamment dans le numérique. Europe's Information Society Newsroom. News :: Science and innovation, an essential factor for competitiveness and growth in Europe (30/04/2012) Europe needs innovation more than ever before to support sustainable growth and create new jobs, to replace those lost in the crisis. To keep up with growing global competition, we must leave the comfort zone of business. Looking ahead, Horizon 2020, the €80 billion investment programme for research and innovation after 2014, proposed by the European Commission at the end of last year, together with the new cohesion policy, will provide a further push to strengthen our Innovation Union.
EU research & innovation scoreboard 2012. EU makes progress, but growth slowing. This trend highlights the need to increase efforts if Europe's economy is to maintain global competitiveness. Almost all EU countries have become better at fostering innovation, according to an annual research and innovation scoreboard But progress is slowing – and the EU still has not closed its innovation gap with international leaders the US, Japan and South Korea. On top of that, emerging economies such as China, Brazil, and India have been catching up over the past 5 years. Les « TIC » et les innovations dans le monde en 2011-2012. Article paru dans le supplément Science&Techno du Monde du 31/12/2011 Image Flickr de Chip Shorter L'année 2011 restera peut-être comme celle où le monde a perdu son centre, du moins dans le domaine des technologies de l'information et de la communication (TIC).
Cloud Computing to Create 14 Million New Jobs by 2015. REDMOND, Wash. – March 5, 2012 – Spending on public and private IT cloud services will generate nearly 14 million jobs worldwide from 2011 to 2015, according to a new study by the analyst firm IDC. The research, commissioned by Microsoft, also found that IT innovation created by cloud computing could produce $1.1 trillion a year in new business revenues. March 05, 2012 The public and private IT cloud services will generate nearly 14 million jobs worldwide between 2012 and 2015, according to a new study by the analyst firm IDC. "The cloud is going to have a huge impact on job creation," says Susan Hauser, Microsoft corporate vice president of the Worldwide Enterprise and Partner Group. "It's a transformative technology that will drive down costs, spur innovation, and open up new jobs and skillsets across the globe."
Clusters. IP Filings Worldwide Rebound in 2010 despite Economic Turmoil. Geneva, December 20, 2011 PR/2011/701 Press Conference A new report published by WIPO today shows that intellectual property (IP) filings worldwide rebounded strongly in 2010 after a considerable decline in 2009. The recovery in IP filings was stronger than the overall economic recovery. Peter Smirniotopoulos: We Need an Education System that Promotes Creativity, Innovation, and Critical Thinking. Innovative City Convention » Smart Grids for Smart City. Hot Spots. Joichi Ito - Innovating by the Seat of Our Pants. Homepage. ARTEMIS. JU. Home. CATRENE, Cluster for Application and Technology Resaerch in Europe on NanoElectronics. Euripides. Paris Region Lab. Les Grands Prix de l'Innovation 2011. InnovCity.
---