Inspiration
covers, covers, covers. | coeur.
The List | guilty | 8tracks - StumbleUpon
7 LA FEMME CHINOISE / YELLOW MAGIC ORCHESTRA analogue LP 1979
8 ways to play gorgeous open chord shapes | Kuwait's # 1 community for... - StumbleUpon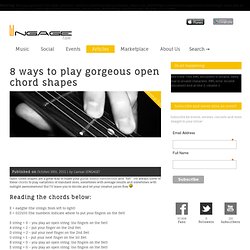 General Tips Published on October 19th, 2011 | by Caesar (ENGAGE) Open chord shapes are a great way to make your guitar sound harmonious and "full". Ive always some of these chords to play variations of standard ones, sometimes with average results and sometimes with outright awesomeness!
To be honest, I'm not sure what this sound is specifically… Some may call it bass, some may say it's more like a lead, but it's definitely something you can hear in many Electro House tracks. I got the inspiration for this while listening some sample cd's and after experimenting with FL Studio this is what I came up with: Is this something in a style of Mode Selektor, Daft Punk, etc? You tell me. I can't say exactly as I haven't listened to these guys so much
How To Create Electro... Lead? Bass? | How To Make Electronic Music - StumbleUpon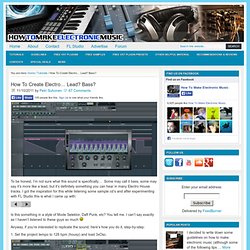 guitar-chord-chart.jpg from acousticguitarworkshop.com - StumbleUpon
10 Guitar Chords Youve Never Heard Of - StumbleUpon
Coldplay - Paradise (Official)
LA ROUX - IN FOR THE KILL (SKREAM REMIX)
SongMeanings | Welcome
List of chord progressions - Wikipedia, the free encyclopedia
Listen to a Wall of rock Music
Zappa-Good-Parents.png (PNG Image, 388×711 pixels) - Scaled (87%)