ADD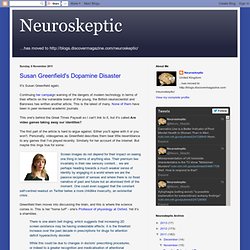 Susan Greenfield's Dopamine Disaster
It's Susan Greenfield again. Continuing her campaign warning of the dangers of modern technology in terms of their effects on the vulnerable brains of the young, the British neuroscientist and Baroness has written another article. This is the latest of many. None of them have been in peer reviewed academic journals. This one's behind the Great Times Paywall so I can't link to it, but it's called Are video games taking away our identities?
com: A complete guide to ADD, ADHD (Attention Deficit Hyperactivity Disorder) in adulthood and the documentary ADD & Loving It?!
AADD-UK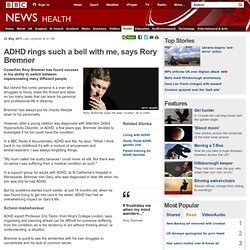 ADHD rings such a bell with me, says Rory Bremner
22 May 2011Last updated at 20:56 ET Rory Bremner says he was "scatty" as a child Comedian Rory Bremner has found success in his ability to switch between impersonating many different people. But behind this comic persona is a man who struggles to focus, loses the thread and takes on too many tasks that can leave his personal and professional life in disarray. Bremner had always put his chaotic lifestyle down to his personality. However, after a young relation was diagnosed with Attention Deficit Hyperactivity Disorder, or ADHD, a few years ago, Bremner decided to investigate if he too could have the condition.