ADD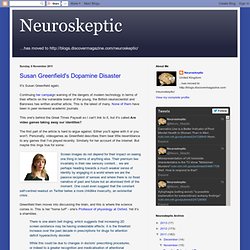 Susan Greenfield's Dopamine Disaster
It's Susan Greenfield again. Continuing her campaign warning of the dangers of modern technology in terms of their effects on the vulnerable brains of the young, the British neuroscientist and Baroness has written another article. This is the latest of many. None of them have been in peer reviewed academic journals. This one's behind the Great Times Paywall so I can't link to it, but it's called Are video games taking away our identities?
com: A complete guide to ADD, ADHD (Attention Deficit Hyperactivity Disorder) in adulthood and the documentary ADD & Loving It?!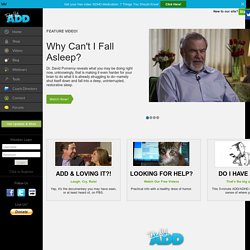 "THE BEST ADHD SITE ON THE WEB" Welcome to TotallyADD Let go of fear and take control of your life. Dozens of top experts, fascinating videos, lively Forums, a shop full of resources, and plenty of tools. QUICK VIDEO TOUR January 27th at 8pm EST Free Webinar! The Freedom To Be Yourself What is the best way for YOU to turn ideas into actions? Are you a Fact Finder, who needs to research before starting a project, or a Quick Start, who says yes before they know what the project really is? Coach Caroline Sugarman joins us to explain the powerful Kolbe A™ assessment tool and how it can help you to identify and celebrate your Strengths.
AADD-UK
Latest Post As part of the Science in Health Public Lecture Series, Professor Anita Thapar of Cardiff University will consider myths and misunderstandings around ADHD, and she will focus on what has been learnt from science, and how this might help clinical and educational practice. The lecture which is free and open to the public will take place at Cardiff University Main Building. It will take place on Thursday, 16th January at 19.00. Booking is not needed. More information is available from Cardiff University here.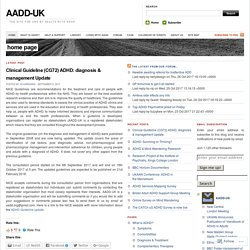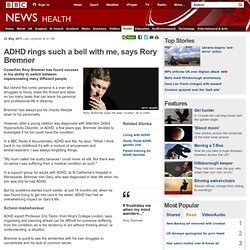 ADHD rings such a bell with me, says Rory Bremner
22 May 2011Last updated at 20:56 ET Rory Bremner says he was "scatty" as a child Comedian Rory Bremner has found success in his ability to switch between impersonating many different people. But behind this comic persona is a man who struggles to focus, loses the thread and takes on too many tasks that can leave his personal and professional life in disarray. Bremner had always put his chaotic lifestyle down to his personality. However, after a young relation was diagnosed with Attention Deficit Hyperactivity Disorder, or ADHD, a few years ago, Bremner decided to investigate if he too could have the condition.