ADD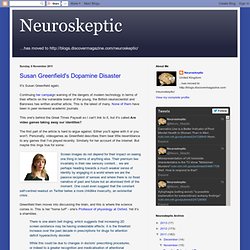 Susan Greenfield's Dopamine Disaster
It's Susan Greenfield again. Continuing her campaign warning of the dangers of modern technology in terms of their effects on the vulnerable brains of the young, the British neuroscientist and Baroness has written another article. This is the latest of many. None of them have been in peer reviewed academic journals. This one's behind the Great Times Paywall so I can't link to it, but it's called Are video games taking away our identities?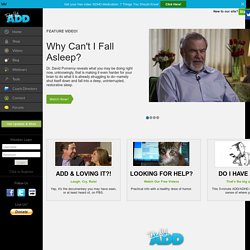 "THE BEST ADHD SITE ON THE WEB" Welcome to TotallyADD Let go of fear and take control of your life. Dozens of top experts, fascinating videos, lively Forums, a shop full of resources, and plenty of tools. QUICK VIDEO TOUR Parents Can Make a Difference for Smart Kids who Struggle with School New Blog! It was a joyous afternoon, filled with promise and expectation. Who knew it would be overshadowed by years of misery and disappointment? Adorable in her little uniform shirt at 6 years old, she was home from her first day of 1st Grade...
AADD-UK
Latest Post The following email has been sent from AADD-UK to the Opposition Chief Whip: Right Honourable Ms Rosie Winterton, Opposition Chief Whip I am writing on behalf of Adult Attention Deficit Disorder – UK (AADD-UK) to make a complaint about Mr Graham Allen. We have tried to resolve the matter directly with Mr Allen but he has not responded. Mr Allen has endorsed an article that appeared in the Observer on Sunday, 30th March 2014 titled "ADHD 'not a real disease' says US neuroscientist."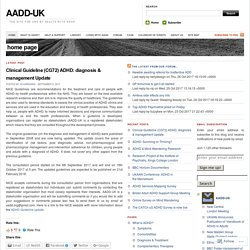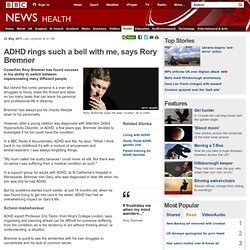 ADHD rings such a bell with me, says Rory Bremner
23 May 2011Last updated at 01:56 Rory Bremner says he was "scatty" as a child Comedian Rory Bremner has found success in his ability to switch between impersonating many different people. But behind this comic persona is a man who struggles to focus, loses the thread and takes on too many tasks that can leave his personal and professional life in disarray. Bremner had always put his chaotic lifestyle down to his personality. However, after a young relation was diagnosed with Attention Deficit Hyperactivity Disorder, or ADHD, a few years ago, Bremner decided to investigate if he too could have the condition.