11/01/12
How I became a 'terrorist' Gary's choices - Who's Afraid of the Ayatollahs? Central banks: Crazy aunt on the loose. How Austerity Is Killing Europe by Jeff Madrick. On the last day of 2011, a headline in The Wall Street Journal read: "Spain Misses Deficit Target, Sets Cuts."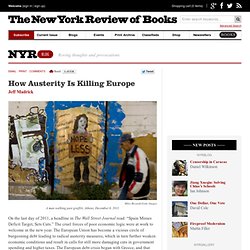 The cruel forces of poor economic logic were at work to welcome in the new year. The European Union has become a vicious circle of burgeoning debt leading to radical austerity measures, which in turn further weaken economic conditions and result in calls for still more damaging cuts in government spending and higher taxes. The European debt crisis began with Greece, and that nation remains the European Union's most stricken economy.
But it has spread inexorably to Ireland, Portugal, Italy, and Spain, and even threatens France and possibly the UK. Wall Street, investment bankers, and social good. A few months ago, I came across an announcement that Citigroup, the parent company of Citibank, was to be honored, along with its chief executive, Vikram Pandit, for "Advancing the Field of Asset Building in America."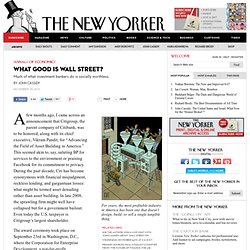 This seemed akin to, say, saluting BP for services to the environment or praising Facebook for its commitment to privacy. During the past decade, Citi has become synonymous with financial misjudgment, reckless lending, and gargantuan losses: what might be termed asset denuding rather than asset building. In late 2008, the sprawling firm might well have collapsed but for a government bailout. Even today the U.S. taxpayer is Citigroup's largest shareholder. The Clash of Ignorance. Labels like "Islam" and "the West" serve only to confuse us about a disorderly reality.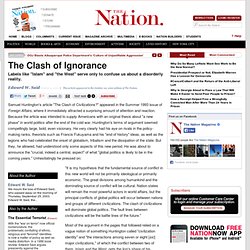 Samuel Huntington's article "The Clash of Civilizations? " appeared in the Summer 1993 issue of Foreign Affairs, where it immediately attracted a surprising amount of attention and reaction. Because the article was intended to supply Americans with an original thesis about "a new phase" in world politics after the end of the cold war, Huntington's terms of argument seemed compellingly large, bold, even visionary. He very clearly had his eye on rivals in the policy-making ranks, theorists such as Francis Fukuyama and his "end of history" ideas, as well as the legions who had celebrated the onset of globalism, tribalism and the dissipation of the state.
But they, he allowed, had understood only some aspects of this new period. Why Do Some People Learn Faster? | Wired Science  The physicist Niels Bohr once defined an expert as "a person who has made all the mistakes that can be made in a very narrow field."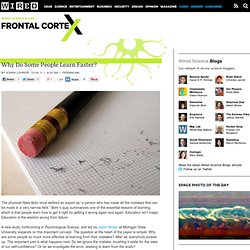 Bohr's quip summarizes one of the essential lessons of learning, which is that people learn how to get it right by getting it wrong again and again. Education isn't magic.
---