Web
Mozilla and the community believe Web Literacy to be the skills and competencies required to read, write and participate on the Web - whatever language you speak. To that end, we're delighted that community members have started to translate the Web Literacy Standard RFC release into languages other than English. Alvar Maciel , for example, has single-handedly translated it into Spanish. And we've got GitHub repositories translations into a number of other languages as well. If you're interested in helping, please get in touch below or use the Mozilla Webmaker discussion list !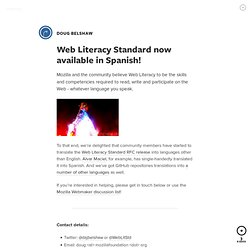 Web Literacy Standard now available in Spanish! • literaci.es
fplus
What is the Online Research and Media Skills model? The Online Research and Media Skills (ORMS) model takes a closer look at ways to effectively integrate skills and strategies needed to support all literacies when working with Internet and Communication Technologies (ICT) in classrooms. This class will focus on the planning, implementation and assessment of an inquiry-based lesson.
Online Research & Media Skills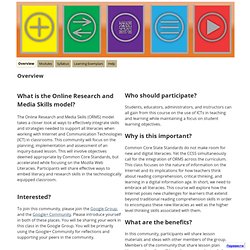 wiobyrne's post on Vine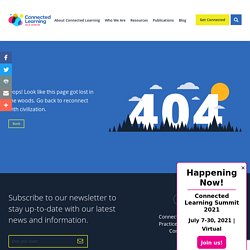 I work for Mozilla. We were one of 86 civil liberties groups that signed an open letter demanding swift access from Congress in the light of recent revelations around NSA surveillance. The website StopWatching.Us has seen a surge in people signing up to find out what they can do to campaign for a more visible, transparent and accountable government. I'm a UK citizen.
Privacy, the NSA and Web Literacies | DMLcentral
Zen and the Art of Digital Literacies [video + article]
Privacy, Identity, and Protecting Yourself (and Your Students) Online
Reflections on Revisions Needed for an Open Educational Resource
As I posted a little over two weeks ago, I just finished my first MOOC . No sooner after I finished the open educational resource did I start to think about edits and revisions that needed to be made to streamline learning for participants. My plan is to build address the "Next Steps" I detail at the end of this post…and then move back to some of the "Bigger Questions" I have at the start of this post. I should be able to have this all completed in the next 3-4 weeks and re-launch it for use by educators. In constructing this educational resource and launching it for participants, I had two main goals. First, I wanted to provide educators with an open, educational resource in which they could learn, reflect, and share with others freely online.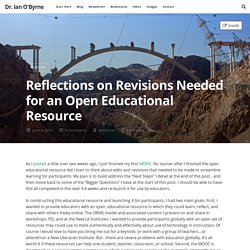 Reflections on Revisions Needed for an Open Educational Resource
Online Research & Media Skills
What encourages students to do well in school? Often, it comes down to grades. Many students will work harder in order to earn a higher grade. Colleges want to see good grades.
The Teacher's Guide To Using Badges In Your Classroom - Edudemic
What learners say about badges.#iheartdigitalme
First draft of Mozilla's Web Literacy standard now available!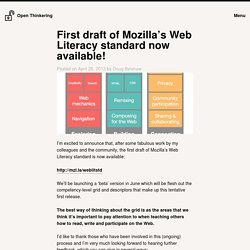 I'm excited to announce that, after some fabulous work by my colleagues and the community, the first draft of Mozilla's Web Literacy standard is now available: http://mzl.la/weblitstd We'll be launching a 'beta' version in June which will be flesh out the competency-level grid and descriptors that make up this tentative first release. The best way of thinking about the grid is as the areas that we think it's important to pay attention to when teaching others how to read, write and participate on the Web. I'd like to thank those who have been involved in this (ongoing) process and I'm very much looking forward to hearing further feedback, which you can give in several ways: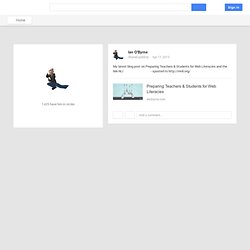 Over the past couple of months I've been trying to help out on the community calls for Mozilla as they develop new Web Literacies and learning standards. To follow these developments and join in you can either view the archive of the meetings here , or the latest versions on Doug Belshaw's blog . The structure and alignment of these literacies is very fluid as we progress from week to week, but the goal behind the work (at least from my perspective) is straightforward. The goal is to provide learners with clear guidance as to the knowledge, skills, and dispositions necessary to thoughtfully read, write, and communicate in online spaces.
Preparing Teachers & Students for Web Literacies
Last week we looked at how easy it is to leave footprints on the Web ; today we'll show you how easy it is to track them. Although search engines provide a great starting point when you're searching for someone online, with all of the new social sites that have popped up over the past few years, they're often just not enough. In our recent State of Blog Search 2009 post we discussed the various reasons you may choose to use any or all of the following blog search tools: Technorati , Google Blog Search , Ice Rocket , Ask.com Blogsearch , and FriendFeed . While these blog search engines are great to fill specific needs, they're also another great place to look for your footprints on the Web.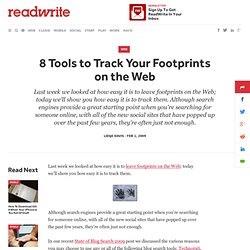 8 Tools to Track Your Footprints on the Web - ReadWriteWeb
Google has become the standard search engine of virtually every web-goer on the internet today. In fact "to Google" is pretty much synonymous with "to search". But that certainly doesn't mean that other search engines can't do a decent, if not better, job and this list has been compiled for just this reason. So check out this catalog of awesome alternative search engines that are certain to help you search faster and more efficiently on that World Wide Web.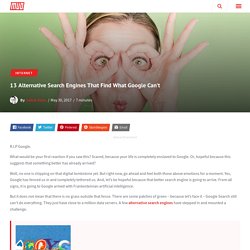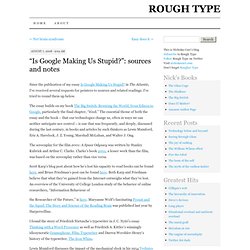 Since the publication of my essay Is Google Making Us Stupid? in The Atlantic, I've received several requests for pointers to sources and related readings. I've tried to round them up below.
Rough Type: Nicholas Carr's Blog: "Is Google Making Us