Ecosystem
JESS3_BrianSolis_ConversationPrism4_WEB_2880x1800.jpg (2880×1800) JESS3 BrianSolis ConversationPrism4 WEB. Icebergs. Collective Thinking. Comparatif de 12 solutions de curation.
Dans le cadre du dossier sur la curation que j'ai eu le plaisir de coordonner pour la revue Documentaliste et Sciences de l'information de mars 2012 ( ), j'ai eu l'occasion de réaliser un comparatif de 12 solutions dont je vous propose ci-dessous quelques éléments complémentaires.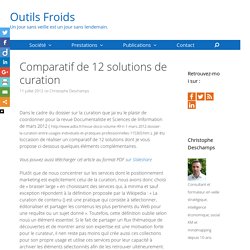 Vous pouvez aussi télécharger cet article au format PDF sur Slideshare Plutôt que de nous concentrer sur les services dont le positionnement marketing est explicitement celui de la curation, nous avons donc choisi de « brasser large » en choisissant des services qui, à minima et sauf exception répondent à la définition proposée par la Wikipedia : « La curation de contenu (…) est une pratique qui consiste à sélectionner, éditorialiser et partager les contenus les plus pertinents du Web pour une requête ou un sujet donné ».
Pinterest fights Chinese cyber-squatter. A Chinese man has been snapping up dozens of domain names related to popular American start-ups and is seeking to trademark some of the names in the US and China.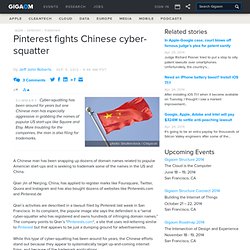 Qian Jin of Nanjing, China, has applied to register marks like Foursquare, Twitter, Quora and Instagram and has also bought dozens of websites like Pinterests.com and Pinterest.de Qian's activities are described in a lawsuit filed by Pinterest last week in San Francisco. In its complaint, the popular image site says the defendant is a "serial cyber-squatter who has registered and owns hundreds of infringing domain names." The Internet map. The map of the Internet Like any other map, The Internet map is a scheme displaying objects' relative position; but unlike real maps (e.g. the map of the Earth) or virtual maps (e.g. the map of Mordor), the objects shown on it are not aligned on a surface.
Mathematically speaking, The Internet map is a bi-dimensional presentation of links between websites on the Internet. Every site is a circle on the map, and its size is determined by website traffic, the larger the amount of traffic, the bigger the circle. Users' switching between websites forms links, and the stronger the link, the closer the websites tend to arrange themselves to each other. Charges and springs. Cartographie des entreprises et de leurs dirigeants. Clipix Wants To Be A Pinterest For The Real World. Does the world really need another visual bookmarking service?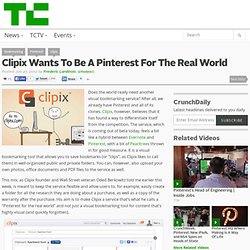 After all, we already have Pinterest and all of its clones. Clipix, however, believes that it has found a way to differentiate itself from the competition. The service, which is coming out of beta today, feels a bit like a hybrid between Evernote and Pinterest, with a bit of Pearltrees thrown in for good measure. Around pearltrees. Learning in Networks of Knowledge | Applications for a paradigm shift in online learning --- Matthew Allen, ALTC Teaching Fellow. Content Curation Guide for SEO - What, How, Why. The author's posts are entirely his or her own (excluding the unlikely event of hypnosis) and may not always reflect the views of Moz.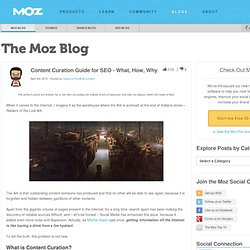 When it comes to the Internet, I imagine it as the warehouse where the Ark is archived at the end of Indiana Jones – Raiders of the Lost Ark. The Ark is that outstanding content someone has produced and that no other will be able to see again, because it is forgotten and hidden between gazillions of other contents. Apart from the gigantic volume of pages present in the Internet, for a long time, search spam has been making the discovery of reliable sources difficult; and – let's be honest – Social Media has enhanced this issue, because it added even more noise and dispersion.
Ifttt tool for data journalism. Tool of the week: ifttt, shorthand for "if this then that".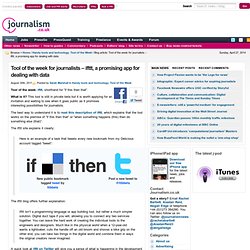 What is it? This tool is still in private beta but it is worth applying for an invitation and waiting to see when it goes public as it promises interesting possibilities for journalists. The best way to understand it is to read this description of ifttt, which explains that the tool works on the premise of "if this then that" or "when something happens (this) then do something else (that)". The ifttt site explains it clearly: The Alex Howard Daily on Twitter. UberMedia lance chime.in, un "anti-Twitter" La société UberMedia annonce aujourd'hui le lancement de son propre réseau social, baptisé "chime.in".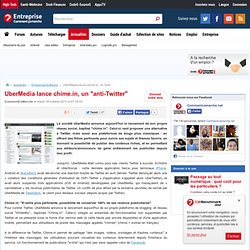 Celui-ci veut proposer une alternative à Twitter, mais aussi aux plateformes de blogs plus classiques : en offrant des filtres pertinents pour suivre ses sujets et thèmes favoris, en donnant la possibilité de publier des contenus riches, et en permettant aux éditeurs/annonceurs de gérer entièrement les publicités depuis leur profil. Jusqu'ici, UberMedia était connu pour ses clients Twitter à succès, Echofon et UberSocial : cette dernière application tierce pour terminaux iPhone, Android et BlackBerry avait déclenché une réaction hostile de Twitter en avril dernier.
Un Australien de 17 ans à l'origine du chaos sur Twitter. Un Australien de 17 ans a admis, mercredi 22 septembre, avoir causé la veille sans le vouloir le chaos sur le site de microblogs Twitter, perturbant les comptes de milliers de personnes.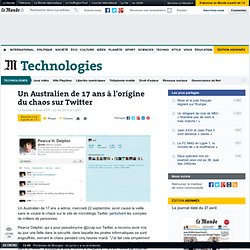 Pearce Delphin, qui a pour pseudonyme @zzap sur Twitter, a reconnu avoir mis au jour une faille dans la sécurité, dans laquelle les pirates informatiques se sont engouffrés, semant le chaos pendant cinq heures mardi. "J'ai fait cela simplement pour voir si cela pouvait être fait… voir si le code Javascript pouvait être utilisé dans un tweet", a indiqué le jeune homme à l'Agence France-Presse par courrier électronique.
L'adolescent, qui vit à Melbourne avec ses parents, a entré un code Javascript comme du texte normal dans un message, qui déclenchait l'ouverture de pages Web au simple survol de la souris sur le texte. Bill Gross wants to take on Twitter, Facebook and Google+ Entrepreneur Bill Gross is already famous in technology circles for developing the search-related keyword advertising model that Google has since made billions by perfecting.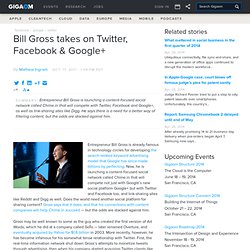 Now, he is launching a content-focused social network called Chime.in that will compete not just with Google's new social platform Google+ but with Twitter and Facebook too, and link-sharing sites like Reddit and Digg as well. Does the world need another social platform for sharing content? Google Engineer: Here's Why Google+ Is Failing, And How We Can Start "Doing This Right" Last night, Google engineer, blogger, and frequent public speaker Steve Yegge wrote an epic rant about Google's inept handling of the Google+ platform.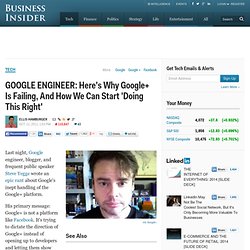 His primary message: Google+ is not a platform like Facebook. It's trying to dictate the direction of Google+ instead of opening up to developers and letting them show Google what makes sense and what doesn't. He posted the rant on Google+, but forgot to turn off the "Public" sharing option. Mind Mapping Software, Brainstorming, GTD and Knowledgebase Software. Quels sites sont les plus sociables sur Facebook ? L'iPad devrait dominer les tablettes tactiles jusqu'en 2014. La dernière étude du cabinet américain Gartner montre que le marché des tablettes connait un boom, et qu'il est largement dominé par l'iPad d'Apple. 63 millions de tablettes seront vendues en 2011, contre 17 millions en 2010. Apple fait la course en tête avec 73% des parts de marché cette année, connaissant malgré tout une baisse de 10 points par rapport à l'année dernière.
Et cela ne devrait pas s'arrêter tout de suite puisque le cabinet prévoit que les ventes atteindront 326 millions d'unités en 2015 et qu'Apple serait leader en conservant au moins 50% de parts de marché jusqu'en 2014. De quoi donner du courage à Tim Cook, le nouveau PDG d'Apple en remplacement de Steve Jobs, qui doit annoncer de nouveaux produits dans les prochains jours. Aucune tablette Android n'est donc venue inquiéter l'iPad jusqu'ici. Facebook, le réseau qu'on aime détester - M Magazine. M le magazine du Monde | • Mis à jour le | Par Stéphanie Chayet La scène se passe en juillet, à bord d'un TGV Valence - Paris. Interrogée par Le Point sur ses pratiques numériques, Martine Aubry lâche : « Facebook et Twitter, j'ai horreur de ça. C'est typique de cette société où tout le monde pense à son nombril. Et puis tous ces faux amis... » Dans un pays où Facebook est fréquenté par un tiers des électeurs, selon l'Ifop, le propos est maladroit. How Amazon Controls Ecommerce (Slides)
When you think about ecommerce, you think about Amazon. But how did a company that started with online books come to dominate an estimated one third of ecommerce in the U.S.? In the 72 slides above, global consulting boutique faberNovel breaks down Amazon's business and strategy. Une vidéo de 3 minutes pour entrer dans l'univers des Creative Commons. Pour faire référence à un récent (et édifiant) billet, si j'avais été à la place du conférencier de Calysto, j'aurais peut-être commencé pour montrer aux élèves la ressource ci-dessous que nous venons de sous-titrer. Il s'agit d'une vidéo de présentation des Creative Commons. Et nous ne sommes plus alors dans un « Internet de tous les dangers » mais dans un « Internet de tous les possibles ». Pas de risque alors que les élèves en concluent qu'il faille « arrêter de vivre et interdire Internet ». Ce sera alors plutôt l'envie de participer qui prédominera. Former Myspacers Build Link Curator 'Tagging Robot'
Former VP of Product at Myspace Todd Leeloy and Myspace Product Manager Joe Munoz have launched a semantic tagging network and link curation service today called Tagging Robot. Tagging Robot currently crawls your Facebook newsfeed and separates your links based on topics, as well as giving you relevant topics data for each link. Tagging Robot uses NLP and Machine Learning to build users a topic-centered profile, and uses your Facebook Interests and Social Graph to populate the page. Beansight : La boule de cristal communautaire est en ligne. Case Studies in Freemium: Pandora, Dropbox, Evernote, Automattic. Mobile Messaging March Madness.
---