Healthy Living
50 Easy Ways to Lose Weight. You know the drill when it comes to losing weight: take in fewer calories, burn more calories.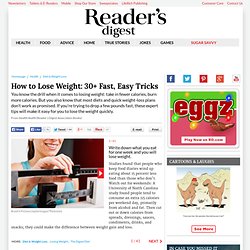 But you also know that most diets and quick weight-loss plans don't work as promised. If you're trying to drop a few pounds fast, these expert tips will make it easy for you to lose the weight quickly. From Stealth Health (Reader's Digest Association Books) 10 Instant Emotional Fitness Tools - StumbleUpon. By When things get out of control and you momentarily lose your emotional balance, there are any number of little things you can do to regain it.
Here are ten tools to help get you started. Medicinal Herbs Guide - Natural Herbs Guide - Healing Herbs Guide - StumbleUpon. Speed Up Your Metabolism - YouBeauty.com - StumbleUpon. Not happy with the metabolism you've got?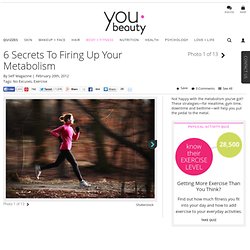 These strategies—for mealtime, gym time, downtime and bedtime—will help you put the pedal to the metal. Pick protein "Protein is the building block of muscle," says Roberta Anding, R.D., a spokeswoman for the Academy of Nutrition and Dietetics (formerly the American Dietetic Association). Swole.Me - The automatic diet generator - StumbleUpon. Top 10 Fitness Myths You're Falling For - StumbleUpon. 8 hair care treatments you can make yourself | MNN - Mother Nature Network - StumbleUpon.
Eggs, yogurt and honey are, at first glance, all components of a tasty breakfast — but they also happen to be hair treatment ingredients, and affordable, all-natural ones at that.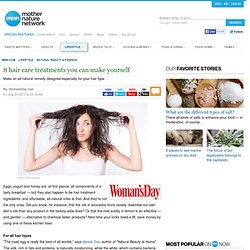 And they're not the only ones. Did you know, for instance, that the oils in avocados more closely resemble our own skin's oils than any product in the beauty aisle does? Or that the mild acidity in lemon is an effective — and gentler — alternative to chemical-laden products? Next time your locks need a lift, save money by using one of these kitchen fixes. Discover Alternative Medicine | Alternative Health | Alternative Healing. 22 Ways To Get Your Vegan Snack Attack On — Oh She Glows - StumbleUpon. It must be snacking season because I've had a lot of emails lately asking for some healthy vegan snack ideas and I thought it was a great idea for a post.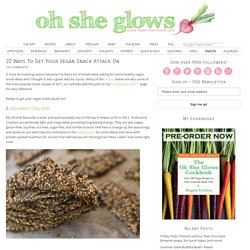 Many of the recipes below are also some of the most popular snack recipes of 2011, so I will also add this post to my Top Recipes of 2011 page for easy reference. Ready to get your vegan snack attack on? 1.
---