Arduino
arduino bluetooth transciever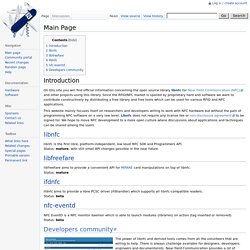 On this site you will find official information concerning the open source library libnfc for Near Field Communication (NFC) and other projects using this library. Since the RFID/NFC market is spoiled by proprietary hard and software we want to contribute constructively by distributing a free library and free tools which can be used for various RFID and NFC applications. This website mainly focuses itself on researchers and developers willing to work with NFC hardware but without the pain of programming NFC software on a very low level. Libnfc does not require any license fee or non-disclosure agreement to be signed for. We hope to move NFC development to a more open culture where discussions about applications and techniques can be shared among the users. libnfc is the first libre, platform-independent, low level NFC SDK and Programmers API.
The article provides some basic information on how to use an Android device to read sensor values from an Arduino, that too with the help of a low cost bluetooth serial device. Read on to know more about this. The circuit mentioned here uses python as the scripting language.
Controlling Arduino Using Android | HACKOLOG - Amazing Hacks and Mods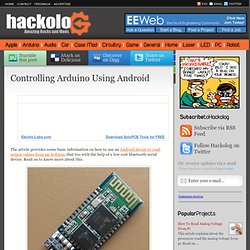 Controlling Arduino Using Android | HACKOLOG - Amazing Hacks and Mods
... an evolving index of practical subjects for the Arduino and Freeduino microcontrollers, as found in the Arduino site, Playground wiki, forum and that big WWW thing. Everything you read here will work on Arduino, the many versions of Freeduino, the Barebones and RBBB, the Boarduino, the iDuino and MAXserial, the eauDuino, the Jeenode, the many Arduino-compatible boards listed below, and of course the new-kids-on-the-block, the Sanguino, the Freeduino EPIC and the Arduino MEGA. Because of the different hardware layouts of these boards, slight modifications will occasionally be required between physical platforms.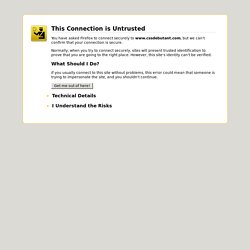 Click here to edit contents of this page. Click here to toggle editing of individual sections of the page (if possible). Watch headings for an "edit" link when available. Append content without editing the whole page source.
Contraptions - Contraptor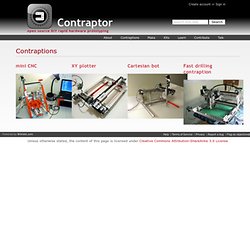 As you may know, FM transmitters are created using several pieces. Of course, technology has kept on following a general downsizing tendency. This is what makes the development of a project like this very important. Creating a transmitter using just 2 pieces is quite a breakthrough. The main component of the transmitter is an 8-pin AVR microcontroller.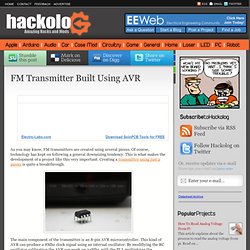 FM Transmitter Built Using AVR | HACKOLOG - Amazing Hacks and Mods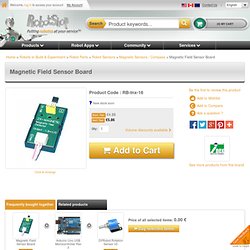 • Uses a 3A Hall-effect sensor (UGN3503)• Provides a voltage output that is proportional to the applied magnetic field • Sensitivity: 1.3mV/Gauss• Interface with microcontrollers and logic circuits• Inex Standard 3-pin PCB connector• Compatible with Inex controller boards The Inex Magnetic Field Sensor works with a built-in 3A Hall-effect sensor (UGN3503) which tracks extremely small changes in the magnetic flux density. This sensor provides a voltage output from 0 to +5Vdc that is proportional to the applied magnetic field. If no magnetic field is detected (0 Gauss) the output voltage will be 2.5V. The voltage output can be calculated using the following formula:
Magnetic Field Sensor Board
Arduino Serial Servo Control | Principia Labs