Food
Inn Cuisine's moving day draws closer & closer. Are you ready? Here's what you need to know: Our RSS feed is moving!
Inn Cuisine: a Taste of Bed & Breakfasts, Country and Urban Inns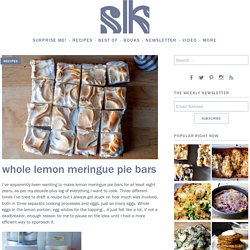 Wednesday, April 16, 2014 baked eggs with spinach and mushrooms My brunch arsenal, the dishes I've made enough times that they no longer cause any furrowed brows — a core entertaining principle here at House Smitten Kitchen (sigil: cast-iron skillet) — is as follows: bacon (always roasted in the oven, I mean, unless you were hoping to mist yourself with eau de pork belly*); some sort of fruit salad (either mixed berries and vanilla bean-scented yogurt or mixed citrus segments, sometimes with mint and feta); buttermilk biscuits; a pitcher of Bloody Marys, a bottle of champagne and a couple carafes of freshly-squeezed grapefruit or orange juice, blood orange whenever available; something sweet (our current favorite) and eggs. As I dictated years ago, everything that can be made in advance should be, thus pancakes, individually fried slices of French toast, omelets and even eggs baked in ramekins, adorable as they may be, are verboten.