Browser
Ars Technica. LIFE MAGAZINE - THE SINS OF THE FATHERS - 905W-000-052. 221Q-278-027 Photograph by Grant Delin "I knew when I met the Damms I would never forget them,"says Mary Ellen Mark, posing for Jesse Damm.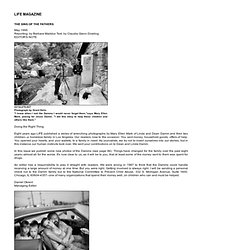 "I did this story to help these children and others like them. " Doing the Right Thing Eight years ago LIFE published a series of wrenching photographs by Mary Ellen Mark of Linda and Dean Damm and their two children--a homeless family in Los Angeles. LIFE MAGAZINE - A WEEK IN THE LIFE OF A HOMELESS FAMILY - 905W-000-031. 210K-01X-01X Mary Ellen Mark helps homeless Crissy Damm get ready for school.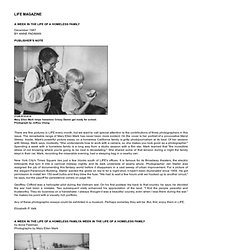 Photograph by Jeffrey Chong There are fine pictures in LIFE every month, but we want to call special attention to the contributions of three photographers in this issue. The remarkable range of Mary Ellen Mark has never been more evident. On the cover is her portrait of a provocative Meryl Streep. Inside, Mark's powerful picture essay on a homeless California family is gritty photojournalism at its best.
APERTURE - MARY ELLEN MARK -904I-000-003. TINY: I've known Mary Ellen for about fourteen years now.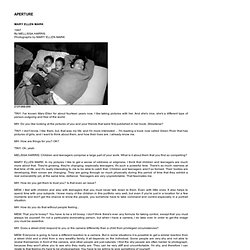 I like taking pictures with her. And she's nice, she's a different type of person-outgoing and free of the world. William Morgan. William Alexander Morgan(April 19, 1928-March 11, 1961) Click on the photos Cuban War Aided by Second Front (N.Y.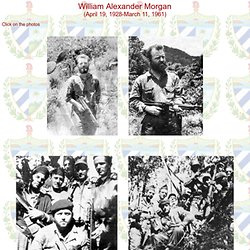 Times, April 3, 1958)Castro Names Toledoan To Military Post (Jan. 5, 1959)Leader of Castro's Jungle Fighters Wants To Return Home To Toledo (Jan. 6, 1959)Adventurer Divorced By Toledo Wife (Jan. 7, 1959)Cuba Facing Rule By Decree For Next 18 Months (Jan. 7, 1959)Ex-Toledoan To Tell Cuba Story In City (Feb. 27, 1959)Cuba Cancels U.S. Tour By Morgan (March 4, 1959)The Case Of Cuba's Maj. Where Have All the Hippies Gone? « The Dabbler.
…Long time ago.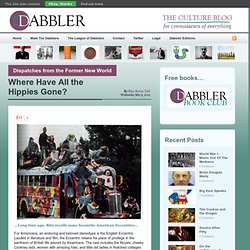 Rita recalls some favourite American Eccentrics… For Americans, an enduring and beloved stereotype is the English Eccentric. WHERE THE WIND HOWLS. A Walk on the Wild Side: in a new series, Robert Macfarlane, acclaimed author of "The Wild Places", walks the Mourne Mountains in Northern Ireland, formed 60m years ago...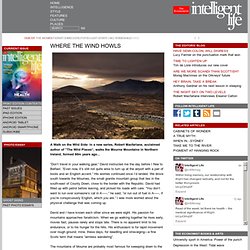 "Don't travel in your walking gear," David instructed me the day before I flew to Belfast. "Even now, it's still not quite wise to turn up at the airport with a pair of boots and an English accent." His worries continued once I'd landed. Khmer Rouge. Adam Yauch and Paul's Boutique: How dumb court decisions have made it nearly impossible for artists to sample the way the Beastie Boys did. Frazer Harrison.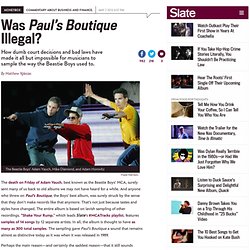 The death on Friday of Adam Yauch, best known as the Beastie Boys' MCA, surely sent many of us back to old albums we may not have heard for a while. And anyone who threw on Paul's Boutique, the Boys' best album, was surely struck by the sense that they don't make records like that anymore. That's not just because tastes and styles have changed.
Sports and Pop Culture from Bill Simmons and our rotating cast of writers. Summer Is The Goddamn Worst. The Rust Belt of France: Montpellier. My wife and I have been living in France for the past nine months in a city near the Mediterranean coast.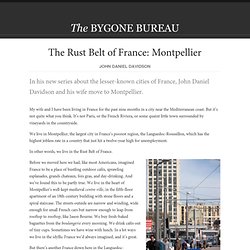 But it's not quite what you think. It's not Paris, or the French Riviera, or some quaint little town surrounded by vineyards in the countryside. We live in Montpellier, the largest city in France's poorest region, the Languedoc-Roussillon, which has the highest jobless rate in a country that just hit a twelve-year high for unemployment. In other words, we live in the Rust Belt of France. Before we moved here we had, like most Americans, imagined France to be a place of bustling outdoor cafés, sprawling esplanades, grands chateaux, fois gras, and day-drinking. IASC: The Hedgehog Review - Volume 14, No. 1 (Spring 2012) - Why Google Isn't Making Us Stupid…or Smart - Chad Wellmon.
The Hedgehog Review: Vol. 14, No. 1 (Spring 2012) Reprinted from The Hedgehog Review 14.1 (Spring 2012).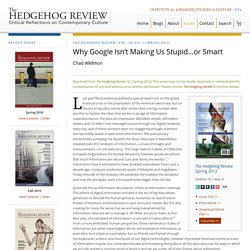 This essay may not be resold, reprinted, or redistributed for compensation of any kind without prior written permission. Please contact The Hedgehog Review for further details. Last year The Economist published a special report not on the global financial crisis or the polarization of the American electorate, but on the era of big data. Article after article cited one big number after another to bolster the claim that we live in an age of information superabundance. Tehran Politics: Are the Mullahs Losing Their Grip? "You are not a wise man, you tyrant," raps the Iranian female singer Bahar.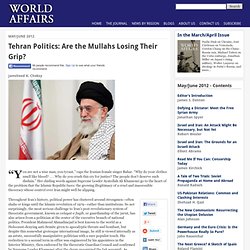 "Why do your clothes smell like blood? . . . Behold The Forbidden Flu: A Loom Explainer | The Loom. Here, for your viewing pleasure, is a very important part of a very special flu virus. It may look like an ordinary protein, but in fact it's been at the center of a blazing debate about whether our increasing power to experiment on life could lead to a disaster.
Not that long ago, in fact, a national security advisory board didn't even want you to see this. So feast your eyes. For those who are new to this story let me start back at the beginning, in 1997. The Browser | Writing Worth Reading. Consuming Women. The first lap dancing club in the UK opened in 1995. Since then lap dancing has become part of mainstream culture, with the 300+ lap dancing clubs nationwide visited by well-known figures such as Stephen Hawkings and Rihanna. Jennifer Hayashi Danns, 28, worked as a lap dancer for two years whilst studying at university. She spoke to Ian Sinclair about the industry and her new book Stripped: The Bare Reality of Lap Dancing, which she co-authored with Sandrine Leveque from feminist campaigning group OBJECT. What factors have driven the rapid increase in lap dancing clubs in the UK? Many feminist groups believe that the rise in lap dancing clubs is related to a piece of legislation that allowed lap dancing clubs to open under the same licensing regulations as cafes or karaoke bars.
Tokyo through the letterbox | Spike Japan. Reams have been written about the suicide-as-spectacle of novelist Yukio Mishima's death; less, perhaps, about the cartographies and circumstances of his birth. He was born Kimitake Hiraoka, on January 14, 1925, the first child of a civil servant, of a family of what would once—then, indeed—have been called "very good stock", and his wife, of a family of Confucian and Chinese scholars, in Yotsuya, once on the fringe but now already in the heart of a Tokyo that was rapidly expanding and shifting its center of gravity westward, in a district known then as Nagasumi-cho (永住町, "long dwell town", although he would be gone from the neighborhood by the age of eight) but which was reorganized and renamed Yotsuya 4-chome in a municipal redistricting on April 1, 1943 (one would have thought they would have had better things to do), before being pulverized to smithereens by American air-raids less than two years later.
Wang Hui · The Rumour Machine: The Dismissal of Bo Xilai · LRB 10 May 2012. 'March 14' used to be shorthand in China for the 2008 unrest in Tibet; now it stands for the 2012 'Chongqing incident'. It is unusual for municipal policy to have national impact, and rarer still for the removal of a city leader to become international news.
Some observers have argued that the dismissal of Bo Xilai, the party secretary of Chongqing, is the most important political event in China since 1989. Don't Like the Message? Maybe It's the Messenger - Justin Fox. By Justin Fox | 11:29 AM May 4, 2012 We all like to think we can evaluate information and arguments rationally, regardless of where they come from. But we don't. Home. Khrushchev in Water Wings: On Mao, Humiliation and the Sino-Soviet Split | Past Imperfect. Project Syndicate - the highest quality op-ed ( opinion-editorial ) articles and commentaries. Investigation, Lawsuit Expose Barbaric Conditions at For-Profit Youth Prison in Mississippi.
Journal home : Nature. Gaseous emissions from dinosaurs may have warmed prehistoric earth. Pollution: the great leveller | Centre for Science and Environment.
---