Tech.teach.web
The Ed Techie
For the past few years (2009, 2010, 2011, 2012), I end them with a post reviewing my running over the previous 12 months, and make some tenuous connection to education. No-one cares, but hey, it's my blog, and I like to plan this post when I'm out running, as it gives me something to fix on. So here goes. This year started out with big plans.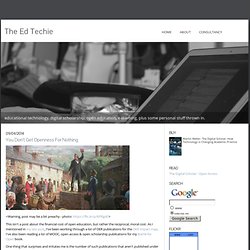 collaborate to graduate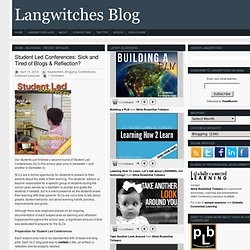 Our students just finished a second round of Student Led Conferences (SLC) this school year (one in Semester 1 and another in Semester 2). SLCs are a formal opportunity for students to present to their parents about the state of their learning. The students' advisor (a teacher responsible for a specific group of students during the school year) serves as a facilitator to prompt and guide the students if needed, but is a silent presence as the students share their learning with their parents. SLCs are not a time to talk about grades, student behavior, but about learning habits, process, improvements and goals. Although there was emphasis placed on an ongoing documentation of each subject area as learning and reflection happened throughout the school year, a significant amount of time was dedicated to prepare for the SLCs Preparation for Student Led Conferences
Blog » Blogging
Teaching Writing Using Blogs, Wikis... / Using Blogs in the Clas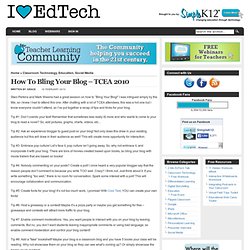 How To Bling Your Blog – TCEA 2010
Staci Perkins and Mark Weems had a great session on how to "Bling Your Blog!" I was intrigued simply by the title, so I knew I had to attend this one. After chatting with a lot of TCEA attendees, this was a hot one but I know everyone couldn't attend, so I've put together a recap of tips and tricks for your blog. Tip #1: Don't overdo your text! Remember that sometimes less really IS more and who wants to come to your blog to read a novel?
I've been thinking a lot this week about the kinds of tools I use to put information 'out there' and looking at a few new ones that I'm trying to build in to my 'broadcast network', so I thought I would share a few of these and see what other educators out there think and use. I can put my broadcast network tools onto a kind of cline or scale based around the 'richness' of the content and this correlates pretty much to the amount of time they take up to manage. BloggingAt the top of the scale there are my blogs. Here I provide the richest original content and these are still fueled by the belief that 'content is king'. If I really want people to read what I have to say, get over a clear message deliver valuable materials for learning etc, I have to get down to work and create it.
Creating your broadcast network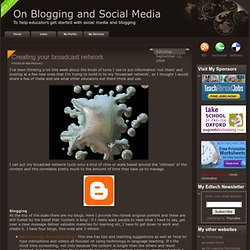 January 15, 2014 Great potential to build background knowledge More » January 15, 2014 Martin Luther King Day is celebrated on the third Monday in January, so you can... More » January 14, 2014 This activity ask the students to plan what should be in a survival pack that wo... More » January 14, 2014 By: Tech & Learning Staff What is the Awards of Excellence program?The Awards of Excellence program has be...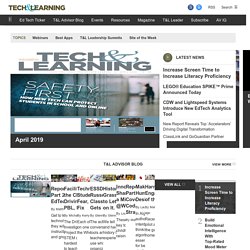 Seating charts make a real difference to the classroom learning environment in terms of teacher effectiveness and student attainment. By using a seating chart the teacher is imposing their authority before the lesson has even begun and making it clear to the students that the classroom is the teacher's territory and they are in control of it. By using their knowledge of students and putting careful thought into the design of the seating chart the teacher can minimize negative interactions between students and take advantage of peer-peer learning strategies. In terms of student attainment there is always a concern that the lower ability students will have a negative impact on the attainment of the students with higher ability.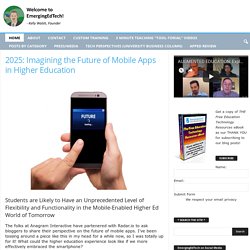 Guest Post collaboratively written with Jennifer Scottson. Since the beginning of time, man has tried to find ways to beat the system and get away with less work. Today's computer technologies have made it easy for individuals to try to use different methods to get away with turning in work that is not theirs. Technology has also helped to expose this in ways that are more effective and easier to use than ever before. Plagiarism detectors help to detect and prevent plagiarism and keep people honest in their approaches to claiming works.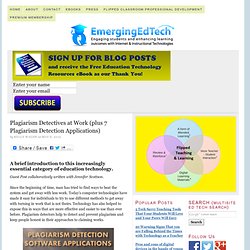 Plagiarism Detectives at Work (plus 5 Top Plagiarism Detection Applications)
Teacher Training Videos now on YOUTUBE You can now find many of the most popular teacher training videos on YOUTUBE. TeacherTrainingVideos is now on youTube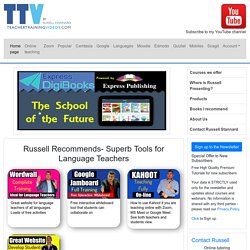 The 30 Goals Challenge: Join the Movement