Library blogs
Well since I had already worked this one up in Delicious it made sense to pearl it here!
Tame The Web | Libraries, Technology and People by Michael Stephens. Librarian Problems. New Librarians Symposium (or NLS6) | librararianville. I recently attended the New Librarians Symposium, thanks to my workplace who funded the whole trip.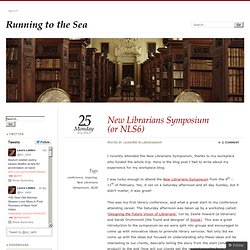 Here is the blog post I had to write about my experience for my workplace blog: I was lucky enough to attend the New Librarians Symposium from the 9th – 11th of February. Yes, it ran on a Saturday afternoon and all day Sunday, but it didn't matter, it was great! Bethan's information professional blog. Library blogs. Resources for students within the School of Information Studies. The page "/faculty/educat/sis/student-resources.htm" may have been removed, had its name changed, or is temporarily unavailable.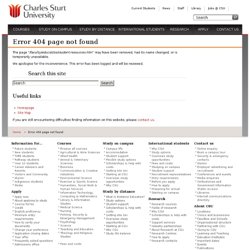 We apologise for the inconvenience. This error has been logged and will be reviewed. Best iPad Apps for Blogging. If you have an iPad tablet device, then you might already be using it to blog with the iPad app for your blogging application, such as the WordPress mobile app.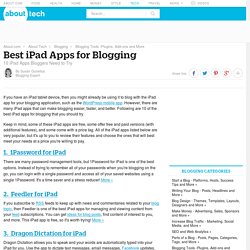 However, there are many iPad apps that can make blogging easier, faster, and better. Following are 10 of the best iPad apps for blogging that you should try. 20+ Essential Tools and Applications For Bloggers. Blogging can be quite a process.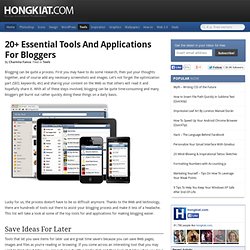 First you may have to do some research, then put your thoughts together, and of course add any necessary screenshots and images. Let's not forget the optimization part (SEO, keywords, etc) and sharing your content on the Web so that others will read it and hopefully share it. With all of these steps involved, blogging can be quite time-consuming and many bloggers get burnt out rather quickly doing these things on a daily basis. Blogs | American Libraries Live. Phil Bradley's weblog. There's been lots of discussion in blogs and on Twitter about Getty's offer to make images available supposedly for 'free'.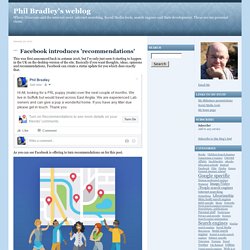 The only problem is that they're not free, as Karen Blakeman points out in her blog post on the subject. While on the surface of it, it seems to be a lovely kind gesture, I would caution anyone who is thinking of using the service to consider it very carefully. On their website Getty says "Getty Images is leading the way in creating a more visual world. Our new embed feature makes it easy, legal, and free for anybody to share our images on websites, blogs, and social media platforms. " Swiss Army Librarian :: Brian Herzog. Imagination>knowledge — thinking is more interesting than knowing, but less interesting than looking (Goethe) REAL PUBLIC LIBRARIAN. Librarian in Black – Sarah Houghton.
Earlier this week, California Governor Jerry Brown appointed Greg Lucas as the new California State Librarian.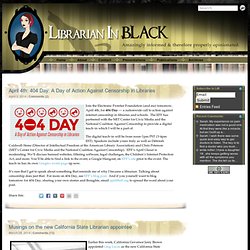 The appointment requires state senate confirmation, which has not happened yet. Lucas is not a librarian, nor has he ever (per information readily available online) worked in a library, volunteered for a library, served on a library Board or Commission, or…well…had any involvement with libraries at all. So what has Lucas done? 025.431: The Dewey blog. LISZEN: Library Blog Search Engine « Library Zen. Wanting to find out what other librarians are saying about Library 2.0?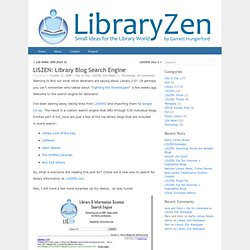 Or perhaps you can't remember who talked about "Fighting the Stereotypes!" A few weeks ago. Welcome to the search engine for librarians! New Stephen's Lighthouse. The T/L Journey. Public Library Services. Hashtags are used in social media to connect people in discussing the same topic, even if they don't know each other.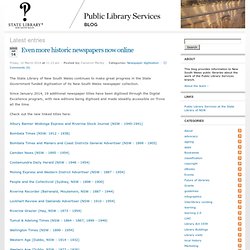 For example, during the current test cricket series, people have been commenting using the #ashes hashtag. The British Library uses hashtags for all their exhibitions. Their current exhibition Georgians revealed uses #BLGeorgians to connect promotion, and people talking about the exhibition. We would like to start connecting discussion and images of New South Wales Public Libraries through the use of the suggested hashtag #nswpubliclibraries. The only recorded instance of its use to date is. StevenBell.Info. Salem Press - Directory of Library Blog Award Winners. Librarians - Useful links for Librarians (showing 1-8 of 8) Nailing the Library Interview « Mr. Library Dude. Getting that librarian position can be a daunting process.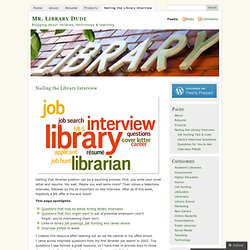 First, you write your cover letter and resume. You wait. Maybe you wait some more? Then comes a telephone interview, followed by the all important on-site interview. After all of this work, hopefully a job offer is the end result! Academic Librarian | On Libraries, Rhetoric, Poetry, History, & Moral Philosophy. You know when someone at Scholarly Kitchen thinks your anti-open access rant is excessive you've crossed some sort of threshold.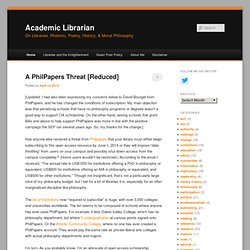 You also know that when a biologist and a co-founder of the Public Library of Science bothers to give your article a thorough fisking, you have people's attention. Even Roy Tennant seems a little riled, and he's usually pretty calm. Jeffrey Beall has managed to publish an anti-open access article in an open access journal that's so poorly argued that I wonder if he'll later use the publication as an example of how bad OA publishing can be.
The Beall Hoax. I was going to write a detailed response pointing out, among other things, that Beall makes a number of outrageous claims about OA advocates without referring to or citing any of them. Sense & Reference. Free Moth :: Flutterings. Metadata Matters | It's all about the services. I saw the announcement a few weeks ago about the demise of MARBI and the creation of the new ALCTS/LITA Metadata Standards Committee. My first reaction was 'uh oh,' and I flashed back to the beginnings of the DCMI Usage Board. The DCUB still exists, but in a sort of limbo, as DCMI reorganizes itself after the recent change of leadership. I was a charter member, and, with Rebecca Guenther, wrote up the original proposal for the organization of the group. It was based to some extent on MARBI–not a surprise, since Rebecca and I were veterans of that group.
But there were some ambiguities in the plan for the UB that came back to bite us over the next few years–primarily having to do with essential questions about what the group was supposed to be doing, and how to accomplish its goals. Best Library Blogs - My delicious collection. Inquiring Librarian. Cool Quotes about Libraries, Books, and Knowledge, compiled from Ex Libris. All too often, especially in larger settings, bureaucracy creates tidy little job descriptions into which staff are jailed. What this mathematically driven system does not take into account is that human beings are complex creatures with more than one ability.
A person may be a whiz at answering reference questions, but what if they can also sew a very convincing Sponge Bob costume? Will the Youth Services Department go without this asset because costuming is not in the job description for reference? Maybe your cataloguer is expert at Microsoft Access. Will he/she be allowed to work on a database for the Circulation people, or will it be more important to protect one's turf? The Information Activist Librarian | Information Activism and library stuff. The Apple Way for Libraries (a Manifesto?) | The Information Activist Librarian. The Apple Way for Libraries (a Manifesto?) I have really begun digging deep into the Apple model and philosophy. It is a very interesting and different approach to doing business and delivering content, information, and technology. I think there is a lot for libraries to learn from the Apple way, so I will proceed to write a ramble of various approaches that I feel libraries need to adopt.
This is spurred on, in part, by the recent Penguin/Overdrive news. Integrated Products.
---