Library blogs
Well since I had already worked this one up in Delicious it made sense to pearl it here! Feb 29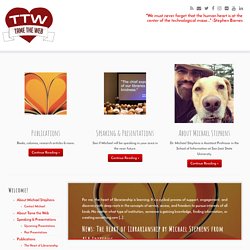 I have a decent understanding of copyright and the process of determining fair use, but I didn't have a good understanding of how YouTube enforces and adjudicates copyright disputes. I'll own up to my naiveté, but even after acknowledging this, I am still troubled by YouTube's approach to copyright enforcement. I thought about titling this post, "I Fought the Law and the Law Won," but the problem is that this whole thing isn't really about the law at all. In YouTube Land, it doesn't really matter if your use of copyrighted material falls under fair use or not. What matters is that content creators can use YouTube's enforcement tools to shutdown your account and make life so difficult that you avoid any use of outside content all together. YouTube has become the default, national forum for online video, and, as such, their approach to copyright has a chilling effect on speech and public discourse.
New Librarians Symposium (or NLS6) | librararianville
I recently attended the New Librarians Symposium, thanks to my workplace who funded the whole trip. Here is the blog post I had to write about my experience for my workplace blog: I was lucky enough to attend the New Librarians Symposium from the 9th – 11th of February. Yes, it ran on a Saturday afternoon and all day Sunday, but it didn't matter, it was great!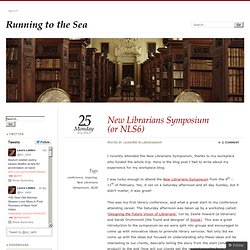 Bethan's information professional blog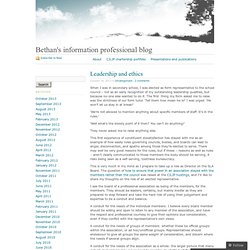 I spotted this advert for 'eCloud experts', and rather uncharitably thought 'ha! I'd like to see them explain exactly what they do – without using the word 'cloud'!' This isn't really a fair 'Taboo!'
Resources for students within the School of Information Studies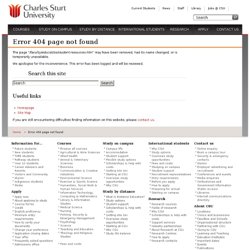 The page "/faculty/educat/sis/student-resources.htm" may have been removed, had its name changed, or is temporarily unavailable. We apologise for the inconvenience. This error has been logged and will be reviewed.
Best iPad Apps for Blogging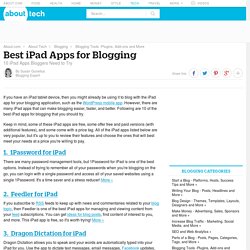 If you have an iPad tablet device, then you might already be using it to blog with the iPad app for your blogging application, such as the WordPress mobile app. However, there are many iPad apps that can make blogging easier, faster, and better. Following are 10 of the best iPad apps for blogging that you should try.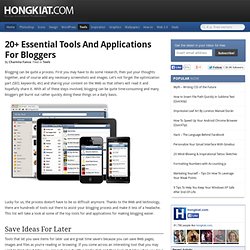 Blogging can be quite a process. First you may have to do some research, then put your thoughts together, and of course add any necessary screenshots and images. Let's not forget the optimization part (SEO, keywords, etc) and sharing your content on the Web so that others will read it and hopefully share it. With all of these steps involved, blogging can be quite time-consuming and many bloggers get burnt out rather quickly doing these things on a daily basis.
Blogs | American Libraries Live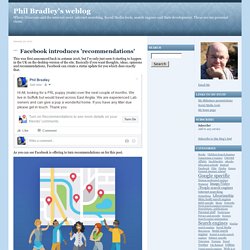 There's been lots of discussion in blogs and on Twitter about Getty's offer to make images available supposedly for 'free'. The only problem is that they're not free, as Karen Blakeman points out in her blog post on the subject. While on the surface of it, it seems to be a lovely kind gesture, I would caution anyone who is thinking of using the service to consider it very carefully. On their website Getty says "Getty Images is leading the way in creating a more visual world. Our new embed feature makes it easy, legal, and free for anybody to share our images on websites, blogs, and social media platforms."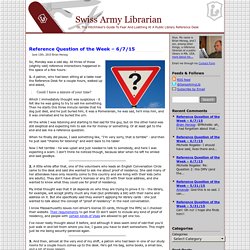 Swiss Army Librarian :: Brian Herzog
Reference Question of the Week – 3/30/14 April 5th, 2014 Brian Herzog A question this week reminded me of another one of my library pet peeves - which is, when a patron asks for something very specific and slightly esoteric, and you're able to put the exact thing they asked for in their hands, and then they look at you and say, "no, that's not what I'm looking for." A girl who was in the fifth grade, her mom, and her little brother came up to the desk.
I've been reflecting a lot lately on the notion of privilege, thanks in no small part to a confronting cultural competence session conducted by my organisation. The session, run by both an Aboriginal and a Caucasian woman, focused on many provocative moments, but one of the most valuable messages I took away was the Peggy McIntosh notion of "the invisible knapsack of white privilege" I've been unpacking this idea (no pun intended – seriously. Yes, I know I wrote it, but it's there now, and it seems an awful lot of work to go back and change it) and thinking about how pervasive it is in other areas too.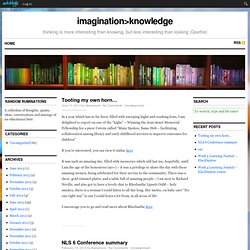 imagination>knowledge — thinking is more interesting than knowing, but less interesting than looking (Goethe)
I have just looked at my blog for the first time in a month - I'm thrilled and gratified that I have so many warm comments from colleagues - surely the blogger's delight - in the glow of good feelings, I resolve to leave more comments on others' blogs myself! Oh, and I think blogger has mucked up my email address (in reply to one of the commentors), so if you want to reach me please email to realpubliclibrarian@yahoo.com. It's not so much lack of time (although that is a factor) but rather the nature of my new job, that prevents me from blogging a lot at the moment. Suddenly finding myself in charge of a quite large library system (going from serving a population of 30,000 to 103,000; staffing numbers tripled), has been a wonderful learning time and thankfully I'm feeling more energized than tired.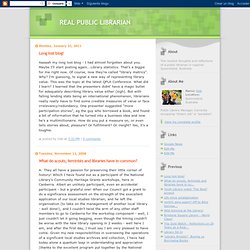 REAL PUBLIC LIBRARIAN
Earlier this week, California Governor Jerry Brown appointed Greg Lucas as the new California State Librarian. The appointment requires state senate confirmation, which has not happened yet. Lucas is not a librarian, nor has he ever (per information readily available online) worked in a library, volunteered for a library, served on a library Board or Commission, or…well…had any involvement with libraries at all. So what has Lucas done?
"Cookbook Finder is an experimental, works-based application that provides access to thousands of cookbooks and other works about food and nutrition described in library records. You can search by person, place, topic, course, ingredient, method, Dewey and more." Cookbook Finder was developed by OCLC Research.
025.431: The Dewey blog
Wanting to find out what other librarians are saying about Library 2.0? Or perhaps you can't remember who talked about "Fighting the Stereotypes!" a few weeks ago. Welcome to the search engine for librarians!
LISZEN: Library Blog Search Engine « Library Zen
From HBR Blog: How to engage your employees and stop wasting everyone's time: http://bit.ly/1hIzC8O Stephen Librarians are #38 on the list.
The T/L Journey
Public Library Services
StevenBell.Info
Salem Press - Directory of Library Blog Award Winners
Librarians - Useful links for Librarians (showing 1-8 of 8)
Nailing the Library Interview « Mr. Library Dude
Academic Librarian | On Libraries, Rhetoric, Poetry, History, & Moral Philosophy
Sense & Reference
Free Moth :: Flutterings
Metadata Matters | It's all about the services
Best Library Blogs - My delicious collection
Inquiring Librarian
Cool Quotes about Libraries, Books, and Knowledge, compiled from Ex Libris
The Information Activist Librarian | Information Activism and library stuff
The Apple Way for Libraries (a Manifesto?) | The Information Activist Librarian