Library blogs
Well since I had already worked this one up in Delicious it made sense to pearl it here! Feb 29
Librarian Problems
New Librarians Symposium (or NLS6) | librararianville
I recently attended the New Librarians Symposium, thanks to my workplace who funded the whole trip.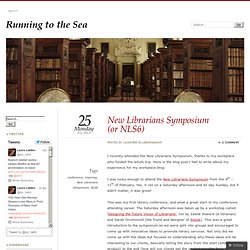 Bethan's information professional blog
Resources for students within the School of Information Studies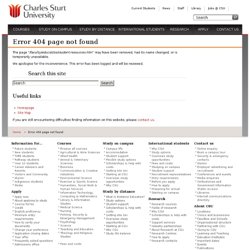 The page "/faculty/educat/sis/student-resources.htm" may have been removed, had its name changed, or is temporarily unavailable. We apologise for the inconvenience. This error has been logged and will be reviewed.
Best iPad Apps for Blogging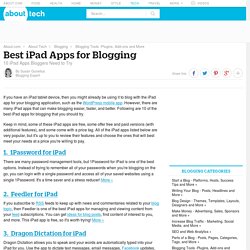 If you have an iPad tablet device, then you might already be using it to blog with the iPad app for your blogging application, such as the WordPress mobile app . However, there are many iPad apps that can make blogging easier, faster, and better. Following are 10 of the best iPad apps for blogging that you should try.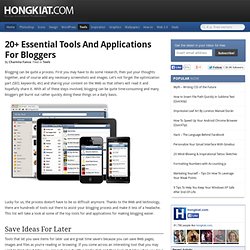 Blogging can be quite a process. First you may have to do some research, then put your thoughts together, and of course add any necessary screenshots and images. Let's not forget the optimization part (SEO, keywords, etc) and sharing your content on the Web so that others will read it and hopefully share it. With all of these steps involved, blogging can be quite time-consuming and many bloggers get burnt out rather quickly doing these things on a daily basis.
We're very excited about the next episode of American Libraries Live, Mobile Services: The Library in Your Pocket, which will take place on Thursday, February 14th at 2pm Eastern . Jason Griffey will return to run another engaging, fantastic interactive discussion with another great panel. Jason will be joined next week by Maurice Coleman and Robin Hastings.
Blogs | American Libraries Live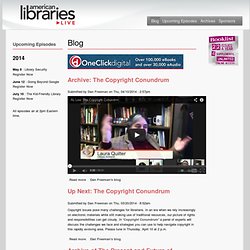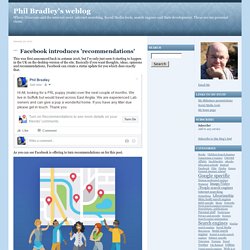 The long awaited review of e-lending has now been published. The report, written by William Sieghart sets out some interesting recommendations. The announcement is here . and the review itself - available in Word format is here . I've only taken a very quick look through it, but it looks as though it's reasonably positive. Please note that the following are MY PERSONAL VIEWS and not those of any other organisation or body that I am involved with.
Swiss Army Librarian :: Brian Herzog
imagination>knowledge — thinking is more interesting than knowing, but less interesting than looking (Goethe)
REAL PUBLIC LIBRARIAN
025.431: The Dewey blog
Wanting to find out what other librarians are saying about Library 2.0? Or perhaps you can't remember who talked about " Fighting the Stereotypes! " a few weeks ago. Welcome to the search engine for librarians!
LISZEN: Library Blog Search Engine « Library Zen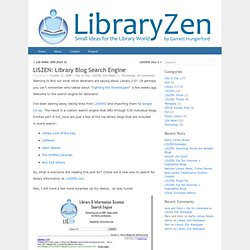 The T/L Journey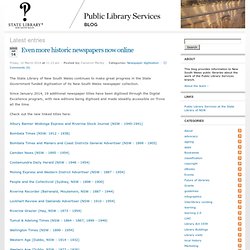 Public Library Services
The State Library of NSW has been funded $22.4 million by the NSW Government for its digitisation program. "Thanks to the support of the NSW Government, we're fast-tracking our major digitisation program and, over the next four years, six million pages of historic NSW newspapers from the State Library's unrivalled collections will be digitised and made available online," says Alex Byrne, NSW State Librarian and Chief Executive. With over 60 NSW newspaper titles already digitised, more than 1.5 million pages representing an additional 80 newspaper titles will be accessible online by July 2013. The Library has contracted the National Library of Australia to digitise the newspapers and free access will be provided on the discovery service, Trove, and through the State Library's website.
StevenBell.Info
Salem Press - Directory of Library Blog Award Winners
Librarians - Useful links for Librarians (showing 1-8 of 8)
Updated 3/4/2013 Getting that librarian position can be a daunting process. First, you write your cover letter and resume. You wait. Maybe you wait some more? Then comes a telephone interview, followed by the all important on-site interview.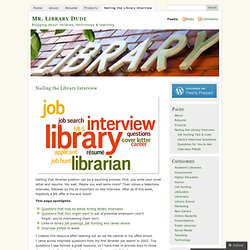 Nailing the Library Interview « Mr. Library Dude
Once you get on the guru train, it's hard to get off. That thing just barrels along regardless of reason and good sense. So here goes one more guru post. The title promised a skill, but as with rhetoric, it's really more that you develop a set of skills through this line of study. Analytical skills, critical thinking skills, problem solving skills. Surely these are necessary for all librarians, and if you want to develop them to your utmost, you've got to study philosophy.
Academic Librarian | On Libraries, Rhetoric, Poetry, History, & Moral Philosophy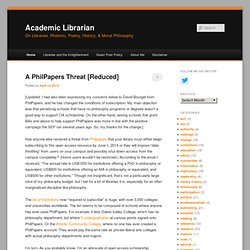 Sense & Reference
Terry's Worklog
Free Moth :: Flutterings
I discussed the utility of the sub-property relationship in Getting to higher MARC branches , Netting more MARC fruit , and Adding MARC fruit to the cornucopia . Coincidentally, Bob DuCharme posted Simple federated queries with RDF which outlines the same technique and provides additional information on its use for resource discovery. Those posts are somewhat technical, and I tried to lighten up in my presentation Turtle dreaming at the recent Dublin Core Metadata Initiative (DCMI) seminar Five years on . This post is another attempt to demonstrate in a non-technical way (I hope) how useful and powerful the sub-property relationship can be. A metadata attribute, like 'title', that is to be used for linked data in the Semantic Web is usually represented in Resource Description Framework (RDF) as a property.
Metadata Matters | It's all about the services
Best Library Blogs]
Inquiring Librarian
All too often, especially in larger settings, bureaucracy creates tidy little job descriptions into which staff are jailed. What this mathematically driven system does not take into account is that human beings are complex creatures with more than one ability. A person may be a whiz at answering reference questions, but what if they can also sew a very convincing Sponge Bob costume? Will the Youth Services Department go without this asset because costuming is not in the job description for reference? Maybe your cataloguer is expert at Microsoft Access. Will he/she be allowed to work on a database for the Circulation people, or will it be more important to protect one's turf?
Cool Quotes about Libraries, Books, and Knowledge, compiled from Ex Libris
The Information Activist Librarian | Information Activism and library stuff
The Apple Way for Libraries (a Manifesto?) | The Information Activist Librarian
The Apple Way for Libraries (a Manifesto?) I have really begun digging deep into the Apple model and philosophy. It is a very interesting and different approach to doing business and delivering content, information, and technology. I think there is a lot for libraries to learn from the Apple way, so I will proceed to write a ramble of various approaches that I feel libraries need to adopt. This is spurred on, in part, by the recent Penguin/Overdrive news. Integrated Products