Synonyms/Idioms
French expressions you wont learn at school -- Expressions fran軋ises en Anglais - StumbleUpon
Having something that is certain is much better than taking a risk for more, because chances are you might lose everything. A Blessing In Disguise: Something good that isn't recognized at first. A Chip On Your Shoulder: Being upset for something that happened in the past. A Dime A Dozen: Anything that is common and easy to get. A Doubting Thomas: A skeptic who needs physical or personal evidence in order to believe something. A Drop in the Bucket: A very small part of something big or whole.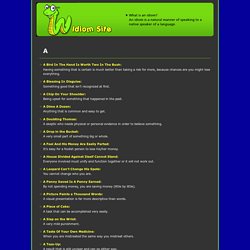 IdiomSite.com - Find out the meanings of common sayings
Alan S. Kennedy's Color/Language Project If you see a gap or an inaccuracy that you can help us fix, tell us via the contribution form!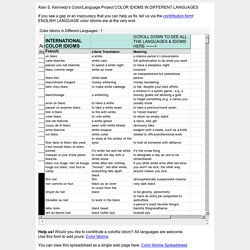 Alan Kennedys Color/Language Project - The Idiom List
Synonym Finder & Find synonyms, antonyms & definition for (almost)...