Better
Get flash to fully experience Pearltrees
Contributed by Glenn Ong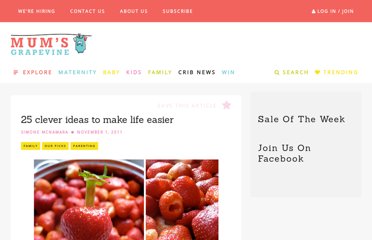 Posted on November 01, 2011 in Bed, Bath & Kitchen , Decor & Furniture , Organise & Personalise by Simone Via: amy-newnostalgia.blogspot.com
Here is a list of 15 things which, if you give up on them, will make your life a lot easier and much, much happier.
The multitasking hall of fame. 10 New Uses for Lemon "Lemon juice is the strongest food acid in our kitchens, strong enough to make life unbearable for most bacteria," says Robert Wolke, professor emeritus of chemistry at the University of Pittsburgh and the author of What Einstein Told His Cook 2: The Sequel, Further Adventures in Kitchen Science (W. W. Norton, $26).
Herbs at a Glance is a series of brief fact sheets that provides basic information about specific herbs or botanicals—common names, what the science says, potential side effects and cautions, and resources for more information.
Embed This Infographic
Contrary to popular belief, you don't have to make drastic changes in order to notice an improvement in the quality of your life. At the same time, you don't need to wait a long time in order to see the measurable results that come from taking positive action. All you have to do is take small steps, and take them consistently, for a period of 100 days.