Tutorials
The Uno has three timers called timer0, timer1, and timer2.
Arduino Timer Interrupts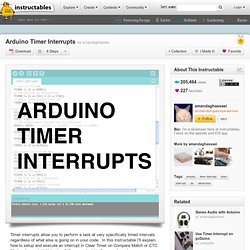 Tutorial 15 for Arduino: GPS Tracking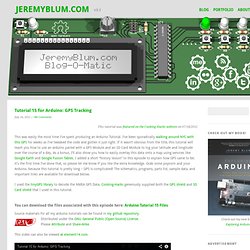 This tutorial was featured on the Cooking-Hacks website on 07/18/2012 This was easily the most time I've spent producing an Arduino Tutorial. I've been sporadically walking around NYC with this GPS for weeks as I've tweaked the code and gotten it just right.
Tutorial 15 for Arduino: GPS Tracking | JeremyBlum.com
sciguy14/Arduino-Tutorial-Series
Arduino Unleashed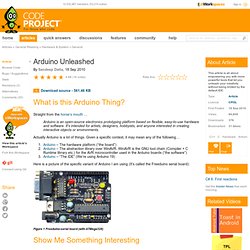 What is this Arduino Thing? Straight from the horse's mouth …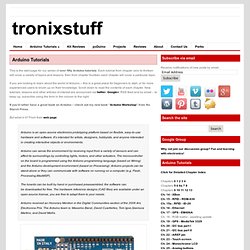 This is the start page for my series of over fifty Arduino tutorials . Each tutorial from chapter zero to thirteen will cover a variety of topics and lessons, then from chapter fourteen each chapter will cover a particular topic. If you are looking to learn about the world of Arduino – this is a great place for beginners to start, or for more experienced users to brush up on their knowledge. Scroll down to read the contents of each chapter. New tutorials, lessons and other articles of interest are announced via twitter , Google+ , RSS feed and by email – to keep up, subscribe using the form in the column to the right. But what is it?
Often when working on microcontroller projects you need a background function to run at regular intervals. This is often done by setting up a hardware timer to generate an interrupt. The interrupt triggers an Interrupt Service Routine (ISR) to handle the periodic interrupt. In this article I describe setting up the 8-Bit Timer2 to generate interrupts on an Arduino ATMega168. I walk through steps required for setup and inside the ISR function.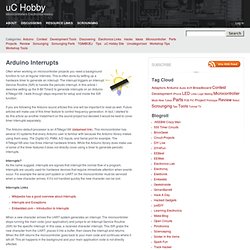 Arduino Interrupts | uC Hobby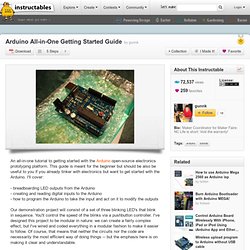 If you have already connected an Arduino to your computer and run the basic "blink" example you can skip this step.
Arduino All-in-One Getting Started Guide