Vegetarianism
Herbivore Clothing - Cruelty-Free Fashion and Accessories
Oak Farms Dairy - where is my milk from?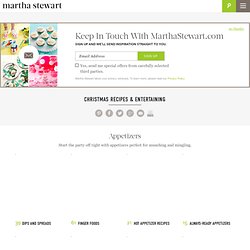 There's no need for vegetarians to be excluded from the bountiful offerings of the holiday table. The recipes in this collection of vegetarian tarts, casseroles, and other meatless main dishes are so flavorful and satisfying, everyone will want to partake. Gruyere cheese sauce forms the creamy base for this souffle, which is mixed with sauteed spinach and egg yolks. Beaten egg whites are folded in just before baking, giving the souffle its distinctive light texture. Get the Spinach and Gruyere Souffle Recipe
Holiday Entertaining: Holiday Meatless Main Dish Recipes - Martha Stewart
Tofu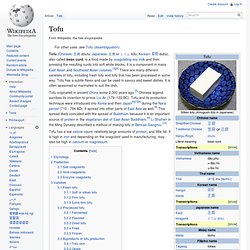 Tofu , also called bean curd , is a food made by coagulating soy juice and then pressing the resulting curds into soft white blocks. It is a component in many East Asian and Southeast Asian cuisines . [ 3 ] [ 4 ] There are many different varieties of tofu, including fresh tofu and tofu that has been processed in some way. Tofu has a subtle flavor and can be used in savory and sweet dishes. It is often seasoned or marinated to suit the dish. Tofu originated in ancient China some 2,000 years ago. [ 5 ] Chinese legend ascribes its invention to prince Liu An (Chinese: 劉安 Liú Ān, 179–122 BC). Tofu and its production technique were introduced into Korea and then Japan [ 6 ] [ 7 ] [ 8 ] during the Nara period .
vegetarianism-spirituality.jpg (409×368)
1239296989-lisa_the_vegetarian.png (275×210)
Here you will find a master list of all recipes posted here on Hipsterveg.com, in Alphabetical Order: BBQ Tempeh Pizza Berry Good Tempeh
All Recipes « HipsterVeg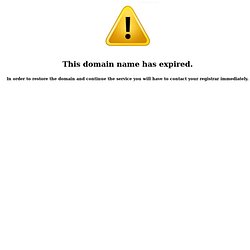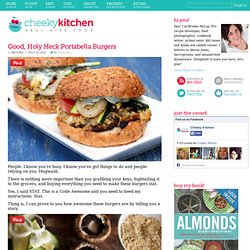 People. I know you're busy. I know you've got things to do and people relying on you. Hogwash. There is nothing more important than you grabbing your keys, hightailing it to the grocers, and buying everything you need to make these burgers stat.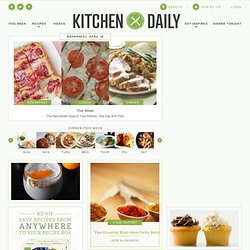 Jupiterimages By Kerri-Ann Jennings, M.S., R.D., Associate Editor, Nutrition for EatingWell Magazine
Vegetarianism is the practice of abstaining from the consumption of meat – red meat , poultry , seafood and the flesh of any other animal ; it may also include abstention from by-products of animal slaughter , such as animal-derived rennet and gelatin . [ 2 ] [ 3 ] [ 5 ] Vegetarianism can be adopted for different reasons. Many object to eating meat out of respect for sentient life. Such ethical motivations have been codified under various religious beliefs , along with the concept of animal rights . Other motivations for vegetarianism are health-related, political, environmental , cultural, aesthetic or economic .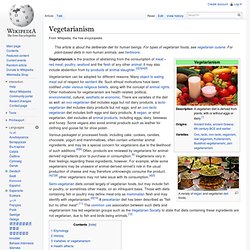 Vegetarianism
Pesco
Pescetarianism ( pron.: / ˌ p ɛ s k ɨ ˈ t ɛər i ən / ) (also spelled pescatarianism ) is the practice of a diet that includes seafood but not the flesh of other animals. A pescetarian diet shares many of its components with a vegetarian diet and includes vegetables , fruit , nuts , grains , beans , eggs , and dairy , but unlike a vegetarian diet also includes fish and shellfish . The Merriam-Webster dictionary dates the origin of the term "pescetarian" to 1993 and defines it to mean: "one whose diet includes fish but no other meat ". [ 1 ] [ edit ] Etymology Pescetarian is probably a neologism formed as a blend of the Italian word pesce (" fish ") and the English word "vegetarian". [ 1 ] The Italian word is pronounced [ˈpeʃe] , while the English neologism is commonly / ˌ p ɛ s k ɨ ˈ t ɛər i ən / , with a /sk/ sound, thus differing from pronunciations of similar terms in English and Italian.
Pescetarianism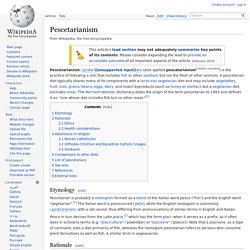 Pesco/pollo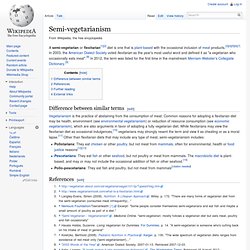 A semi-vegetarian or flexitarian [ 1 ] [ 2 ] diet is one that is plant-based with the occasional inclusion of meat products. [ 3 ] [ 4 ] [ 5 ] [ 6 ] [ 7 ] In 2003, the American Dialect Society voted flexitarian as the year's most useful word and defined it as "a vegetarian who occasionally eats meat". [ 8 ] In 2012, the term was listed for the first time in the mainstream Merriam-Webster 's Collegiate Dictionary. [ 9 ] [ edit ] Difference between similar terms Vegetarianism is the practice of abstaining from the consumption of meat. Common reasons for adopting a flexitarian diet may be health, environment (see environmental vegetarianism ) or reduction of resource consumption (see economic vegetarianism ), which are also arguments in favor of adopting a fully vegetarian diet.
Semi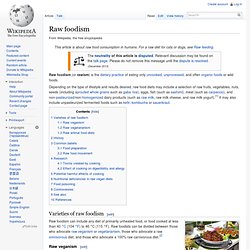 Raw foodism (or rawism ) is a diet consisting of uncooked , unprocessed , and often organic foods or wild foods. Depending on the type of lifestyle and results desired, raw food diets may include a selection of raw fruits, vegetables, nuts, seeds (including sprouted whole grains such as gaba rice ), eggs, fish (such as sashimi ), meat (such as carpaccio ), and non- pasteurized /non- homogenized dairy products (such as raw milk , raw milk cheese, and raw milk yogurt). [ 1 ] Many raw foodists are also vegan or vegetarian and are sometimes called " raw vegans " or "raw vegetarians" [ edit ] Varieties of raw foodism Raw Vegan "Thanks-Giving Turkey"
Raw foodism
Vegans
List of vegans
Fruitarianism involves the practice of following a diet that includes fruits, vegetables, nuts and seeds, without animal products and grains. [ 1 ] Fruitarianism is a subset of dietary veganism . Fruitarianism may be adopted for different reasons, including: ethical , religious , political, environmental , cultural, aesthetic and economic . There are many varieties of the diet.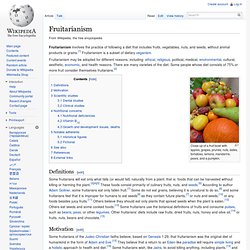 Fruitarianism
An ovo-lacto vegetarian (or lacto-ovo vegetarian ) is a vegetarian who does not eat animal flesh of any kind, but consumes dairy and egg products . [ edit ] Etymology The terminology stems from the Latin lac meaning "milk" (as in ' lactation '), ovum meaning "egg", and the English term vegetarian (see Etymology of vegetarianism for the etymology of "vegetarian"), so as giving the definition of a vegetarian diet containing milk and eggs.
Ovo-lacto
Lacto
A lacto vegetarian (sometimes referred to as a lactarian ; from the Latin lactis , milk ) diet is a vegetarian diet that includes dairy products such as milk , cheese , yogurt , butter , ghee , cream , and kefir , but excludes eggs . Lacto-vegetarians also abstain from cheeses that include animal rennet and yogurts that contain gelatin . The concept and practice of lacto-vegetarianism among a significant number of people comes from ancient India [ 1 ] and was originally based on religious beliefs. [ 2 ] The greatest proportion of vegetarians, such as those in India or those in the area of the classical Mediterranean such as the Pythagoreans , are or were lacto-vegetarian. [ 2 ] [ edit ] Religion Lacto-vegetarian diets are popular with many followers of the Eastern religious traditions such as Hinduism , Sikhism , Jainism and Buddhism .
Ovo
Ovo vegetarianism ( pron.: / ˈ oʊ v oʊ / ) is a type of vegetarianism which allows for the consumption of eggs ; unlike lacto-ovo vegetarianism , no dairy products are permitted. Those who practice ovo vegetarianism are called ovo-vegetarians or "eggetarians." "Ovo" comes from the Latin word for egg. [ edit ] Motivations