U.S. Department
United States federal executive departments
The United States federal executive departments are among the oldest primary units of the executive branch of the federal government of the United States —the Departments of State , War , and the Treasury all having been established within a few weeks of each other in 1789. Federal executive departments are analogous to ministries common in parliamentary or semi-presidential systems but, with the United States being a presidential system , their heads otherwise equivalent to ministers , do not form a government (in a parliamentary sense) nor are they led by a head of government separate from the head of state . The heads of the federal executive departments, known as secretaries of their respective department, form the traditional Cabinet of the United States , an executive organ that serves at the disposal of the president and normally act as an advisory body to the presidency.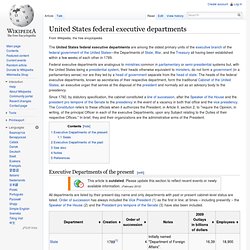 The United States Department of State ( DoS ), [ 2 ] often referred to as the State Department , is the United States federal executive department responsible for international relations of the United States , equivalent to the foreign ministries of other countries. The Department was created in 1789 and was the first executive department established. The Department is headquartered in the Harry S. Truman Building located at 2201 C Street, NW , a few blocks from the White House in the Foggy Bottom neighborhood of Washington, D.C. The Department operates the diplomatic missions of the United States abroad and is responsible for implementing the foreign policy of the United States and U.S. diplomacy efforts.
United States Department of State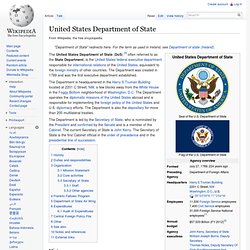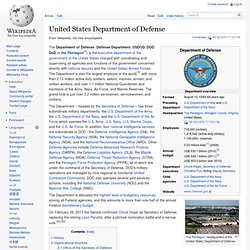 United States Department of Defense
The Pentagon , headquarters of the United States Department of Defense. The Department of Defense ( Defense Department , USDOD , DOD , DoD or the Pentagon [ 4 ] ) is the Executive Department of the Government of the United States of America charged with coordinating and supervising all agencies and functions of the government concerned directly with national security and the United States Armed Forces . The Department is also the largest employer in the world, [ 5 ] with more than 2.13 million active duty Soldiers, Sailors, Marines, Airmen, and also civilian workers, and over 1.1 million National Guardsmen and members of the Army, Navy, Air Force, and Marine Reserves. The grand total is just over 3.2 million servicemen and servicewomen, plus the civilians who support them. The Department – headed by the Secretary of Defense – has three subordinate military departments: the U.S.