LIfe Quotes
YOU LEARN MORE FROM 1 MISTAKE THAN A 1,000 ACCOMPLISHMENTS. - QuotePix Mobile
i am in a constant battle with my mind. i go from thinking that i am special for being "intelligent" to realizing that being aware of my being special is, in fact a sign that i am just seeking attention and simply something i like thinking about myself. then i realize that being aware of that fact counter-acts itself, and i am stuck in an endless paradox of myself. i have not yet learned how to stop and just say "it doesn't matter"
Facebook
I have learnt silence from the talkative, toleration from the intolerant, and kindness fro..... - Kahlil Gibran
quote,typography,life,quotes,text,frase-5df3a53bf4497e75b9fbd4be277c51bd_h.jpg (JPEG Image, 450x416 pixels)
Pictures + Words | SadAndUseless.com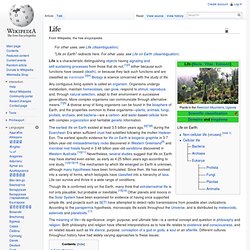 Life is a characteristic that distinguishes objects that have signaling and self-sustaining processes from those that do not,[1][2] either because such functions have ceased (death), or else because they lack such functions and are classified as inanimate.[3][4] Biology is the science concerned with the study of life. Scientific evidence suggests that life began on Earth approximately 3.5 billion years ago.[6][7] Microbial mats are among the oldest clear signs of life, as microbially induced sedimentary structures (MISS) formed 3.48 billion years ago have been found in western Australia.[8][9] The mechanism by which life emerged on Earth is unknown, although many hypotheses have been formulated. Since then, life has evolved into a wide variety of forms, which biologists have classified into a hierarchy of taxa. Life can survive and thrive in a wide range of conditions.
Worth it
Author Coco Chanel Quote In Order To Be Irreplaceable
Author ~ Quote Girls And Cars
We are now starting a weekly showcase of the best selections from our visitor submissions. Get your work featured and viewed by literally thousands of people every day!! Visit the forum and upload your work . Or if you have something REALLY hot you can contact us directly. info ( at ) stencilrevolution.com
The Best Things
yesterday is history...
buddha_1024x768