11/6/2011
11/6/2011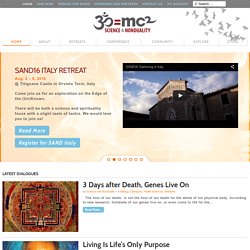 SAND brings together preeminent scientists, philosophers, spiritual teachers, and mystics for an exploration of the new paradigm emerging in spirituality that is grounded in cutting-edge science and consistent with the ancient wisdom of nonduality -- the deep understanding of the interconnectedness of life... read more.... Watch SAND trailer Entanglement, Consciousness and Living Entanglement is one of the strangest parts of quantum mechanics — so strange, in fact, that Albert Einstein famously referred to it as "spooky action at a distance." An entangled system shows a property that has been measured for the whole but not for parts.
Paola Harris.com - Exopolitics
Energy Efficient Light Bulbs Are Killing Us!
The energy efficient light bulbs in your house are affecting yours and your neighbour's health. THIS IS A MUST SEE. Dirty Electricity Elevates Blood Sugar Among Electrically Sensitive Diabetics and May Explain Brittle Diabetes: http://www.magdahavas.com/wordpress/wp-content/uploads/2010/03/08_Havas_Diabetes_EBM.pdf THIS IS NOT AN ADVERTISEMENT THERE IS NO BRAND OR PRODUCT ADVERTISED HERE I AM AN INDIVIDUAL SHARING THIS INFORMATION FOR THE BETTER GOOD! *Study warns of green light bulb 'Electrosmog'* http://www.swissinfo.ch/eng/swiss_news/Study_warns_of_green_light_bulb_electrosmog_.html?cid=8584642 Swiss health officials are recommending that people stay at least 30 centimetres away from energy-saving light bulbs, over electrosmog concerns. A study has measured the electric fields emitted from these lamps and concluded that a certain distance is needed to keep well under international limits.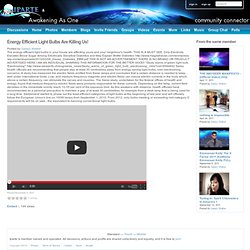 Report: Bundy Family Unearths BLM Mass Cattle Grave Mikael Thalen | "I feel that this needs to be put out for the public to see." Bundy supporter OWNS Chris Hayes on MSNBC: 'We will not allow governance by gunpoint, ever' [VIDEO] Daily Caller | Nevada assemblywoman Michele Fiore clashed with MSNBC's Chris Hayes regarding rancher Cliven Bundy's conflict with the federal government on Friday. Justice Scalia 'Foolish' to Have the Supreme Court Decide If NSA Wiretapping Is Unconstitutional Breitbart | D.C., Justices Antonin Scalia and Ruth Bader Ginsburg talked about their views of the First Amendment.