11/6/2011
11/6/2011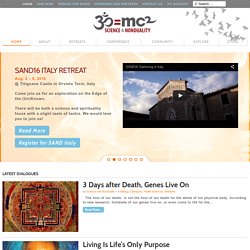 SAND brings together preeminent scientists, philosophers, spiritual teachers, and mystics for an exploration of the new paradigm emerging in spirituality that is grounded in cutting-edge science and consistent with the ancient wisdom of nonduality -- the deep understanding of the interconnectedness of life... read more.... Watch SAND trailer Entanglement, Consciousness and Living Entanglement is one of the strangest parts of quantum mechanics — so strange, in fact, that Albert Einstein famously referred to it as "spooky action at a distance." An entangled system shows a property that has been measured for the whole but not for parts.
Paola Harris.com - Exopolitics
Energy Efficient Light Bulbs Are Killing Us!
The energy efficient light bulbs in your house are affecting yours and your neighbour's health. THIS IS A MUST SEE. Dirty Electricity Elevates Blood Sugar Among Electrically Sensitive Diabetics and May Explain Brittle Diabetes: http://www.magdahavas.com/wordpress/wp-content/uploads/2010/03/08_Havas_Diabetes_EBM.pdf THIS IS NOT AN ADVERTISEMENT THERE IS NO BRAND OR PRODUCT ADVERTISED HERE I AM AN INDIVIDUAL SHARING THIS INFORMATION FOR THE BETTER GOOD! *Study warns of green light bulb 'Electrosmog'* http://www.swissinfo.ch/eng/swiss_news/Study_warns_of_green_light_bulb_electrosmog_.html?cid=8584642 Swiss health officials are recommending that people stay at least 30 centimetres away from energy-saving light bulbs, over electrosmog concerns. A study has measured the electric fields emitted from these lamps and concluded that a certain distance is needed to keep well under international limits.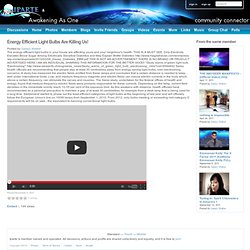 MIT Professor Exposes Climate Change Hysteria Mikael Thalen | "The opportunities for taxation, for policies, for control, for crony capitalism are just immense." Obama speech: Miller Lite commercial: less filling, tastes great Jon Rappoport | Obama just made a Miller Lite speech, to calm fears that NSA spying is a bother and a problem. Obama Justifies NSA Spying: Paul Revere Did It First Steve Watson | Argues US has always defended freedom through surveillance.