Anon & Tcx related stuff - sociology
Get flash to fully experience Pearltrees
Dis Papy, c'est quoi Telecomix ?
Anonymous logo Anonymous logo from parasearcher.blogspot.com. The loosely affiliated and ever-changing band of individuals who call themselves Anonymous have been variously described as hackers, hacktivists, free-expression zealots, Internet troublemakers, and assorted combinations thereof.
Hackerspaces.org recense les lieux physiques où se rencontrent de plus en plus les adeptes de la bidouille. Esther Schneeweisz, alias Astera, fait partie des fondateurs. Portrait berlinois d'une jeune femme emblématique de la dernière génération de hackers. Astera Schneeweisz à Berlin, novembre 2011 - (cc) Ophelia Noor
Radical online activism is a new public policy challenge, with groups such as Anonymous being described as everything from terrorist organizations to freedom fighters. With activities ranging from attacking government websites to revealing private information about targeted organizations, these groups have commanded the public's attention with often-subversive cyberactivism. Policymakers and technology experts are working in particular to understand Anonymous's origins and motives—and how it functions with no leaders, hierarchy or structure—in order to develop appropriate policy responses to this new type of online collective action. On December 9, the Center for Technology Innovation at Brookings will host a discussion exploring the impact of "hacktivism" and vigilantism in a digital age.
Crude, Inconsistent Threat: Understanding Anonymous Adrian Crenshaw Dubious Disclaimer Most of the time I cover technical topics. I regularly give classes and presentations on "how this protocol works" or "how do I hack X?"
Here's a look at some of the propaganda circulating around the Internet — largely from anonymous authors, natch — advocating for Anonymous or for Wikileaks. Source: Various (No Flash? Here's the Flickr set compiled for this slideshow.)
Taken as a whole, Anonymous resists straightforward definition as it is a name currently called into being to coordinate a range of disconnected actions, from trolling to political protests.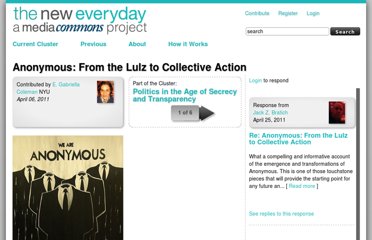 Dissident members of the internet hacktivist group Anonymous, tired of what they call the mob's "unpatriotic" ways, have provided law enforcement with chat logs of the group's leadership planning crimes, as well as what they say are key members' identities.
Pris dans son ensemble, le concept d'Anonymous désigne une réalité vaste et complexe ; ce nom prend actuellement tout son sens dans un monde dans lequel son rôle est de coordonner une série d'initiatives décousues, lesquelles vont du trolling aux revendications politiques. NYU Steinhardt est un département de la New York University. Son crédo est de développer des liens entre les communautés et les cultures, et d'utiliser l'éducation comme un instrument du changement pour une meilleure qualité de vie à travers le monde. Sa mission est de faire avancer les savoirs, la créativité et l'innovation à la croisée des apprentissages. Gabriella Coleman ( twitter ) , l'auteur de cet essai est professeur au sein du département Média, Culture et Communication.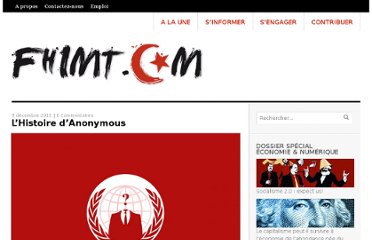 Un essai de Biella Coleman (Original) Anonymous : du Lulz à l'Action Collective